STYLE ON SUNDAY
Making a case for clogs: Introducing this season's It shoe
As we move towards warmer months, Olivia Petter takes a closer look at how a clunky labourer's staple became this season's hottest shoe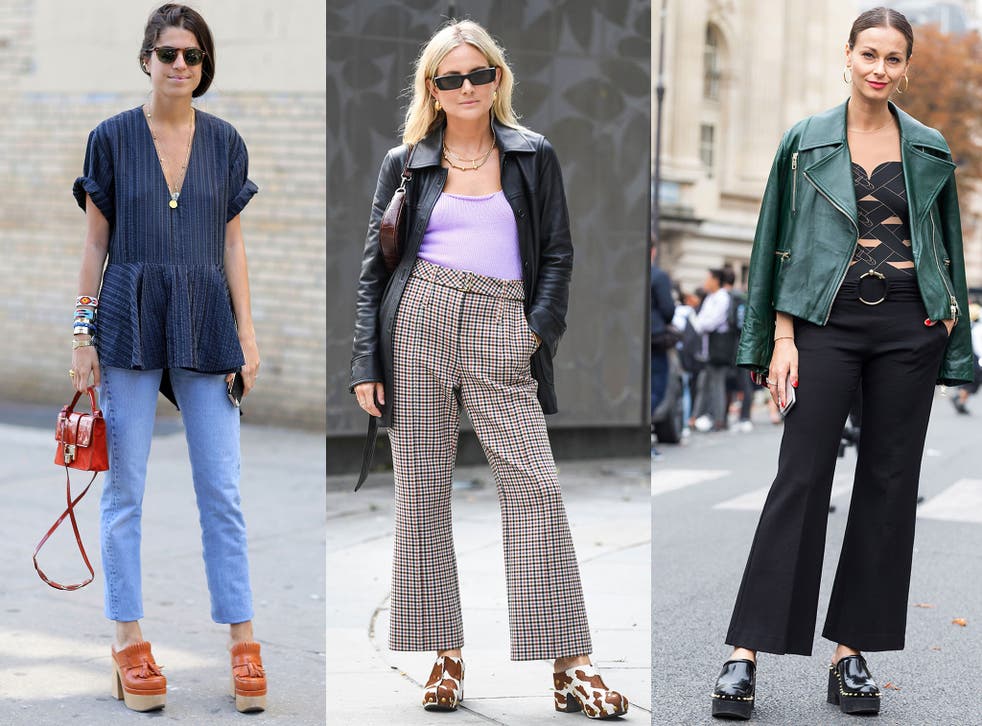 Fashion has form when it comes to ugly things. In recent years, the trend cycle has been populated by a litany of unlikely contenders that have moved from sartorial Siberia to the peak of fashion. Think Birkenstocks, "mom" jeans, bucket hats, and combat trousers, to name but a few. The latest to feature in this eclectic lineup is a clunky wooden shoe traditionally worn by agricultural workers in the Netherlands. Clogs.
According to global shopping search platform, Lyst, online searches for "clogs" have surged by 199 per cent in April alone. And it's not just wooden styles people are after. Demand for studded styles have risen rapidly, while searches for leather clogs have increased by 163 per cent.
Now, to the uninitiated, the fact that these wooden clompers have become a seasonal 'It' shoe will be hard to stomach. You mean, the shoes that make you sound like a stompy hormonal teenager wherever you go? The ones that are so unwieldy, they can make it cumbersome to walk?
The fact is that clogs have been steadily rising up the trend ladder for some time. In July 2017, Leandra Medine, founder of the now-defunct fashion website Man Repeller, designed a crimson studded clog as part of her hugely popular MR by Man Repeller collection. The wooden "Bandana" shoes, as they were labelled, featured a floral print in the front and marked a major turning point in the clog's stature as a bone fide fashion item.
The clog's cool girl status was cemented further when Sarah Jessica Parker also released a metallic gold clog, dubbed the "Rigby Mule", just a few months later as part of her eponymous shoe collection. Then, in January 2018, an article in The New Yorker titled "The Life-changing Magic of Clogs" went viral, prompting its writer, Lauren Mechling, to launch an Instagram account (@thecloglife) dedicated to sharing sightings of the shoe.
So why are clogs stomping back into fashion in 2021? There are a few reasons. The first is thanks to the long list of luxury fashion labels that have incorporated clogs into their spring/summer 2021 collections, namely Hermès, which finished off each and every one of its 46 looks with a pair of slip-on studded clogs in an array of neutral shades –) they are now all sold out. Elsewhere, Celine has made more of a statement with its calfskin pair of Les Bois clogs, while Bally has a chunky gold studded offering. For something a little more practical, wellington boot label Hunter has its rubber Play clog and Fabrizio Viti has a lush shearling-lined version.
It would be remiss not to see the clogs renaissance as partly thanks to another unlikely fashion resurgence: Crocs. Though the chunky rubber shoes were once associated with orthopedic footwear, they have become one of the most sought after fashion items in the last few years, kickstarted when Scottish fashion designer Christopher Kane sent bejewelled versions down the runway in 2016. One year later, Balenciaga's Demna Gvasalia showcased his offering: neon platform Crocs. Today, Crocs are no laughing matter in the industry (the brand collaborated with Justin Bieber in 2018) and given how similar they are, at least shape-wise, to clogs -backless with a rounded front – it seems only fitting to the see the two trends as in cahoots.
What's more, both shoes share a universal appeal: comfort. And given that we've spent the past year in our homes, wearing nothing but loungewear, it would make sense that some of us aren't quite ready to venture into uncomfortable footwear territory as the world opens up again. "As comfort, practicality and effortlessness continue to be at the forefront of many fashion lovers' minds, clogs are set to continue their slow but steady rise to cult status," says Morgane LeCaer, data editor at Lyst.
This makes sense given that comfort was the reason clogs were created in the first place. The shoes themselves date right back to the 16th century, when the first clog-makers guild was formed in the Netherlands. But, says fashion historian Lally Macbeth, they also have a long history with England too. "They were originally worn by men and women working as milkmaids, weavers, fishermen, and thatchers," she tells The Independent. "They were the footwear of the worker: practical, comfortable and hard-wearing, which meant they protected worker's feet from the grime and graft of a labouring life."
In the early 19th century clogs became the go-to footwear for cotton mill workers in Northern England. "They took to dancing in their clogs during their lunch breaks on the cobbled streets outside the factories," says Macbeth. "Clog dancing was born from this tradition and is still part of many Morris dancers repertoire."
It wasn't until the late 19th century that clogs first started being worn as fashion items, when public figures such as the actress Ellen Terry wore them alongside other folkloric items such as the smock. "Oscar Wilde also wrote several times on the usefulness and comfort of clogs as a fashionable yet practical footwear choice," Macbeth adds.
Lockdown habits aside, the fact that clogs are making a comeback now taps into a wider fashion trend of favouring utilitarian items. Consider the recent rise of the puffer jacket, or the boilersuit, both of which are items that were traditionally worn for comfort and protection as opposed to fashion. "Perhaps we are all once again looking to a nostalgic, simpler past," notes Macbeth, "where items were durable, practical and lasted a lifetime."
Join our new commenting forum
Join thought-provoking conversations, follow other Independent readers and see their replies