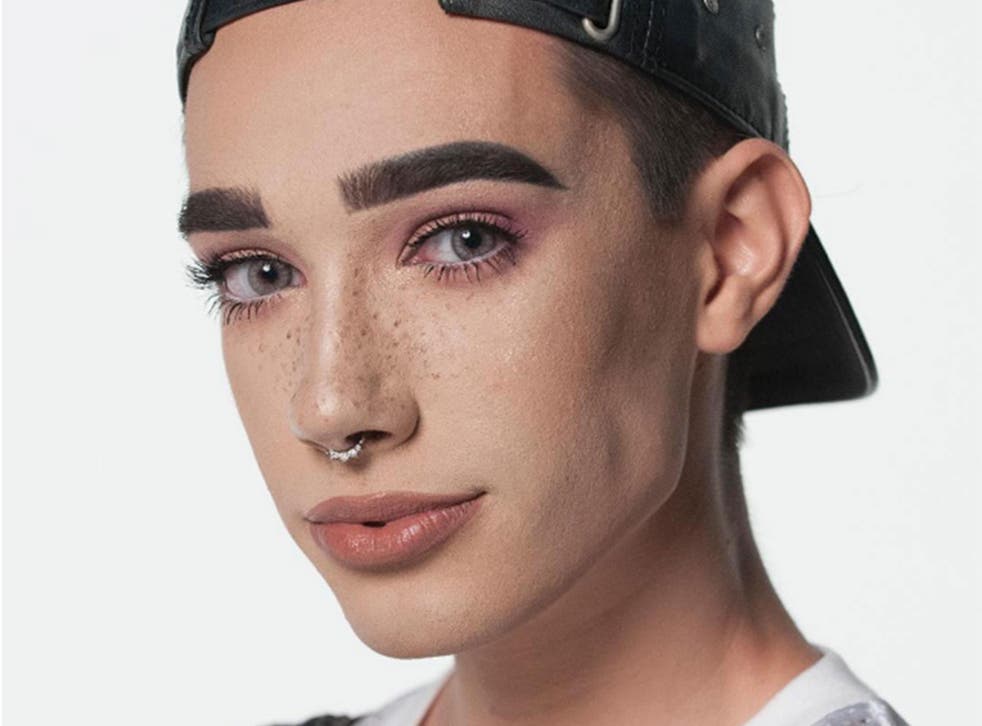 CoverGirl names beauty blogger James Charles as first male spokesmodel
Fans of teenager James Charles have hailed it as an historic "leap of progression"
A teen beauty blogger has made history by becoming the first male spokesmodel for the major US cosmetics brand CoverGirl.
Fellow CoverGirl spokesperson and singer Katy Perry announced that 17-year-old James Charles from New York would be the company's first "CoverBoy" on her Instagram feed.
"Just wrapped another great @COVERGIRL shoot. Honored to have the pleasure to announce the very first COVERBOY, James Charles!" she wrote.
In a separate post on the CoverGirl Instagram page, Charles told viewers: "Today I'm living out one of my biggest dreams and I'm currently on set of my first ever TV commercial with CoverGirl. That's right, I am a new CoverGirl."
Charles is set to appear in an advertisement for the brand's new So Lashy mascara, the Huffington Post reported. As the latest spokesmodel, he'll be joining high-profile women including Katy Perry, Rihanna, and Taylor Swift.
The brand said in a statement: "All of our CoverGirls are role models and boundary-breakers, fearlessly expressing themselves, standing up for what they believe, and redefining what it means to be beautiful."
"James Charles is no exception. One year ago, he boldly chose to launch his Instagram to the world, using transformative, dynamic makeup looks to showcase the many facets of his personality, serving as an inspiration to anyone who might have been afraid to do the same."
As the news spread, Charles tweeted his shock at the worldwide reaction, and reposted positive responses from fans.
But this isn't Charles' first brush with the limelight. A tweet he posted of his senior photo earlier this year – where his face is flawlessly highlighted – was liked over 96,000 times and retweeted by almost 38,000 users.
The blogger's YouTube tutorial videos, which include Snapchat filters to festival makeup, have attracted over 74,000 subscribers in less than a year. He has almost 500,000 followers on Instagram – half the number of CoverGirl itself.
Five all-time favourite beauty products

Show all 5
Earlier this year, Charles was featured in a Marie Claire spread about male make up artists who push gender stereotypes. He revealed that his parents struggled to see make-up as a form of artistic expression. "My parents started questioning me about whether or not I was transgender—whether or not I was trying to be a woman," he said.
"It was a big argument. It took a lot of thorough conversations to explain that it's an art form for me. I'm still confident as a boy and I will always be a boy. I can be confident with bare skin and with a full face."
CoverGirl is not the first brand to push boundaries with men and makeup. In 1996, Mac featured drag queen RuPaul in an campaign to raise money for its AIDs fund, as well as US figure skater Johnny Weir, and socialite brothers Peter and Harry Brant more recently.
Register for free to continue reading
Registration is a free and easy way to support our truly independent journalism
By registering, you will also enjoy limited access to Premium articles, exclusive newsletters, commenting, and virtual events with our leading journalists
Already have an account? sign in
Register for free to continue reading
Registration is a free and easy way to support our truly independent journalism
By registering, you will also enjoy limited access to Premium articles, exclusive newsletters, commenting, and virtual events with our leading journalists
Already have an account? sign in
Join our new commenting forum
Join thought-provoking conversations, follow other Independent readers and see their replies