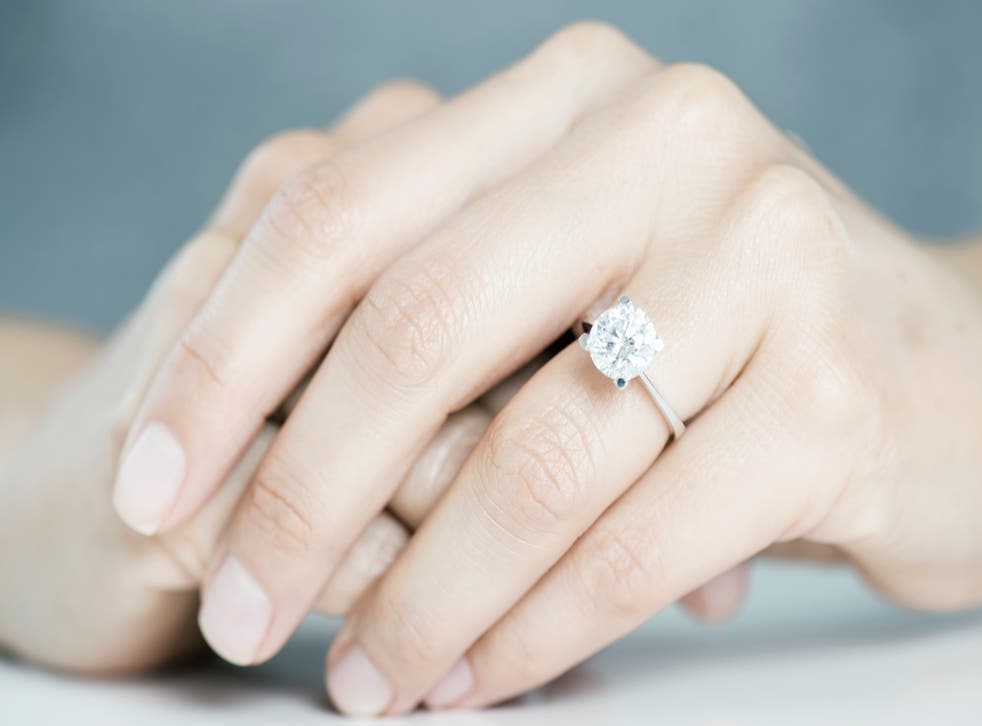 How to buy an engagement ring, according to a jewellery expert
From understanding carats to knowing ring sizes, here's what you need to know
Katie O'Malley
Wednesday 15 May 2019 08:28 Comments
Wedding season is finally upon us, providing wedding guests with the perfect opportunity to splash the cash on a new outfit, an Airbnb, and a round of pricey drinks at the reception bar.
And while some may groan at the thought of spending yet another bank holiday celebrating a friend's nuptials half way across the country, or eye roll at hearing Ray LaMontagne's "You are the best thing" as the couple's first song as newlyweds, others may feel inspired to pop the question to their significant other.
But if the thought of planning the perfect proposal setting has your palms sweating, choosing an engagement ring will undoubtedly add another layer of perspiration.
Considering all the factors involved in shopping for a ring, such as understanding the four Cs to knowing how to shop for an engagement ring sustainably, it's not hard to see why Poundland sold 20,000 of its dummy engagement rings within a week of releasing the product in the run-up to Valentine's Day earlier this year.
As a result, we spoke to jewellery expert Max Ullmann of family-run antique jewellery shop A.R. Ullmann in London to find out everything you need to know before buying "the bling".
Where should you go to buy a ring?
If you're in need of a ring (or any jewellery for that matter), look no further for expert service than jewellery district Hatton Garden.
Since the 19th century, the area has become London's go-to jewellery quarter.
With over 55 shops selling everything from second-hand pieces to one-of-a-kind bespoke designs, Hatton Garden is your go-to place for all things engagement rings.
"Hatton Garden is the historical centre of the jewellery trade in London, but there are many other jewellery shops located in Bond Street," says Ullmann.
However, it's worth noting that if you're not near the capital, the jewellery quarters in Birmingham and Brighton also have top offerings.
Furthermore, contrary to many other retail sectors, the jewellery business enjoys a booming trade on the British high street in towns around the country, offering customers the chance to build personal relationships and trust with local jewellery sellers for generations.
What are the four Cs?
When it comes to buying an engagement ring, many people focus on the carat weight of the diamond.
And when you have celebrities such as Jennifer Lopez, who was recently proposed to with a sparkly emerald cut of between 11 and 15 carats, it's not hard to see why.
However, according to Ullmann, it's important to know more than carats when it comes to choosing an engagement ring.
"The four Cs stand for colour, clarity, cut and carat," he says.
"These characteristics give a broad outline as to the most significant elements to be aware of when buying a diamond."
Here's what you need to know:
Colour
It's widely known that diamonds come several colours but in a white diamond, a yellow tint will lower its price. The less of this tint, or body colour as it's referred to in jewellery cirlces, the more expensive it is. When it comes to colour, diamonds are graded on a scale from D (colourless) to Z, with more yellow tints being present the further you go through the alphabet.
Clarity
Simply put, the clarity refers to the degree to which the diamond's imperfections (be them inside or on its surface) are present.
Cut
A diamond's cut refers to a diamond's proportions, symmetry and polish, not a diamond's shape (e.g. round, oval, pear), as is commonly misunderstood.
Carat
Diamonds are sold by the carat (shown as ct.), which is a unit of weight, rather than anything to do with size as is commonly believed.
As an antique specialist, Ullmann says he is less concerned about the size of diamonds, and much more about the quality of the item of jewellery.
"We feel it is equally important to have a well-made and beautiful ring as it is to have a high quality diamond that ticks all the boxes," he adds.
What are the most popular cuts and stones you need to know?
People might say diamonds are a girl's best friend but that's not to say they should be the only stone to consider when it comes to popping the question.
"The most popular stone and cut would be a round brilliant diamond," says Ullmann.
"Sapphires and rubies usually follow, and then emeralds."
In 2010, the Duke of Cambridge proposed to his now wife, the Duchess of Cambridge, with a sapphire ring that previously belonged to the late Princess Diana.
The ring consists of 12-carat oval blue sapphires, cut into facets, and is surrounded by fourteen solitaire diamonds. The ring's setting is made from 18K white gold.
By contrast, Kate's sister-in-law, the Duchess of Sussex, wears a yellow gold band which features three diamonds – the primary stone was chosen by the Duke of Sussex in Botswana while the smaller diamonds which flank it were taken from Princess Diana's jewellery collection.
"Diamond's are always the most popular and sought after, but the order of popularity of the other stones depends a lot on the fashion trends at the time."
Check out the most popular engagement ring trends of 2019 here.
Do you need to know your partner's ring size?
It's hard enough keeping track of what size jeans you are in high street stores, let alone your ring size.
But for those concerned they will need to partake in a covert operation to subtly find out the size of their partner's engagement find, rest assured that it's not a requirement when purchasing a ring.
Police hunt couple who lost engagement ring in Times Square
"Usually this is not something that matters at all," explains Ullmann.
"We advise all our customers to propose first, and then come in with the recipient for sizing after it's been received.
"Most rings can be sized very efficiently. There is no point trying to guess someone else's finger size, the vast majority if the time you will get it wrong anyway, and generally speaking most jewellers will only size a ring free of charge once."
Returns and payment instalments also differ from jeweller to jeweller so it's worth finding out individual shop's buying policies before committing to a purchase.
How can you tell if a ring is of high quality?
With the average engagement ring bought in the UK costing £785 last year, it's understandable that customers won't want to part with their hard-earned cash at a jeweller's without knowing their products are of the best quality.
When it comes to choosing a ring that will last the test of time, it's important to remember that platinum is one the hardest materials used in jewellery and shouldn't wear as much as other materials, such as white gold. Shoppers should steer clear from silver as it a very soft material that wears easily.
Regardless of material, Ullmann says that "trust is by far the most important thing" when it comes to finding out if something is worth investing your cash in.
"You can do all the research that is realistically possible. But at the end of the day it's a complex industry, and you need to be able to believe that the jeweller giving you information about your ring is being honest," he says.
So, does that mean you should only shop at jewellers who are associated with specific organisations, such as the National Jewellers Association? Apparently not.
"Being a member of an organisation or guild does not guarantee trust," says Ullmann.
How can you shop for an engagement ring sustainably?
Whether it's how workers are treated or the amount of water waste that is produced to make a garment, customers are increasingly becoming concerned with how their goods are sourced and manufactured. And shopping for jewellery is no different.
When it comes to buying an engagement ring, it is often difficult to know whether a stone been ethically sourced. After all, many diamonds are not traceable to their origins and may have been sourced as a result of questionable mining practices.
So, when it comes to shopping for a ring sustainably, Ullmann advises customers to buy antique/second hand jewellery.
"[It] is more ethical as it is a way of recycling jewellery that has already been made – you are therefore not continuing the cycle of mining metal and diamonds in unethical ways, as is so prevalent nowadays," he explains.
"However, there are also companies which will now guarantee that the metal and stones used in their jewellery has been ethically sourced."
Synthetic diamonds, which are created in a lab as opposed to natural diamonds created by geological processes, are also a great option for eco-conscious shoppers. They contain the same crystal lattice structure as a natural diamond but do not involve damaging mining processes.
Do you need to take out insurance for a ring?
Anyone who has ever lost a cherished piece of jewellery will attest to the heartbreak (both financial and emotional) of losing something so small yet so significant.
As a result, Ullmann says it is imperative that you take out insurance for an engagement ring the moment you buy it.
Support free-thinking journalism and attend Independent events
"Generally speaking, insurance companies will require an insurance valuation (most jewellers should be able to provide you with this), which will usually be a higher figure than the purchase price," he explains.
"This is to protect you in the event of having to replace the ring.
"The price of metal and diamonds changes frequently, and antique rings are unique and therefore impossible to replace exactly. You must make sure that the figure you are insured for allows you to purchase a suitable replacement."
Register for free to continue reading
Registration is a free and easy way to support our truly independent journalism
By registering, you will also enjoy limited access to Premium articles, exclusive newsletters, commenting, and virtual events with our leading journalists
Already have an account? sign in
Join our new commenting forum
Join thought-provoking conversations, follow other Independent readers and see their replies