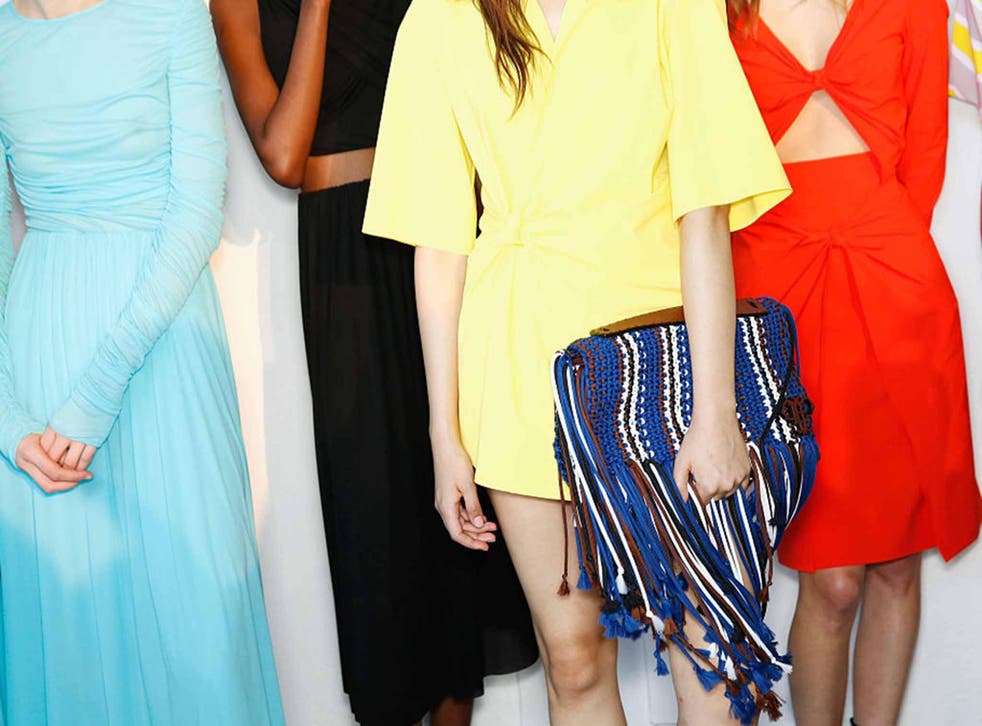 Fashion is getting a super bright refit for spring/summer
Get ready to taste the rainbow
Sarah Young
Thursday 06 April 2017 09:48 Comments
Has your wardrobe come to resemble a smorgasbord of grey over the last few months? Ours too, but luckily there's a new colour code in town.
This season sparks a return to bolder shades where the look du jour waves goodbye to shaded tones in favour of a markedly brighter uniform.
From Kermit green, zesty yellow and eye-popping fuchsia, this trend is an opportunity to employ the most shocking shades and no small dose will do.
Looking to inject your new season get-up with some sunshine? Then take your cue from the likes of Dries Van Noten or Tibi where shades of primrose yellow offer a dramatic take on colour.
For Gucci and Hugo Boss, classic navy was switched out in favour of lapis blue. The former opted for a head-turning ruffle gown while Boss contrasted formal separates with green camisoles and red handbags.
Thanks in part to the Eighties excess which dominated this season, another popular shade is purple. Seen on shrink-wrap tops and spandex leggings at Balenciaga, snakeskin belts at Balmain and boxy cropped jackets at Trussardi, it should come as no surprise when you spot this royal hue on the high street.
This might not seem like an easy trend to pull off, but it really is. While taking the head-to-toe maximalist approach will work for the bold among you, those that are unsure shouldn't be afraid to show their true colours.
Instead, try swapping your fail-safe black bag for a bold new shade or invest in a perky pair of earrings. Ready or not, it's time to taste the rainbow.
Register for free to continue reading
Registration is a free and easy way to support our truly independent journalism
By registering, you will also enjoy limited access to Premium articles, exclusive newsletters, commenting, and virtual events with our leading journalists
Already have an account? sign in
Join our new commenting forum
Join thought-provoking conversations, follow other Independent readers and see their replies