A cut above: The sensual and radical designs of Anthony Vaccarello

Show all 2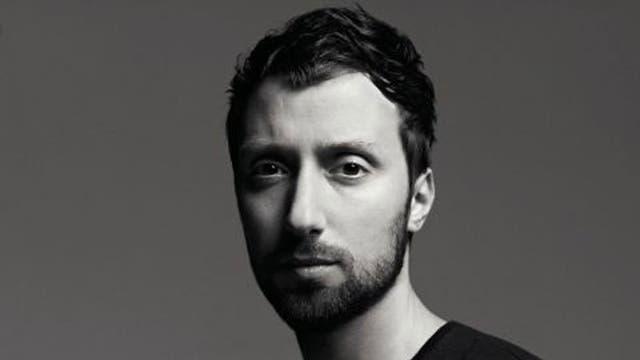 A cut above: The sensual and radical designs of Anthony Vaccarello
The strong, sexy designs of Anthony Vaccarello raise eyebrows – and pulses, says Alexander Fury
Alexander Fury
Sunday 13 October 2013 14:26 Comments
You probably don't know Anthony Vaccarello's name. That's fine. You'll have seen his work, though, because it's impossible to ignore.
That's due to two reasons: first, the prominence of Vaccarello's very many fans; and second, the prominence Vaccarello places on their bodies. Back in the early Nineties, Janet Street-Porter coined the phrase "result wear" to describe the sexy, souped-up frocks of Antony Price. It applies to this new Anthony, too. Whether you're talking column inches or carnal inches, wearing Vaccarello gets results.
So where have you seen his work? In March last year, there was Gwyneth Paltrow on the subscriber's cover of US Harper's Bazaar shot by Terry Richardson, leg exposed to the flank and bodice zig-zagged with cut-outs. It caused a furore. The same year, that body-baring approach raised eyebrows and pulses at the Met Ball, model Anja Rubik pitching up in a dress chopped up to everywhere. She repeated the impact this year with a Vaccarello dress composed of leather and chainmail. So did Gisele Bündchen, the highest-paid supermodel in the world. She had her pick of gowns. She chose Vaccarello.
Vaccarello, indeed, is something of a model favourite. The designer who leaps to mind is Azzedine Alaïa, whose work similarly idolises the female form – and whose work, in turn, is seized upon by those females with ideal forms. Vaccarello shows on the first day of Paris Fashion Week – traditionally a non-starter. He manoeuvred himself to must-see status, with high-profile models such as Karlie Kloss, Isabeli Fontana, Joan Smalls and the aforementioned Ms Rubik wearing his frocks. Chanel veteran Irina Lazareanu opened his first presentation in 2010. Indeed, if Versace invented the supermodels in the early Nineties, Vaccarello is helping define their modern counterparts. Mainly by exposing their super-defined composite parts. Déjà vu much?
Rumours abound that Vaccarello will be the next designer to be taken into Donatella Versace's stable of Versus talents. Neither company would comment, although Versace and Vaccarello share more than just that first initial. The sensuality, sexuality and dare to bare is evident in both. Vaccarello's autumn/winter 2013 show played with two Versace leitmotifs: clingy chain-mail, like the stuff Gianni introduced in the early Eighties, and slits. Lots of slits. Then again, the latter are Vaccarello trademarks, too. It's interesting to hear the designer talk about that show – "It came from the mechanic… like cars," the half-Italian, half-Belgian Vaccarello says in his heavily accented English.
And the chassis were definitely what you noticed. The metallic chain mail was actually grommets, painstakingly strung together "Like a guipure lace," comments Vaccarello. But the result of that painstaking work was simple. Skin. Lots of skin. Technically complicated, but really all about that tawny flesh. The body is what Vaccarello's work is all about. "The way I work, I always start around the body. It's never a sketch, it's about making clothes work on the body," Vaccarello says. "After that, I start to sketch to see what I can develop. But it's never first the sketch."
When you're building dresses around the body, the body that goes inside matters just as much as the fabric. Vaccarello's casting for his shows – the aforementioned mega-wattage mod-bods you don't associate with a young designer barely three years into his career – has become something he's known for. "To be honest, I don't really know how it happened!" Vaccarello recalls of that leap-out casting. "In the end, it's a good relationship with the models. They're in Paris and can do the show. I think it's important for my kind of clothes to show on a real woman. It's important to have an attitude, be really strong. To be confident."
Although he shows his fashions in Paris, there's something about Vaccarello fusion of northern European with Mediterranean that hits the spot. "I have that cold structure and discipline, that Belgian way that Italian's don't have for sure! But on the other hand I have that love of the body and sensuality that Belgium doesn't have at all. When I was at school at La Cambre it was always strange, when I was making a dress everyone was saying 'Oh, it's an Italian dress!' And when I was working at Fendi, everyone said 'Oh it's so cold, it's so Belgian!'" Vaccarello says with a laugh. "I like extremes. I like real Italiano or real Belgian. I like the mix of that."
Vaccarello's characteristic mix is sexy and cerebral. Generally they don't make easy fashion bedfellows. His golden rule has been focusing on the former. The intelligence in his designs informs the sexiness, but really these dresses are about cut, and what that cut can do for the body.
Granted, the cuts you notice are the ones that bare flesh, but Vaccarello is a wicked tailor. These dresses defy gravity through ingenious technique rather than tit-tape or Photoshop. I comment that people don't really understand the work that goes into his dresses. "No, they don't!" Vaccarello sighs, a tired note to his voice. "They really don't understand. It's not glued on the body. You can move in the dress. It's about the structure."
Despite Vaccarello's chagrin, the right names in the industry have been noticing his work. In 2011, he won the French ANDAM award, which pulled the young designer into the international spotlight as well as giving him a much-needed injection of cash to stage the first official catwalk show. Karlie Kloss closed it, in the dress that ended up on Paltrow, shot by Terry Richardson. A star, as they say, was born.
High-rise, high-octane and highly visible frocks may have made Vaccarello's reputation thus far, but it's not the limit of his ambition. "The dress for Anja Rubik – people said that no one can wear that. I don't agree. At the end, it's done very well in the store. So there are lots of Anja Rubiks in the world! But I don't want to be categorised as a designer who just makes those dresses," says Vaccarello. "I want to have a complete wardrobe for the customer." He's also challenging himself to apply that trademark sensuality to utilitarian garments. Over the past few seasons, Vaccarello collections have become peppered with subtle tailoring, shirts and sweaters. Winter's metallic grommets stud them large. For spring 2014, he even did jeans. They weren't shredded or slashed open, although they did still have Vaccarello's masterful cut.
That said, Vaccarello, like Versace, isn't known for deviations from his signature style. The stores buying Vaccarello – and there are many, across the globe, including thecorner.com – purchase "the most impossible things to wear. They're the first things that are selling out!" says Vaccarello, still slightly incredulous. "They really want those kind of extreme, radical clothes." And Anthony Vaccarello is just the man to make them.
Register for free to continue reading
Registration is a free and easy way to support our truly independent journalism
By registering, you will also enjoy limited access to Premium articles, exclusive newsletters, commenting, and virtual events with our leading journalists
Already have an account? sign in
Join our new commenting forum
Join thought-provoking conversations, follow other Independent readers and see their replies