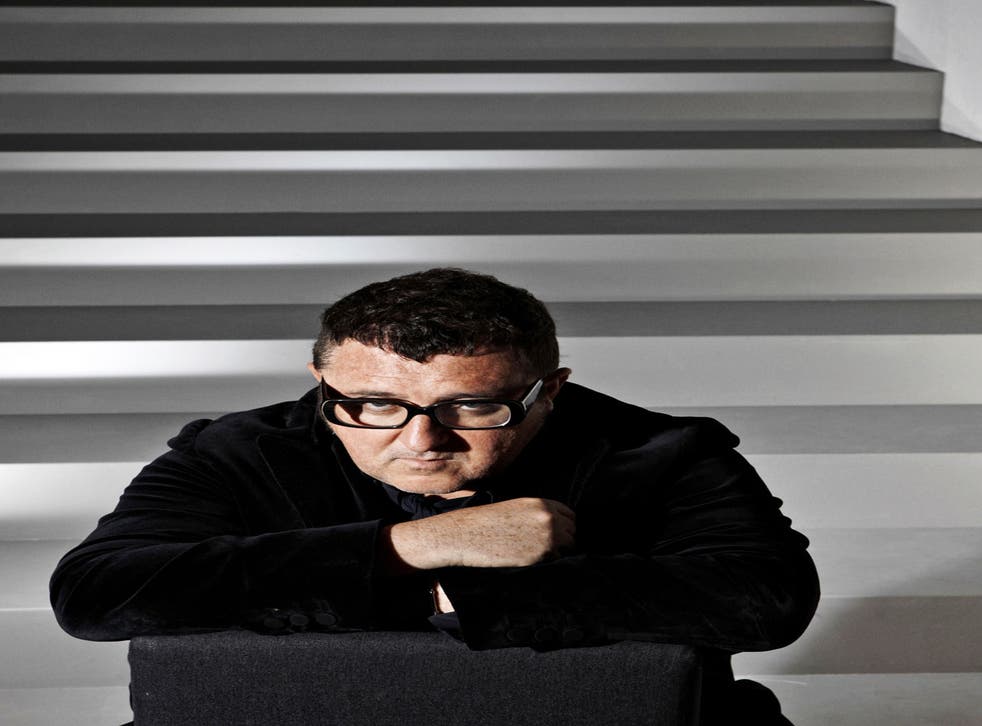 Alber Elbaz on his down-to-earth approach to fashion: 'I don't want people to be intimidated'
He's made Lanvin lustworthy, and his collaborations are unmissable. Ahead of his hot-ticket appearance at the Vogue Festival, Gillian Orr talks to the designer Alber Elbaz
In an interview with The Independent last year, Alber Elbaz, creative director of Lanvin, confided: "I hate the word cool. It gives me a rash." So it might have seemed like a curious decision for the 51-year-old to send models down the runway back in February wearing necklaces emblazoned with that very word for the house's autumn/winter 2013 show.
"I still hate it! That's why I put it there," Elbaz now laughs. He tries to explain his reasoning: "With this last collection I wanted to go back to intuition and emotion, to go back to that freedom we used to have in fashion. Why not touch things that we hate and turn them upside down and inside out?"
The starting point for next season's collection was the jewellery. Elbaz went to his team and said he wanted words. "What kind of words?" they asked him. "Diamond and pearl words," came the reply. "They all gave me a very bizarre look like I was losing it," he recalls.
So words such as "help", "love", "happy" and, of course, "cool" were turned into necklaces, belts and brooches. "Just two days before the show we pulled it all together and so there was a brocade dress and flat man shoes, and then 'help' in diamond and pearl. They all looked at it and they were smiling. And for fashion to still make you smile, that's very important."
Elbaz certainly makes a lot of people smile. In an industry sometimes known for its daunting and po-faced figures, Elbaz is beloved not only for his beautiful designs, which have helped put the French fashion house back on the map over his decade at the helm, but also for his sense of fun.
"Everybody thinks that because it's luxury it should be very intimidating; you go into the store and it should look like a pharmacy. But guess what? We're not buying Tylenol!" he says. "We're buying a red bag, and a diamond shoe, and a printed dress, so I think we should have a little bit of lightness and be a little less strict about everything. Because if you come to a pharmacy and everything is so arranged then you don't want to touch it. I don't want people to be intimidated. I'm trying to take this kind of façade of glossiness out and to show that there are other angles to luxury."
Whether it's dancing to Pitbull's "I Know You Want Me" alongside Karen Elson and Raquel Zimmermann in a Lanvin campaign video, or singing "Que Sera, Sera" on the catwalk after his 10th anniversary collection, Elbaz, who was born in Casablanca and grew up in Tel Aviv, is famously down to earth and downright charming. And he is excellent company when we meet for lunch in a fancy restaurant around the corner from his design studio in Paris, even gently mocking the over-the-top meal presentation. It's little wonder that his talk at the Vogue Festival, which takes place at the end of this month, is one of the hottest tickets in the two-day event's schedule.
Elbaz says he is very much looking forward to the festival; after all, this is a man who relishes meeting new people. And the Vogue Festival, a ticketed event open to the public, will give fashion fans the opportunity to access a world they would usually only see on the pages of a magazine or through their iPad. "The worst thing that can happen is if you're stuck within a bubble and you think that is what life is all about," he says enthusiastically. "It's great to see other people and hear from people of different ages and opinions."
One of the main things he'd like to tackle at the event is the misconception surrounding designers. "Maybe they think a designer is living a very glamorous life and they start their day not with coffee but with champagne," he says. "Trust me, it's coffee. The designers, photographers and models I work with, they are really hard-working people who are devoting their lives to fashion. They're kind of like nuns of fashion."
Indeed, Elbaz certainly knows a thing or two about hard work. Since taking over the reins at Lanvin in 2001 (following stints at Geoffrey Beene, Guy Laroche and Yves Saint Laurent), he has worked tirelessly to transform the company from an obscure fashion house to critically acclaimed label adored by everyone from Catherine Deneuve to Natalie Portman. Ask him today what he is working on and, for a moment, he looks exhausted. "Pre-collection, collection, men's. It's like I'm having breakfast, lunch and dinner at the same time."
Despite Lanvin being one of the most respected houses in the world, Elbaz is happy to work alongside other brands. In June his cosmetics collection with Lancôme is released; last year he teamed up with Ladurée; and his 2010 collaboration with H&M remains one of the most successful of its kind. "I do these things because I love the process. I love to meet people and I like to be introduced to new industries, to learn new things," he insists. "When I did H&M, it was a different part of the industry. What I was trying to do at the time was not to take Lanvin and bring it down, I wanted H&M to come up. And that's what happened. And it was beautiful, seeing people in the street with the shopping bags. I thought there was my present to all these people who could never afford Lanvin and now they could."
Ask Elbaz what he hopes women feel when they wear his designs and he simply replies "beautiful and comfortable". For him, beauty is synonymous with comfort. "I feel more and more that the most beautiful people are the ones who are comfortable with themselves. You can be a young fashionista in all the latest trends but if you're not comfortable with yourself, it shows," he smiles. "Or you can be a bit bigger, a bit older, a bit shorter, but if you feel comfortable in life and life is smiling at you then you become beautiful."
The Vogue Festival 2013 in association with Vertu takes place at the Southbank Centre on 27 and 28 April. Tickets are available from southbankcentre.co.uk/voguefestival
Register for free to continue reading
Registration is a free and easy way to support our truly independent journalism
By registering, you will also enjoy limited access to Premium articles, exclusive newsletters, commenting, and virtual events with our leading journalists
Already have an account? sign in
Register for free to continue reading
Registration is a free and easy way to support our truly independent journalism
By registering, you will also enjoy limited access to Premium articles, exclusive newsletters, commenting, and virtual events with our leading journalists
Already have an account? sign in
Join our new commenting forum
Join thought-provoking conversations, follow other Independent readers and see their replies