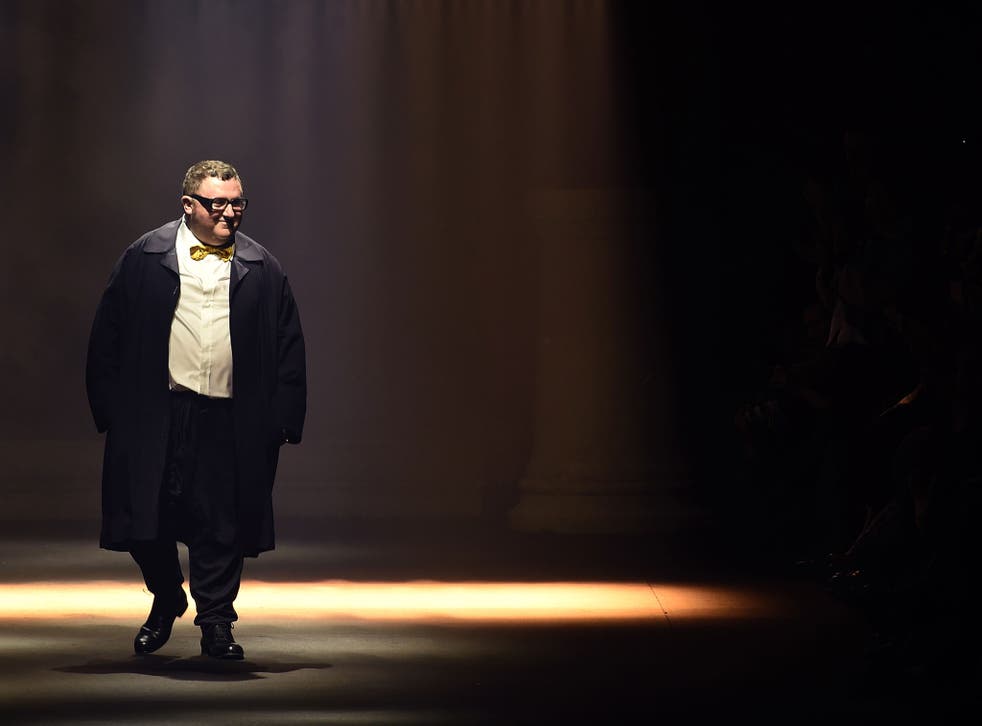 Alber Elbaz: Was Lanvin's outgoing designer caught in the creative-commercial crossfire?
After 14 years, Lanvin's designer has left the house. As he tells Alexander Fury, he was being pulled in too many directions
I met the designer Alber Elbaz about three weeks ago, shortly after his spring/summer 2016 show for Lanvin, in a spare, black office in the fashion house's building on Rue du Faubourg St Honoré, Paris. I'd come to talk to him about the remarkable success of his time there, and of the confident show he'd staged to celebrate his 14th year, with its Klieg-lit catwalk and dresses wittily scribbled with the money-spinning products of a big fashion house such as Lanvin – shoes and purses and perfume, painstakingly woven by Taroni – and a finale dress scrawled with the house name.
As he sat in his all-black office, dressed in flowing black, a scarf knotted at his throat, talking a lot about his craft, I started to mentally write the feature, comparing Alber Elbaz to the couturier Paul Poiret. They look a little alike, sure, but the clothes are a more compelling link. As we entered the 20th century, Poiret freed women from the tyranny of corsets with his Directoire lines, easing out the wasp waist, and allowing them to breathe; as we reached the 21st century, Elbaz did the same, physically and ideologically.
He did so with easy dresses that had volume without structure, unlined tailoring without weight, gowns bisected with zips that double-spoke of practicality and eroticism.
I'm supposing that Elbaz knew, as we talked, that he was leaving Lanvin. The news broke this Wednesday – hitting the headlines in fashion's social media-saturated sphere two days before the house's official statement was due. He spent a hefty amount of time criticising that world during our hour together, in a critique always melancholic, occasionally blistering. It's one Elbaz has echoed elsewhere – most notably in a speech given when Meryl Streep, dressed in Lanvin, awarded him the accolade of "Superstar" at the behest of Fashion Group International last Thursday. He talked about creatives with no time to think, and of fashion critics with no time to write between the shows. He also talked about the evolution of today's designers.
Alber Elbaz's greatest Lanvin red carpet hits

Show all 17
"We started as couturiers," said he, with his Paul Poiret face. "We thought: what do women want? What do women need? ...Then we became 'creative directors', so have to create, but mostly direct. And now we have to become image-makers." A series of Lanvin dresses in the last show were based, Elbaz said, on plastic surgery. Corseted forms in American Tan nude, with revealing dresses draped around them, gave the impression of the Stockman dressmaking dummies used in Lanvin's ateliers: a literal fusion of the old world and the new.
Perhaps that's how Elbaz saw his role at Lanvin? A fusion – or maybe a compromise? Lanvin's turnover is projected at around £150m this year, healthy but not major. The house is commercial small-fry, but a creative heavy-hitter. Elbaz's final Lanvin outing, with its cut-and-paste lace dresses, signature prints, heavy jewellery and striking flat ballet slippers, was almost a summary of all the designer established as the label's signature. A CV for a future gig? Gimme your legacy – and look what I can do!
Maybe. A letter by Elbaz, widely circulated on the net in an English translation, says he was asked to leave, rather than resigning. (But some syntax may have been lost in translation.) Whatever, Women's Wear Daily reports that the rupture seems to have happened because Elbaz didn't agree with the company's policies, or with the decisions of the majority shareholder Shaw-Lan Wang – which caused obvious tensions.
Arms have been thrown up dramatically, decrying this as a moment when fashion is fragmenting. That has probably been happening for a while, in all honesty. But are designers unhappy because they are overloaded, or because their visions are compromised? Or both? Elbaz was a relative rarity: he oversaw both womenswear and menswear at Lanvin – each season, he took a bow alongside Lanvin's menswear creative director Lucas Ossendrijver – and he burned to work.
Some designers probably do feel overburdened. But I suspect fashion right now has lost its ease because designers feel they're not being listened to. No one minds working if they feel it's for a common cause, rather than lining someone else's pockets. Look at the outstanding success story of modern fashion: Chanel, a house that's doing so obviously well it doesn't even need to release sales figures.
Just go into a shop, and watch the people buying things. Chanel is the great example of a designer's vision leading a luxury house, without interruptions or questions. Chanel has faith in Karl Lagerfeld, a faith you wish others could mimic.
I understand that maybe everyone doesn't get the creative stuff – but no one can argue with the commercial might that Lagerfeld's unhampered vision has awarded Chanel. Surely that suggests they're getting it right? And that other houses should follow their example? That's not critical hand-wringing for the death of the creative. It's just good business sense.
Join our new commenting forum
Join thought-provoking conversations, follow other Independent readers and see their replies