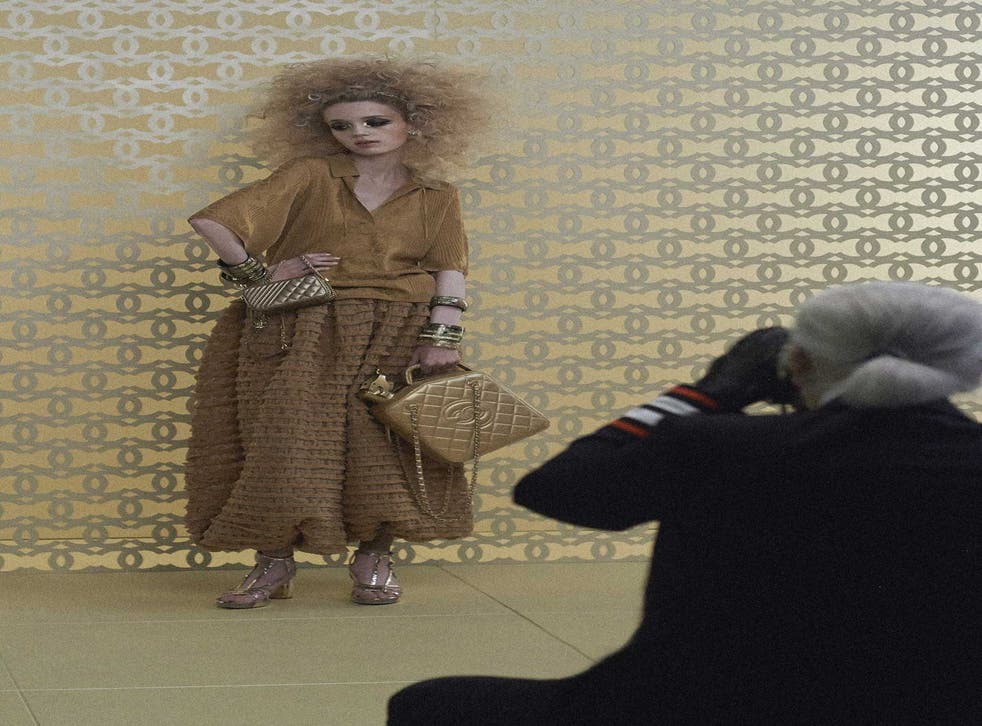 Chanel's latest catwalk show cost £1.4m and was specially 'built' on a Dubai island - so is Karl Lagerfeld on a mission to Chanel-ify the world?
Chanel's global business is enormous and Kaiser Karl is the king of Cruise
Alexander Fury Comments
Fashion is full of confused, confusing terminology. It's often compared to Versailles, a vast, complex society within a society. The residents of Versailles used to refer to the palace as "Ce pays-ci" – "This country here" – so distinct did they see the place from the rest of France, and the world at large. The natural inheritor of Louis XIV's golden mantle is Karl Lagerfeld – he's called Kaiser Karl for reasons other than alliteration. The most confusing fashion-ism of the current moment is 'Cruise'. And Kaiser Karl is the king of Cruise.
Cruise is a name given to one of fashion's two interim seasons – dubbed 'pre-collections', they fall between the traditional spring/summer and autumn/winter divide. Cruise is delivered to stores mid-November, while June sees delivery of its autumn counterpart, 'Pre-Fall'. It's the commercial backbone of many a fashion business, accounting for some 70 per cent of designers' sales. Many houses opt not to present these collections on catwalks. "The idea goes far back in time to the Sixties, when American women used to go on outings during the month of November, and needed comfortable clothes and fashion that suits their needs," says Bruno Pavlovsky, Chanel's President of Fashion. "Then, these outings or 'cruises' became the occasion to launch summer fashion... we decided with Lagerfeld 15 years ago to make the 'Cruise' a dedicated time to launch special collections and present them to the press within the setting of a huge show. There are very few brands in the world that adopt the 'Cruise' to launch their collections the way we do."
That's a vast understatement. Chanel was the first to present Cruise formally – and now it sets the standard. In the past, Chanel has presented shows in Saint-Tropez, Cap d'Antibes, Shanghai, on the Lido in Venice and in the gardens of the palace of Versailles – even more fuel to the Louis-Karl comparison. Each has been staged as a gorgeous orgy of excess, with custom-built sets and custom-made clobber. "In fashion week," says Lady Amanda Harlech, Lagerfeld's right-hand woman, "they bring the world to Paris. Here they bring Paris to the world." That's a clever idea. Whatever locale we're transported to is seen through the eyes of Chanel, each collection has a regional inflection, albeit spoken with a Parisian accent. There were coolie hats and Coromandel patterns in Shanghai, panniers and macaron pastels in Versailles. In Dubai, we saw Moorish embroideries, flat slippers with elongated toes, djellebas and harem trousers. Every Chanel Cruise collection is a 'Wish you were here' postcard. Except, of course, the sentiment is really 'Hope you buy this'.
That's the kind of thinking that has propelled Chanel to where it is – meaning global dominance, rather than Dubai. A few seasons ago, Chanel staged a show around an enormous metallic globe, its surface pimpled with monochrome logoed flags. They reminded me of the one planted by Neil Armstrong in the surface of the Moon back in 1969. These were planted by Lagerfeld: each represented a Chanel outpost, about 300 in total.
Chanel's Cruise 2015 show in Dubai

Show all 6
In case it isn't clear, Chanel's global business is enormous. No one outside of the corporation knows quite how enormous. Chanel is a privately-held company, still in the hands of the Wertheimer family, which brokered the original deal with Gabrielle Chanel to license her name to perfume in 1924. That perfume was phenomenally successful – today, the turnover of the cosmetics arm alone is rumoured to be more than a billion euros. No official figures are released detailing Chanel sales, profits or losses (if any) but the revenues generated by the house are enormous enough to justify – and, indeed, allow – the expense of schlepping press and celebrities across the globe to see these fashion spectaculars.
In Dubai, Chanel took it one step further. It wasn't just the five-star accommodation and travel. The house also erected what Tilda Swinton described as an "egg box" on a stretch of sand, dredged from the shallow coastal waters of Dubai a short distance from the famous 'World' archipelago. It reputedly took two months, and somewhere in the region of £1.4m, to Chanel-ify The Island, as the location for Chanel's Cruise show is enigmatically know to locals. Following the Chanel Cruise catwalk show, and a post-show party with the American singer Janelle Monae performing, the entire edifice was torn down, the sand raked, and no trace of Chanel remained.
Dubai doesn't leap immediately to mind as a location for a Chanel excursion, but however unexpected, there is always a link. Example: last winter, Chanel upped sticks to Dallas. That's an equally bonkers backdrop for the Chanel bouclé, yet back in 1957 – three years after Coco brought herself out of retirement – Neiman Marcus, which is based in the city, awarded Chanel for Distinguished Service in the Field of Fashion (they gave Karl Lagerfeld the same honour after last year's Chanel extravaganza). Harlech declares that, today, Lagerfeld and Chanel are going where Coco would have gone, were she alive – Singapore last summer, and this year Dubai. "And pearls come from Dubai," Harlech states triumphantly. "Somehow, with Chanel... her interests were so wide and varied, there's always a link."
Dubai, though? The romance of the emirate's thousand-year-old pearl diving industry is overridden entirely by the patent, blatant artifice of modern Dubai, its jumble of post-modern architecture where a McDonald's rubs shoulders with a petrol station next to a neon-lit minaretted mosque. As we careen towards the Chanel show venue, across the multi-lane motorway that cuts through the sci-fi towers of Dubai, Harlech gives me a potted history, or rather, a non-history: "No history... at least, what there was is lost in the desert. Beginning with oil in 1966, and then the first skyscraper in 1972. Where are we?" She's asking the question rhetorically, not quizzing the driver of the blacked-out Merc.
Harlech has been dubbed "my outside pair of eyes" by Karl Lagerfeld: she is a constant presence, and an unofficial Chanel ambassador of sorts. Today, she's dressed in Chanel haute couture (it's written into her contract that she receives a certain number of custom-made pieces each year from the house). Lagerfeld himself is nowhere to be found: before the show, he's locked up for days completing the process of 'accessorisation' – rarely articulated quite so clearly by any house. But few houses have Chanel's distinctive and plentiful accessories, the globules of pearls, brooches, armfuls of enamelled cuffs and the chain-strung, quilted handbags, the Chanel 2.55 that became the first it-bag some 60 years ago – its numeric title (a Chanel tradition since No 5) came from the month and year in which it was conceived. It's still a house bestseller, although for Chanel-Dubai, Karl Lagerfeld controversially re-imagined it in a quilted jerry-can shape.
That sounds cynical, a visual side-swipe. Oil is the source of the UAE's vast wealth, hence the source of its influence in modern fashion. Plainly put, that's the main reason Chanel staged their show in Dubai. It's an enormously important market for luxury goods – Bruno Pavlovsky dubs it "the fashion epicentre in the Middle East", adding that "Dubai has become one of the most important destinations for us". Hence the fact that the Chanel show is packed with clients, some dressed head-to-toe in Chanel, others swathed in abayas – but with glinting Chanel jewellery and handbags all the more visible against the expanse of black, as they were rowed out in traditional Abra boats against the Dubai tide. A literal cruise to Chanel's Cruise.
Unlike The Great Gatsby, however, the ceaseless tide bore us not to the past, but to the future. That's exactly what Lagerfeld wants – a man who refuses any retrospection, and looks only forward. "It has to do with Chanel of the 21st century," states Lagerfeld, simply. "In a modern part of the world, which is unrelated to the Old World, which is in a way, the New World, but it is a mix of the old world and the new world. And this, I think, is interesting and exciting." He materialised after the show, his shock of white hair glinting against the desert sand. It was 8pm, and the sun had set, but Lagerfeld is fashion's sun-god, invariably lit by a million wattage of flashbulbs while he delivers soundbite after soundbite. What was the collection about? Rapid response: "'Everything that needs an explanation isn't worth it', said Voltaire. Look at it and you will get the message."
Sometimes, however, it's better to listen. The Thousand and One Nights fantasia of Lagerfeld's Chanel collection gave the message of oriental excess loud and clear, but Lagerfeld's words linger longer. "Today, it's not Europe that has the most shops – it's the rest of the world. The new world." That's what he said back in 2013, when Chanel staged their show around that globe – the entire world, Chanel-ified, in the centre of Paris's Grand Palais. "Fashion globalisation" was Lagerfeld's catchphrase. Does that mean Chanel globalisation? No pause: "I never think about other people, I only think about my clients." That'll be a yes, then.
Far-flung fashion
Christian Dior at Blenheim Palace, 1954
Hardly an exotic, but certainly loaded: the palace was built to celebrate the Duke of Marlborough's defeat of the French. "At any moment I expected his indignant ghost to join the line of mannequins," said Monsieur Dior.
Christian Lacroix in New York, 1987
Right location, wrong time: Lacroix's venue was the World Financial Centre, on 28 October 1987, nine days after Black Monday.
Fendi on The Great Wall of China, 2007
The ultimate: in October 2007, the Italian fashion house showed atop the Great Wall of China. The mastermind? Karl Lagerfeld, of course.
Register for free to continue reading
Registration is a free and easy way to support our truly independent journalism
By registering, you will also enjoy limited access to Premium articles, exclusive newsletters, commenting, and virtual events with our leading journalists
Already have an account? sign in
Join our new commenting forum
Join thought-provoking conversations, follow other Independent readers and see their replies