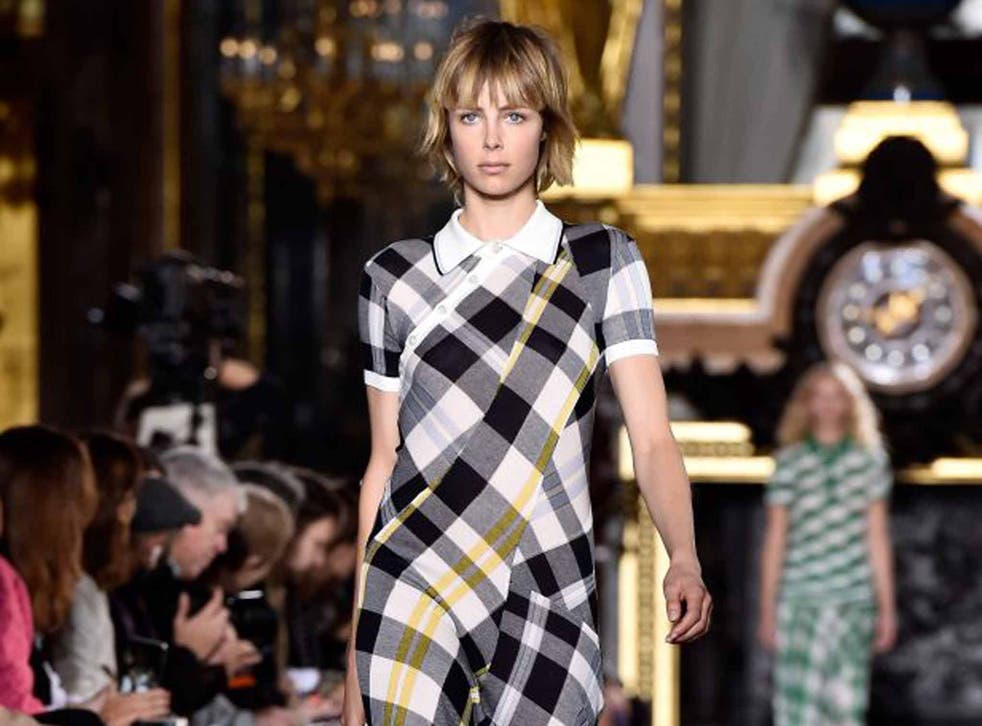 Female designers at Paris Fashion Week: Stella McCartney, Sacai and Celine
Alexander Fury applauds the aesthetic and the powerful pragmatism of Paris's leaders
Alexander Fury
Monday 05 October 2015 20:29 Comments
Maybe it's the experience of actually wearing the clothes – and indeed of living a life around them – but when women design clothes for women, the results tend to be different from when men do the job. I'm talking about women such as Phoebe Philo or Stella McCartney, or Chitose Abe of the 15-year-old but suddenly hyper-visible label Sacai. They aren't decorative wallflowers. They have husbands and children and jobs, and dress accordingly. They wear their own clothes not because they're walking advertisements (although with designers like McCartney, the line is blurred) but because their clothes are engineered accordingly.
It's difficult to square, say, the stuff that Giambattista Valli offers with those kind of women - his aggressively short baby-dolls in serpentine florals or billowing chiffon evening dresses, threatening to plank the models as they trailed underfoot. Imagine those on the school run - or, indeed, in the design studio. They're a liability. His looked decorative, sure, and were inoffensive enough, much like Giamba's favoured socialites, the dolls of fashion's Valli, who applaud the spectacle each time. For most women, it's hard to reconcile those kind of garments with their everyday existence. They're clothes for looking at, not living in.
That, perhaps, justifies the clothes of Stella McCartney: her spring/summer 2016 polo-shirts and Henley tops tugged down long to become hip-hugger skirts with flaps and folds about the hips. Very nice, especially layered in stripes that crissed into plaids, or dishrag checks on elongated shirt-dresses. There was, actually, a lot to wear here that was oddly appealing, both practically and aesthetically. The function came first, though, in those long narrow skirts that you could still move in – clingy in knit, slim but not skinny in denim and hard-wearing twill – with neat boxy shirts.
Paris Fashion Week spring/summer 2016

Show all 35
McCartney has a sure hand, but an uncertain eye. It means that her stuff is always well made and well formed, but frequently ends up looking unpleasant, which undermines her message of wares for all to wear. No one would want to wear her curlicue-swirled organza shirting, or those eyelet-embroidered evening dresses that wound up looking like excessively complicated Aertex inner soles plucked from a pair of over-designed trainers. Ho hum. They were merely part of that section in the middle of every Stella McCartney show that comes out looking, well, ugly. This time, it was longer than last season – but mercifully shorter than last spring/summer. And even when it doesn't look good, it has a purpose, and doesn't offend.
Next, Sacai's Chitose Abe, a relative newcomer to the Paris schedule, a graduate of the Comme des Garçons studio-cum-school (eight years under both Rei Kawakubo and Junya Watanabe before going it alone). Given the conceptual slant of the Comme labels, you'd be forgiven for underestimating the width of Sacai's appeal. In a sense, it's Comme for dummies – although that's a simplistic reduction of what Abe's clothes offer. Really, it's about boiling down all that patching and patchworking and abstraction that Comme des Garçons school offers, and making it palatable, relatable.
Abe's clothes are clever, but not too clever for their own good. They collage together plenty of components in a game of dressmaking Blackjack, where an ace like a flat, ribbed-knit front may turn to reveal a queenly flank of lingerie-inserted lace, pleated and suspended from spaghetti straps or braided with fringe. They were winners.
There's little to be gained from dissecting the varied elements invariably clashing together in a single Sacai garment, let alone outfit. However, the fact that Abe herself not only devises them but dresses in them gives them an innate pragmatism. This show reminded me of Phoebe Philo's Céline, both in the number of devotees displaying team colours in the audience and in the odd, alchemic desirability of the mix of elements.
There's nothing odd or alchemic in the appeal of Hermès. It's in the name: it stands for a distinct brand of bandbox-clean French luxury, irrespective of the clothing that Nadège Vanhee-Cybulski designs. It's only her second season at the house, so perhaps that's unfair. But Vanhee-Cybulski came to Hermès from the back rooms of The Row, the high-level, high-priced line that is somewhat incidentally designed by former Hollywood tween royalty the Olsen twins, and makes things like crocodile backpacks and unlined cashmere coats that cost as much as a small car or a package holiday for six. Sounds pretty Hermès to me.
Vanhee-Cybulski is Hermès' first female head designer in two decades, but you assume her remit isn't to rock the boat, but rather to offer clothes that are relatively fuss-free and use ludicrously luxe fabrics such as griege goatskin for ostensible "trainers" (not sure what kind of training you'd do in those) or Hermès' silk twill for uncomplicated dresses in the brand's signature orange. A scarf in the stuff costs about three hundred quid: you do the maths for a pleated dirndl dress. "It's just really nice, expensive clothing," murmured one fashion editor of note to me as we left the Hermès show. Isn't it all?
But there are women who live this kind of lifestyle – and Vanhee-Cybulski may well be one of them. Her show wasn't so far in ideology from Céline, nor Sacai, although all three look different. (Granted, there's a great glob of Céline in Hermès, as in so many other collections for this and so many other seasons.) The connecting tissue between all of them, as with so many other female designers in Paris, was their grounding in reality.
Register for free to continue reading
Registration is a free and easy way to support our truly independent journalism
By registering, you will also enjoy limited access to Premium articles, exclusive newsletters, commenting, and virtual events with our leading journalists
Already have an account? sign in
Join our new commenting forum
Join thought-provoking conversations, follow other Independent readers and see their replies