German accountant Matthäus Schwarz prefigured the selfie blogger craze by 500 years with his fashion diary
A new book reveals how the 16th-century accountant became the world's first fashion 'blogger', with a comprehensive watercolour diary of his on-trend outfits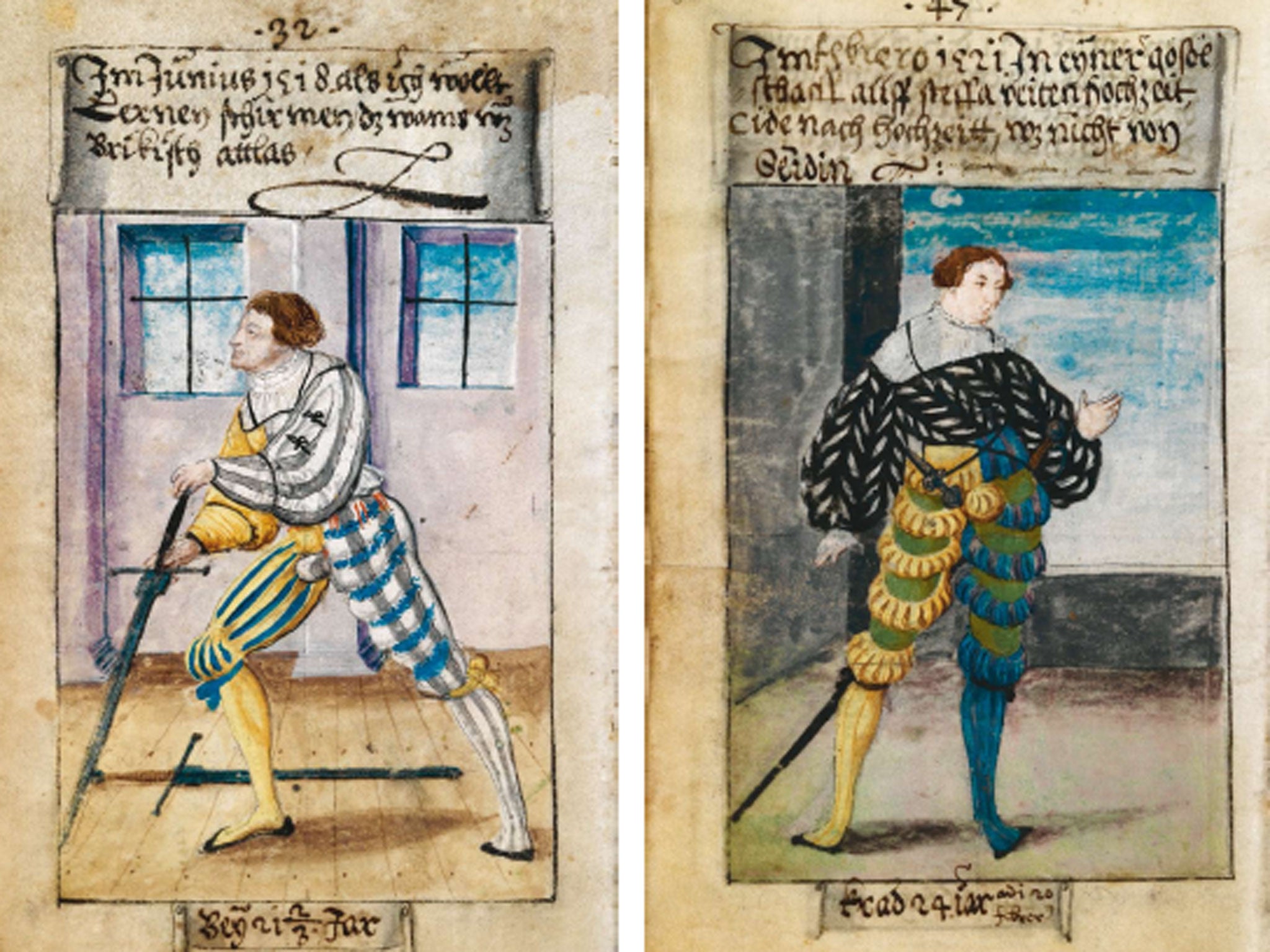 Long before the likes of Tavi Gevinson and Bryanboy made careers of taking fashion selfies, a German accountant was busy documenting his outfits: for 40 years in the 16th century, Matthäus Schwarz commissioned watercolour portraits to showcase his daily ensembles, leaving us with the most extraordinary record of Renaissance style, gathered together in his Trachtenbuch (literally, "book of clothes".)
Born in Augsburg in 1497, Schwarz began to record his sartorial successes – and failures – from the age of 23, using three principal artists. The collection of 137 miniature paintings (including 36 that drew on his memory of what he'd looked like from childhood, to reconstruct his earlier years) is kept in a museum in Brunswick in northern Germany.
"It was incredibly unusual for the time," says Professor Maria Hayward, who co-edited The First Book of Fashion, a new book in which the paintings are recreated. "You would usually associate this sort of portraiture with the absolute elite of society – kings and princes – so it is remarkable that this is someone in the middle section of society."
Matthäus Schwarz's fashion diary
Show all 7
Not only do the images provide an insight into wardrobes of the time, they also capture the experience of life in the German merchant classes five centuries ago. The portraits are accompanied by his age at the time of execution and a caption about the outfit and the occasion for which it was worn. Momentous events, such as deaths, his engagement and wedding, are recorded, as are his various illnesses (including a stroke), work life, social life and hobbies. A typical note reads: "I started shooting again. The doublet of silk satin, like pearls and gold sparkling in the sunlight." Schwarz also remarks in a matter-of-fact way when he has put on weight: at 29, he points out, "I have become fat and round."
"The pictures tell us a lot about how men thought about themselves in those days," suggests Hayward. "They give us lot of insights into young male culture in Augsburg – drinking with friends, archery competitions."
Schwarz's outfits are often bright and elaborate, and the doublets and breeches he favoured were seen as very fashion-forward at the time. The clothes carried political significance, too. When Charles V returned to Germany, Schwarz wore red and yellow, the colours of the Holy Roman Emperor's flag, as a show of allegiance to Catholicism.
Although he lived until 77, Schwarz stopped recording his dress at the age of 63. It is thought that he had trouble finding a replacement after his favoured painter had moved on. His son, Veit Konrad, did continue the family tradition, although his clothes were decidedly more sombre than his father's.
A question remains as to who the book was intended for. "It is difficult to say," says Hayward. "Particularly because there are some naked images included. I suspect it's primarily for him, although we do know that his son looked at it. Perhaps it is a record for posterity. Whoever it was intended for, it's certainly a fascinating collection."
'The First Book of Fashion' (£29.99, Bloomsbury) is published on 22 October
© The Herzog Anton Ulrich Museum, Braunschweig
Join our commenting forum
Join thought-provoking conversations, follow other Independent readers and see their replies