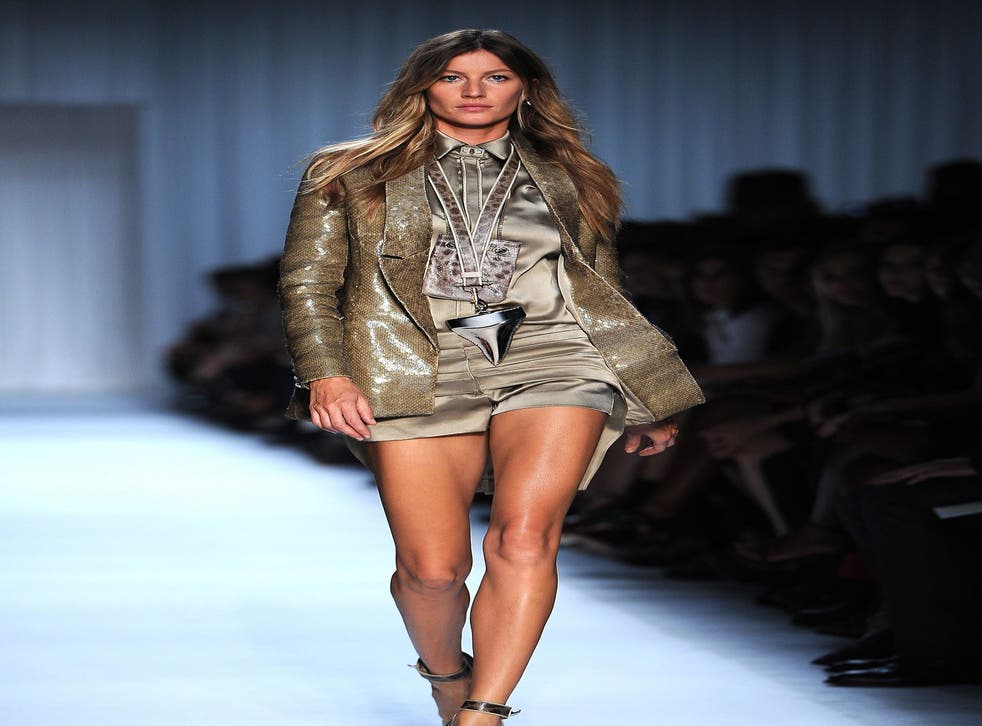 Gisele Bündchen: Business model - it takes more than just good looks to get to the top
The Brazilian is the highest-paid model in living history with her wealth now over $250m
Gisele Bündchen is the world's top-earning model. This comes as no surprise – because Gisele Bündchen has been the world's top-earning model since 2004, according to Forbes. "Top-earning" doesn't really begin to describe Gisele's financial clout: in the past year, she's raked in $42m (£27m). That's actually $3m down on her 2011-12 takings. The next model on Forbes's 2013 list is Miranda Kerr, whom Gisele financially outperformed sixfold.
Kerr is better known as the partner of the actor Orlando Bloom. While Gisele has her own celebrity husband – the American Footballer Tom Brady, who plays quarterback for the New England Patriots – she is a force in her own right, and, if anything, Brady owes more of his fame to her than she does to him. As a power couple they are awesome – with combined annual earnings in 2011 of $76m, higher than both Brad Pitt and Angelina Jolie, and Beyoncé and Jay-Z.
But these cold facts and figures miss the point. In modelling terms, Gisele has it all. For starters, she has experience, spending more than half of her life in the fashion game. That's invaluable. It means she knows all the right people – photographers such as Mario Testino, Nick Knight and Mert Alas and Marcus Piggott not only photograph her, but also call her a friend, as do leading stylists, designers and other models.
She's also picked up United Nations-worthy language skills, speaking fluent English, Italian, Spanish, her native Portuguese and a little German and French, to boot. And she's a trouper – in her catwalk glory days she walked 30 shows a season. She shoots multiple campaigns. Her working hours are double-digit. "Ultra-competitive and intent on being the best," says one source – her husband. And we've not even got onto that body – legs for days, tawny skin and features that seem to bear no mark of her age (33). That combination isn't just modelling dynamite – it's paydirt.
All this and a classic rags-to-riches story that began in the village of Horizontina in Brazil, where she was born in 1980. Her father worked in construction and her mother was a bank teller. Gisele was a 6ft teenager, earning her the nickname Olive Oyl – but with dimensions perfect for modelling. She was discovered eating a McDonald's in a Sao Paulo shopping centre, participated in a few local modelling contests and then exported her talents to New York and Europe. Aged 16, she modelled for Oscar de la Renta in New York. By 17, she featured in catwalk shows for Alexander McQueen, Dolce & Gabbana and Versace.
It was that export market that really cemented her fame, and subsequent fortune. Bündchen began a Brazilian invasion that marked modelling in the late 1990s and early Noughties. What Brazil represented, in overly simplified fashion terms, was a return to swerves, curves, bouncing breasts and tanned skin: a return to flesh, rather than bone, the antithesis of the super-waif and the much-maligned but then still evident "heroin chic".
"The nose, the waist, the breasts – they saw problems everywhere," said fashion photographer Mario Testino to Women's Wear Daily in 2010, recalling his early struggles with editors to feature Gisele in his shoots. "A year later, everyone wanted her."
The "Brazilian Wave" represented the great, grand return of sex to fashion. And Gisele, heading it up, became the first real supermodel since the early 1990s era of Claudia Schiffer and Naomi Campbell. And if nothing else, Gisele's campaign trail reads like a Who's Who of the fashion industry: Dior, Dolce & Gabbana, Versace, Lanvin – most on multiple occasions.
As with those names, Gisele has become a brand in itself. That monicker is fortunate – it's easy to equate "Gisele" with "gazelle", which is exactly what comes to mind when you see her strutting down the catwalk, hips rolling as if oiled, pneumatic breasts bouncing. That sounds like Page Three-style sexist buffoonery, but the "Gisele Two", as they became dubbed, were tantamount to a sexual revolution after the skinny, flat-chested looks of "kooky" models such as Erin O'Connor and Karen Elson, her immediate predecessors.
By 2000, the tabloids had dubbed Bündchen the "Boobs from Brazil". Some linked her generous embonpoint to the 36,000 breast enhancement surgeries performed in Brazil from 2000-2001, while catwalk photographers responded to the model's declaration that she would never go topless by starting a tongue-in-cheek campaign titled "Free the Gisele Two". It was shouted at catwalk shows. You could even buy T-shirts carrying the slogan.
"Her face is well known; her name is recognised. No other girl occurs to me that people in the street would recognise," said original supermodel Claudia Schiffer in 2007. That, of course, is to overlook Kate Moss. You can write Kate across a cover, and assumptions are made. Moss is boss. But why, then, is she ranked third on Forbes's list? Because Gisele isn't a party girl – as Moss undeniably is – but a workaholic.
"Some people start modelling because they want to be models and they want the parties and the recognition, and then there are people like me," Gisele told Vanity Fair in 2004. "I come from a simple family, and for me, getting into modelling was a chance to make money and create a business."
By that point she had already launched her Ipanema line of sandals with the label Grendene. Today Grendene rivals Havianas, with Gisele's line accounting for 63 per cent of the company's annual exports. They shift around 25 million pairs a year. In 2010, she founded Sejaa Pure Skincare. She has also spun out a lingerie line, Gisele Bündchen Intimates, a typical supermodel money-maker that previously raked in cash for Elle Macpherson. Naturally, Gisele stars in the campaigns, and in the business sense Bündchen is still growing, still in the process of branding herself and exploiting her name.
As befits an empress, her appearances are rare and noteworthy. Catwalk outings have been sporadic since she "officially" retired in 2001. The last was for Alexander Wang in February 2012. She also featured on the spring/summer 2012 catwalk for Riccardo Tisci at Givenchy, and in 2011 for Balenciaga, whose advertising campaign she also fronted. It's the ad campaigns that rake it in – certainly better than catwalk. There is no money in editorial, but appearances such as those on the cover of British Vogue in September 2011, and this July's on the cover of Vogue Italia, keep her a visible fixture in the high-stakes, high-budget, high-fashion game. That translates, of course, to paid work – Gisele is one of a phalanx of models lounging in the latest autumn/winter Louis Vuitton campaign, and in the past 18 months racked up Versace, David Yurman jewellery and Chanel beauty campaigns too.
Ultimately, Gisele's success comes down to high-street recognition and the campaigns for mass-market chains such as H&M and Esprit, her face plastered across buses, billboards and the hoarding of their very many stores. She acts as creative director on a line for mass-fashion retailer C&A. From 1999-2006, she was also one of the catwalk models for lingerie giant Victoria's Secret – dubbed the "Angels" – in the most-watched fashion show on the planet, broadcast to global internet audiences and from 2002 primetime on US television network CBS. In her final outing as an "Angel" in 2006, Gisele's catwalk appearance was watched live by nearly seven million people.
The fact that she's a household name encourages more household brands to utilise her appeal: when Procter & Gamble's Pantene shampoo advertising began to feature Bündchen in 2010, its Latin American sales rocketed by 40 per cent. No CEO in their right mind could ignore figures like that. Indeed, American economist Fred Fuld even went so far as to develop the "Gisele Bündchen Stock Index" in 2007, a comparative study charting the performance of brands associated with Gisele. In that first year, Gisele was up 29 vs 6.5 per cent for the Dow. It's only continued to rise.
American Vogue's all-powerful editor-in-chief, Anna Wintour, had already declared Gisele the model of the millennium by 2006. There's a bit of fashion hyperbole in there, but it has the ring of truth. As does Forbes's 2011 declaration that she may become the first supermodel billionaire. She became the highest-paid model in history in 2009, when her personal wealth reached $150m. It's now over $250m. And it's those figures, rather than the bombshell curves, that really put the "super" into "supermodel".
A Life In Brief
Born: Gisele Caroline Bündchen, 20 July 1980, Tres de Maio, Brazil.
Family: Daughter of a bank clerk pensioner and a university teacher and writer. Has five sisters, one of whom is her twin. Married to the New England Patriots quarterback Tom Brady; two children, Benjamin and Vivian.
Education: Left high school to pursue a modelling career.
Career: Discovered by Elite modelling agency at the age of 14, and had her first big break at New York Fashion Week in 1996. Since then she has become the highest paid model in the world with earnings of $42m, helped by merchandising partnerships including lingerie, shoes and an eco-friendly skincare line. Appeared in the films Taxi (2004) and The Devil Wears Prada (2006).
She says: "I'm a workaholic. I've been doing my job for a long time."
They say: "Meet Gisele Bündchen, breadwinner for the Bay State's ultimate power couple." Craig Douglas, managing editor of Boston Business Journal.
Join our new commenting forum
Join thought-provoking conversations, follow other Independent readers and see their replies