Hedi Slimane's controversial yet successful rebranding of the venerable Yves Saint Laurent label is not to everyone's taste
It's a rebranding success story. At least, as far as retail goes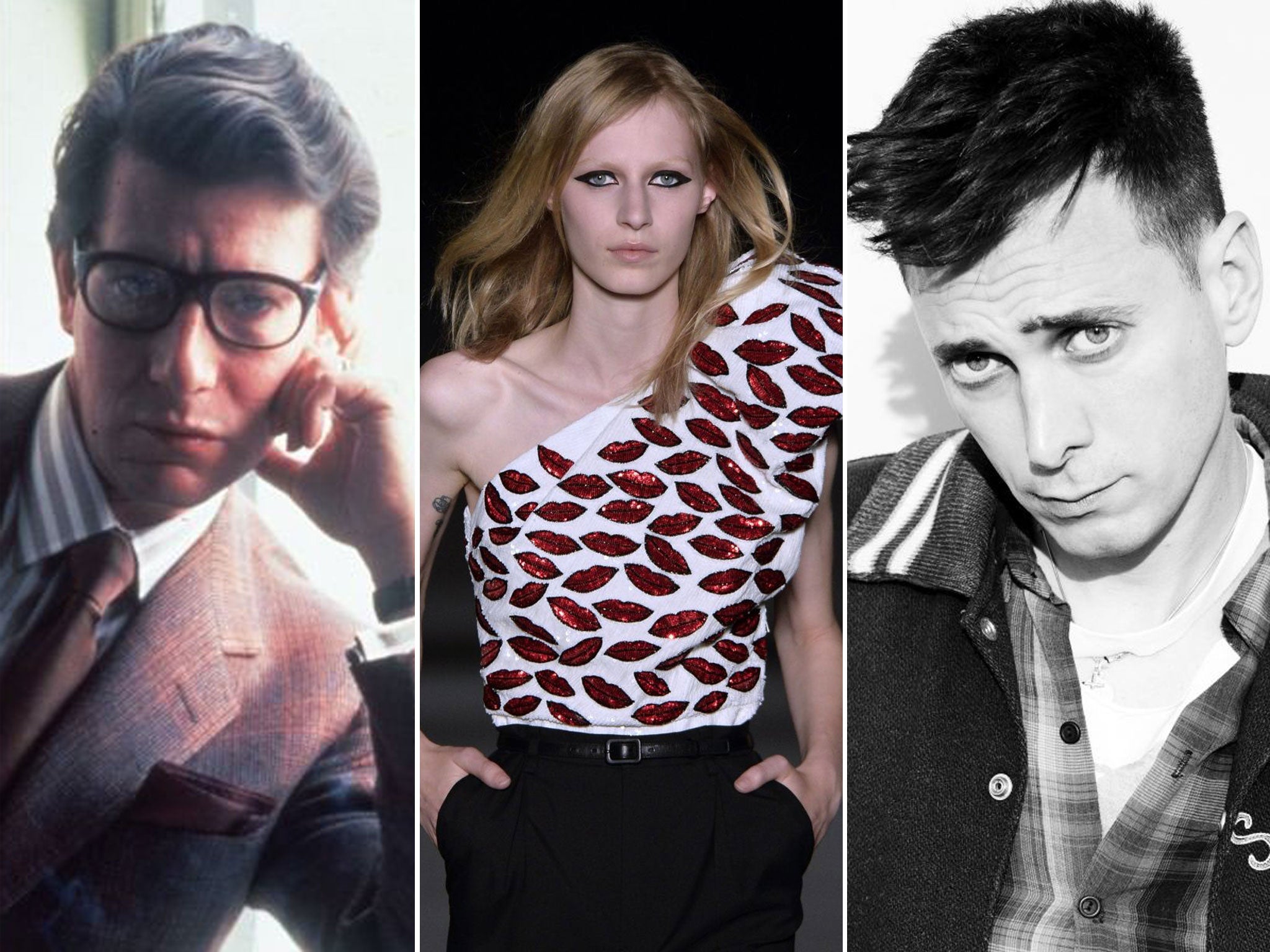 This evening the Paris autumn/winter 2014 menswear shows close with one of the most eagerly awaited – and frequently criticised – shows of the season: the label formerly known as Yves Saint Laurent. It will be designer Hedi Slimane's third menswear outing for the house.
Slimane cleaved off the brand's Christian name when he took the reins in 2011; over the subsequent 18 months, he's sliced a few decades off its customers' ages, too, and several notches off their belt loops. His Saint Laurent customers are skinny, first of all. Secondly, they're young. Thirdly, they're willing to pay whatever it takes to buy into his reimagined, revitalised house.
It's a rebranding success story. At least, as far as retail goes. Sales are buoyant: Barney's New York reported a 60 per cent sell-through on Slimane's first spring collection. "The leather bikers, bombers and accessories sell out within days of landing online," comments Damien Paul, MatchesFashion.com's menswear buyer. Barely two weeks into the spring season, he says: "The bikers from the show have already sold out and we have a waiting list for the boots from the runway." The overall retail increase is reported to be 40 per cent.
In the stores, Slimane's Saint Laurent has undeniable hanger appeal. Those leathers are luxurious, cuts skinny and simple. There's a "permanent" collection that focuses on classic pieces such as slender coats, the signature Le Smoking tuxedo and more youthful pieces such as calfskin Chelsea boots or leopard-print shirts. The rebranded label – Saint Laurent spelled out in Helvetica inspired by the original 1966 Rive Gauche typeface – looks sharp, as do Slimane's redesigned Saint Laurent retail spaces, all marble and chrome. (London's Sloane Street boutique is currently undergoing renovation to fit the new template.)
There is a chasm, however, between the hot retail figures and the frostier press reaction. "Sale rack at Primark," sniped one editor when I asked their opinion. I myself had heard hums of "Topshop" at the last Saint Laurent catwalk show, where short, sparkled mini-dresses were combined with frilled lurex-flecked ankle socks in an ode to familiar indie-girl style.
Slimane is undoubtedly plugged into youth culture. In his previous incarnation as head designer of Dior Homme, between 2000 and 2007, he championed subcultural styles, culling from mod, goth and ska and featured the music of young underground bands discovered on the vibrant London gig circuit. Those included These New Puritans, the Rakes and Razorlight, long before any hit the mainstream.
Slimane transplanted to Los Angeles when he left Dior, which is where his Saint Laurent studio is based. The styles he has proffered, from an opening womenswear gambit of louche hippie chic, through a Lost Boys-tinged menswear offering for spring and a subsequent womenswear show that could, at best, be dubbed groupie chic, all have an LA flavour. They feel familiar, failing to bear the imprimatur of either Saint Laurent or Slimane. But they sell. There's a demand for them.
Hedi Slimane is tapped into a very specific idea of cool. It works better in his menswear offering, honestly. I'm curious and excited to see what he will show this evening. His work for Dior Homme changed the fashionable silhouette. His rail-thin male models have been the fashion standard for the past decade. "I think customers respond to the authenticity of his viewpoint," says Damien Paul. "He is totally uncompromising about his aesthetic."
But Slimane's tenure has become as known for his extreme reactions to perceived criticism as for the clothing he designs. In 2011, he banned the influential New York Times fashion critic Cathy Horyn from debut shows because of an article in which she commented that his slim tailoring and street casting had a root in the earlier work of Raf Simons. "Mr Slimane objected bitterly," Horyn wrote. Last year, Slimane severed a 15-year relationship with Parisian boutique Colette because the latter sold a R-shirt with the slogan "Ain't Laurent without Yves".
The seating at Slimane's Saint Laurent shows is also notoriously nepotistic. The presence of friends, such as the American singer and model Sky Ferreira or the British tabloid favourite Pixie Geldof, in front-row seats usually occupied by the fashion press – whose job it is to report and critique Slimane's work – has caused discord. So, too, has his stalwart refusal to discuss his clothes with any of the fashion press.
"It's offensive," stated one member of the press, flatly – but only if anonymity was guaranteed. As with many other journalists, they feared the withdrawal of Saint Laurent's lucrative advertising budget, and possible banishment from the shows, if they were seen to be critical.
It's all discomforting. Especially because, while I may be unconvinced by his excursions into womenswear, Slimane's menswear is once again setting the pace. Along with the aforementioned Raf Simons, and Miuccia Prada in Milan, his Saint Laurent is the most compelling and exciting show of the season. His are the clothes that get us excited. It's just a pity that the brouhaha Slimane creates so often drowns them out.
Join our commenting forum
Join thought-provoking conversations, follow other Independent readers and see their replies