Hipster hate is everywhere - but is there a little bit of them in all of us?
With their contrived facial hair, fixed-gear bikes and craft beers, hipsters are a highly visible target for condemnation and comedy. But are critics just hypocrites?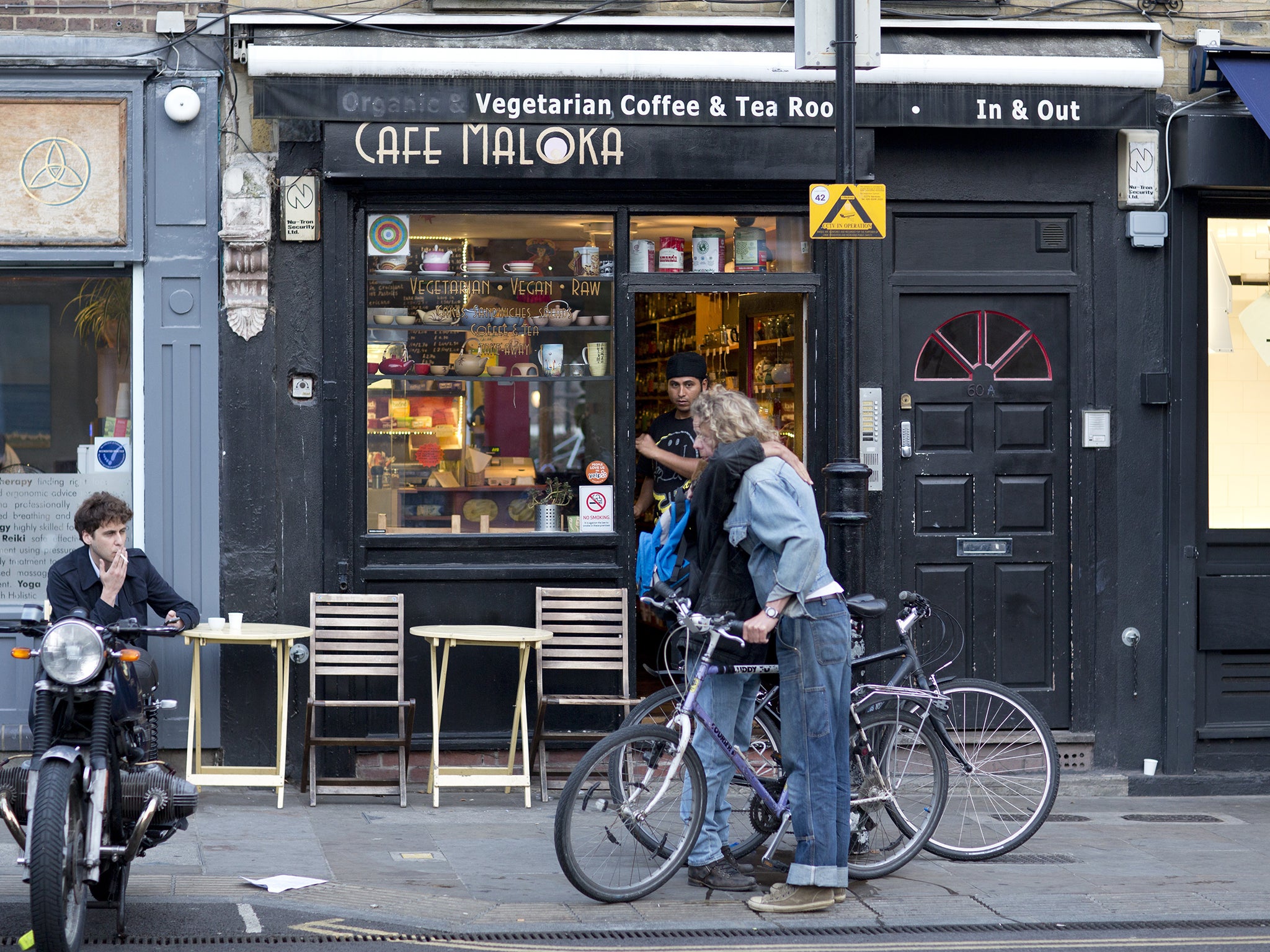 Death to hipsters. That's what it says on the T-shirt. Death. To hipsters. I'm pretty sure that the chap wearing it isn't on a murderous crusade, but if he were pursuing some kind of jihad he wouldn't be short of hands-on support. There's an independent film out shortly called Death To Hipsters, too. Its blurb reads: "If you're offended by this, stop wearing your sister's pants and mixing techno music, and get some goddamned help."
Once you start noticing hipster hate, it's everywhere. Pub signs proclaiming "No Hipsters". A Photoshop mock-up of a "Hipster Trebuchet" which, in theory if not in practice, flings the bastards over the horizon as they clutch a gluten-free brownie. "Kill them," posted a British comic actor on Twitter the other day, referring to a picture of a man with a waxed moustache.
This anger is evidently exaggerated for comic effect, but it's endemic. It extends to a whole range of stuff that people associate with hipsters, whom they deem to be a loathsome species of subhuman scum. Gourmet burgers. Fixed gear bikes. Craft beers, formerly real ales. Pop-up this, pop-up that. Vintage shirts. Independent coffee outlets. Truffle oil. Bric-a-brac. Granny's glasses. Bikram yoga. Vinyl records. Instagram selfies. Rooftop bars. These things may seem benign in isolation, but together they would appear to spell "the end of Western civilisation". In this week's New Statesman, Will Self spends 900 words screeching about areas of certain cities that are "positively haunching with dickheads", hipster dickheads who dare to converse about "raves and virtual art forms".
The word "hipster" didn't always have such negative connotations. Steely Dan vocalist Donald Fagen named his recent memoir Eminent Hipsters, referring to a group of artists whose "origins lie outside the mainstream... or who have enough distance to see some truth". But any bohemian romanticism that may have been associated with hipsters in the 1960s has long since been torpedoed; it's now an expletive, spat out contemptuously towards anyone who seems to be part of this pseudo-counterculture that appears to have nothing going for it.
But if you're feeling a twinge of sympathy for hipsters at this point, hold off on the messages of support and the vegan food parcels, because you won't find them putting their hands up. Not in east London or East Austin, Bondi or Brooklyn, Portland's Pearl District or Manchester's Northern Quarter. You'll only find people denying hipsterism and pointing at others. The hipster is always somebody else. "I don't think that they even exist," says Dr Matt Lodder, an art historian. "It's hard to know what a hipster is, or what one is supposed to be. No one self-identifies with it, so it almost becomes a code word."
But our fury is real, so surely the hipster must be? "The hipster still very much exists," argues author and journalist Mark Simpson. "Despite everyone hating them – including hipsters – they've somehow become culturally hegemonic."
There are certainly some obvious visual clues to hipsterdom which are broadly agreed upon and which should theoretically help us hunt them down with assault rifles: American Apparel T-shirts, thick-rimmed spectacles and rolled up trousers are just three. "The look grew out of an American street-style subculture," says fashion writer Harriet Walker, "beards, a lot of denim, a kind of hyper-masculinity.
In the first instance it was a kind of honest representation, although of course whenever anyone adopts a street style they're joining a bandwagon. But it's prevalent these days because it's been marketed so fiercely and successfully by American Apparel, Gap, Old Navy, and now even Topman and River Island." With so many people sporting clichéd hipster styles, the real hipsters (whoever they are) adopt looks that are more individual, marking themselves out from the crowd, a bit like a guy who rides a unicycle around Homerton while wearing a top hat. But by making themselves more visible they seem to make our fury even more acute.
"People really hate it when there's even the smallest suspicion that they're not cool enough to be in a particular demographic," says Walker. "They feel like they're being told how their lives could be better. So one of the reasons that people are vitriolic is because part of them wants to be a hipster – but of course they'd never admit it."
Celebrity hipsters
Show all 23
Bjørn Schiermer Andersen, assistant professor of sociology at the University of Copenhagen, agrees. "The onlooker feels positioned as the conformist, as the mainstream," he says. "That has a lot to do with the anger. But while the hipsters feel cooler than the people who pass by, perhaps in reality it's the other way around. It's the hipsters who've fallen prey to fashion."
What's strange is why it matters so much to people. Lodder believes that we are no different to the hipsters we denigrate. "We accuse people of doing things 'just to be fashionable'," he says, "and that we'd never be swayed by such whims and whimsies – but everyone does it. Even your average commuter on the Tube with an M&S suit on; they've made an aesthetic decision inspired by the cultural zeitgeist which they inhabit – their peer group, their personal tastes, the things deemed acceptable by those around them. Everyone does what the archetypal hipster does. No one is immune. There's an enormous hypocrisy going on here."
Anti-hipsters would, of course, deny that hypocrisy, while simultaneously levelling the accusation at hipsters that their style and activities are somehow contrived, inauthentic or ironic. People have scoffed at "ironic haircuts" ever since Charlie Brooker skewered a particular kind of hipster idiocy with his character Nathan Barley, but 15 years after that character first appeared in print, are we attacking an irony that isn't there, and a lack of authenticity that doesn't matter? "There certainly is a detached way of hipsters using old objects," says Schiermer, "not because they appreciate them authentically, but because they're hideous." Walker agrees: "I see people 10 years younger than me who are dressed like Bruno Brookes circa 1987," she says, "and of course that's ridiculous."

But there are perfectly authentic ways in which hipsters raid the past, too. "Go into a hipster bar," says Schiermer, "and you might find a 22-year-old playing a great vinyl record from the 1950s that you haven't heard before. That's not ironic – that's a genuine appreciation of a cultural form that our generation has left behind. That love for old media, the redemption of old technologies – that's a progressive thing. It makes the possibilities of expressing ourselves larger, and makes our world a little bit bigger."
Of course, it's impossible for any cultural sociologist, amateur or pro, to legislate for individual stupidity. This week saw the announcement (and, following outrage, the subsequent unannouncement) of Death Row Dinners, a pop-up restaurant where the menus were inspired by the often lavish final meals requested by inmates on death row in the US. Which might have been almost acceptable, had the advertising not featured a number of photos of prisoners, and blurb that betrayed a spectacular lack of self-awareness.
The fact that the restaurant was due to open in Hoxton, a hipster epicentre, only exacerbated people's anger; there were extended rants about hipster food culture, about balsamic vinegar and almond milk. Hipsters were even accused of being unauthentic entrepreneurs, as if opening a restaurant or a coffee bar could be an ironic act. But this was a broader anger, one about class and privilege, about hipster economics and gentrification, misdirected towards anyone wearing a waxed moustache or a trilby hat.
"There's a residential development down Kingsland Road in Dalston called Ability Plaza," says Jessica Akerman, an artist and resident of east London for more than 15 years. "There's another one in Bethnal Green called Avant-Garde Tower. The marketing for these places uses language that I have a real problem with. They're selling aspirational lifestyles to people who work in the City by using hipster imagery. But those hipsters – fashion students, anyone looking a little bit with-it – they can't afford that lifestyle!"
Pauline Pearce, the Hackney grandmother who famously berated rioters in 2011, recently wrote an article decrying the hipster economics that are changing her neighbourhood – "Now they come in beards and bobble hats," she wrote. Akerman questions where the fault for this actually lies. On Saturday, she is participating in a live artwork project on Mare Street in Hackney entitled Hole Story, where she is building a workspace in an 8ft x 8ft x 8ft hole dug on a site earmarked for apartments. It is precisely the kind of activity that many would deem to be hipsters dicking about, but there is a target for Akerman's ire: investors, developers and an unregulated private rental market.
"This happens the world over," says Lodder. "An area gets run down, artists and students move in, it becomes trendy because interesting things are happening, the moneyed classes move in, and people doing interesting things are forced to move elsewhere because of the cynical motivations of those latecomers."
It's not only impoverished artists who are forced to move, of course; more importantly, it's poorer local communities, whose complaints over poor public services, previously ignored, are magically addressed now that money's flooding in while their problems simply get shunted a few miles up the road. But the so-called hipsters – in reality a tiny proportion of the local population – become the convenient whipping boys for problems like spiralling rent, problems that have everything to do with incoherent housing policy and very little to do with American Apparel.
"The natural reaction to hipsters is disproportionate to the phenomenon," says Schiermer. "It's a peaceful group. They don't fight the police, they don't use excessive amounts of drugs. Research shows that they have progressive values – they show a lot of attention to the environment, for example – but apparently that's not enough. And because they don't have a political project, because they're not revolutionary, that causes a lack of understanding in some groups – particularly on the left. Subcultures are usually defined in opposition to society, but if that's your definition you'll be disappointed by hipsters. It's harsh to blame them for not having an ideology, though. We all struggle with it."
Lodder agrees. "Youth subcultures aren't so easily defined anymore. We don't have mods and rockers. People are forced to define themselves by what they're not, rather than what they are. So we invent this enemy purely in order to define ourselves against it."
And so we rail against the hipster, the "other", delighted that we're not hipsters, forming one huge, anti-hipster movement that comprises absolutely all of us. We all wear that Death To Hipsters T-shirt. "And by wearing that shirt we're not proposing a new cultural paradigm, or a new form of expression," says Schiermer. "Actually, we're no better than the hipsters themselves."
Join our commenting forum
Join thought-provoking conversations, follow other Independent readers and see their replies