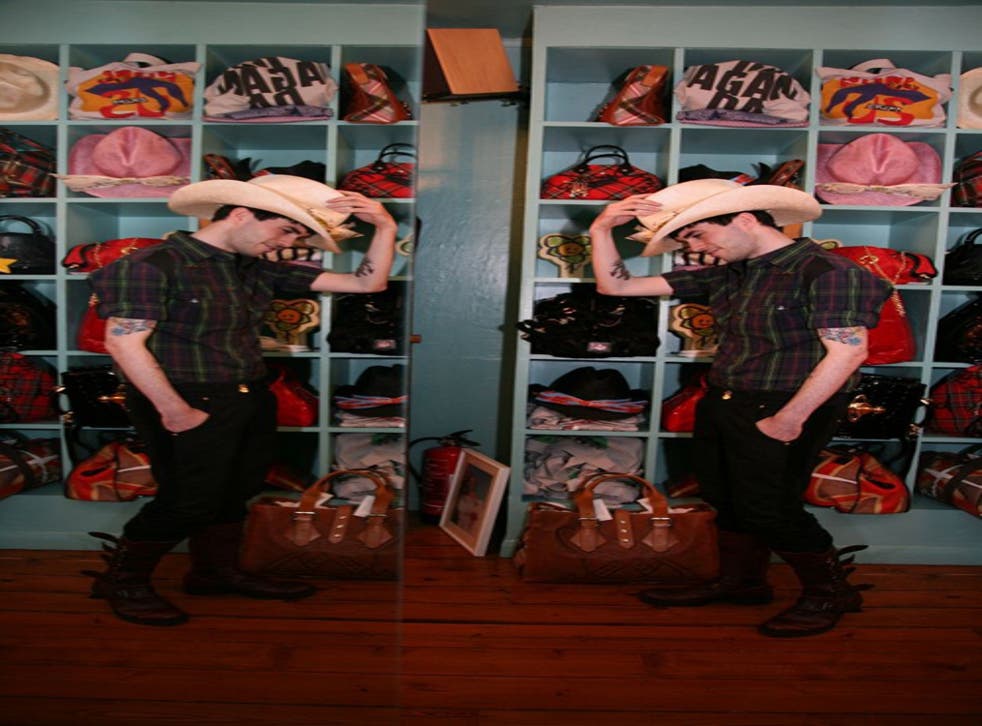 Inside the world of Vivienne Westwood
Vivienne Westwood's World's End store put the punk into the Sex Pistols, and is still pushing boundaries 30 years later. James Anderson salutes a style survivor
In recent years a rash of remarkable, one-off shops in London has fallen by the wayside, thanks to either sky-high rent hikes, gung-ho urban regeneration or the rise of online shopping. In the capital, woebegone style hunters have, in the last six months, had to blink back tears after realising their favourite stores' CLOSED signs meant for ever.
These included vintage/military specialists Steinberg & Tolkein and Laurence Corner, the multi-label outlet Pineal Eye, and the best second-hand clothing emporiums in Camden Market's arches. Neil Boorman, author of the recently-published Bonfire of the Brands, finds the trend worrying. "Britain is increasingly marketed as a cultural hub," he says, "yet the grass roots of this creativity - such as highly distinctive shops - are being driven out by the chain stores. People don't visit the UK to drink coffee in Starbucks, but pretty soon that's all they'll be able to do."
Thankfully, one London fashion boutique remains as eccentric, original and relevant as ever. World's End, the King's Road store where Vivienne Westwood has traded under a succession of differently named retail ventures for over 30 years, serves as a reminder that fashion should never settle for mediocrity. In this respect it is, however, increasingly alone - particularly within its once-hip Chelsea locale. "Until 10 years ago the area was full of 'alternative' shopping experiences," confirms Westwood's PR, Denise Zamarioni. "World's End is the last left standing."
Since Westwood launched the store in in 1971 with her one-time partner Malcolm McLaren, it has assumed many dramatic guises and new directions - all extraordinarily innovative and influential. It was initially named Let It Rock, then became Too Fast to Live, Too Young to Die in 1973. The former offered authentic and re-jigged rock'n'roll attire, the latter biker-inspired clothing - both radically different from what else was on offer at the time. An extreme change of direction in 1974 saw giant pink lettering on the shop's front spelling out its new moniker, SEX. Here, rubber, PVC and kinky shock-wear appealed to the style-conscious originators of what became known as punk, not to mention a few thrill-seeking businessmen. By 1976, the store had become Seditionaries, complete with frosted windows concealing its interior from outside scrutiny and a tiny brass plaque by the door defiantly declaring "Clothes for Heroes". Inside were vast photographs of the bombed city of Dresden, plus a huge image of Piccadilly Circus hung upside down, and even a live rat scuttling about in a specially made table. The Sex Pistols, who were managed by McLaren, were often clad in the ground-breaking clothing being sold in the shop - thereby fashioning a never-bettered mash-up of music, style, youth and controversy. Fashion impresario Michael Kostiff, one of the earliest Westwood champions, recalls of Seditionaries: "We knew people who were too scared to enter, they didn't know what to expect, so they would ask us to take them in."
By 1980, to herald Westwood's remarkable "Pirates" collection, the store took on the name World's End - transformed into the wonderfully wonky fusion of galleon ship-meets-Ye Olde Curiosity Shop that remains to this day. Always out of synch with everything that surrounds it, World's End's great paradox is that it still looks more weirdly modern than any shiny new shop on the block. The store's backwards-spinning clocks - one outside, a smaller version inside, plus deliberately sloping wooden floors, leaded windows, and the red-hot stock, ensures fans still flock from far and wide to see it, curious tourists still take photographs of it, and the fashion pack get all wobbly when talking about it. For example, Ben Reardon, editor of i-D Magazine, recalls his first visit to World's End at the age of 17: "Up until then I'd only read about it," he says. "I felt like Alice walking into the shop - falling into Wonderland, where the clock span backwards and the flooring lay at odds to reality, tripping you as you tried to play it cool and not look scared of the shop assistants!"
Westwood's profile and fortunes have changed dramatically since the early 1970s. Then a cult figure, she is now globally recognised as a designer of great importance, and has an OBE, a DBE and three Designer of the Year awards to her name. Christian Lacroix, Karl Lagerfeld and Jean Paul Gaultier are fans of her work. She has two eponymous stores in the West End, others in the UK and abroad, and will soon be the subject of a film. This all contrasts sharply with much leaner times, such as one penniless period in the mid 1980s when World's End - its electricity and gas supplies cut off due to unpaid bills - was illuminated by candles and staffed by Vivienne's mother, Dora, to save on wages.
Nowadays, the Westwood empire (from a financial point of view) probably no longer "needs" a shop on the King's Road. Yet the boutique is a priceless part of the Westwood legend. "There really is nowhere like it," agrees Stuart Halton, an area manager for the Westwood group. "I can't think of another designer with a multimillion-pound turnover who has something similar... It is the closest the customer can get to being in Vivienne's personal workroom, or indeed her head!"
This November will see much misty-eyed 1970s punk nostalgia, with the 30th anniversary re-release of the Sex Pistols' Never Mind The Bollocks. It is highly unlikely that Westwood, McLaren or any of their early acolytes could have foreseen that the shop which gave birth to punk's style would still be around three decades later. Nor could they have predicted that it might still be offering an exciting alternative to the mainstream.
So, god forbid, are there any plans to give World's End a makeover? "There was talk, many years ago, about modernising it," says Halton wryly. "Things were moved about and taken out... but this lasted about five minutes, and then everything was quickly put back as it was." Phew!
Join our new commenting forum
Join thought-provoking conversations, follow other Independent readers and see their replies