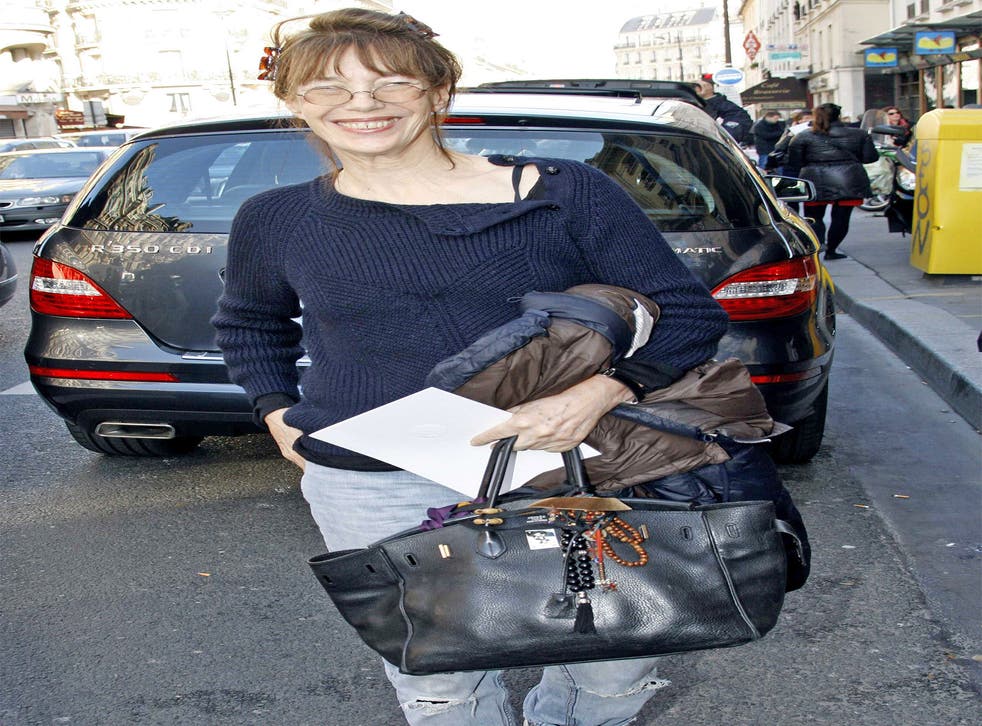 Jane Birkin asks Hermès to rename bag - but what else could the fashion house call it?
So, asks Gillian Orr, is this a clash of ethics and aesthetics?
It's the ultimate status symbol on two handles. Costing anywhere between £5,000 and £100,000, Victoria Beckham is said to have collected over a hundred, and it has a waiting list to rival that of the NHS. But now Jane Birkin is saying that she no longer wants to be associated with the much sought-after Hermès handbag that bears her name.
The English singer, actress and former squeeze of Serge Gainsbourg has spoken out against the company's methods after the animal rights group Peta conducted an investigation into the exotic skins trade and found that live reptiles had been sawed open and left to bleed to death on farms that supply hides to the luxury French fashion house.
"Having been alerted to the cruel practices endured by crocodiles during their slaughter for the production of Hermès bags carrying my name, I have asked Hermès Group to rename the Birkin until better practices responding to international norms can be implemented for the production of this bag," she said in a statement.
In pictures: Iconic designer accessories

Show all 8
She might be one of the most enduring style icons of the Sixties, with a wardrobe that thousands of Pinterest mood boards still gush over today, but how did Birkin end up with a bag named after her and why does it remain so coveted?
The story goes that Birkin was on an Air France flight to London in 1981 when everything fell out of her straw bag as she tried to put it in the overhead locker. The man next to her told her she needed one with pockets and she responded by telling him that the day Hermès made a bag with pockets, she would get one. "But I am Hermès and I will put pockets in for you," came the reply.
The man was in fact Jean-Louis Dumas, the chief executive of Hermès. And in what must be one of the least chic origins of a luxury item, according to Birkin's version of events, she made a few sketches on the in-flight sick bag, and Dumas promised to make it and name it after her. It launched in 1984 and is carried by everyone from Kim Kardashian to Julia Roberts to Birkin herself, who personalises hers with lucky charms, worry beads and a watch (Hermès, natch). Birkin receives no money for lending her name, although Hermès does give a lump sum each year as a form of royalty for Birkin to then donate to charities of her choice (in 2012 she claimed it was £30,000).
The company will not want to fall out with the singer over their signature piece, which helped them rake in £606million last year. And sure enough, Hermès has responded the "Je t'aime… moi non plus" singer's request by saying that the company "respects and shares her emotions and was also shocked by the images recently broadcast". It insisted that it is launching an investigation into the crocodile farm. What it did not do, however, is confirm that it would be changing the name of its most famous arm-candy.
But – if pressured to – what else could Hermés possibly call it? And how would such a rebrand affect the bag's desirability? Alexander Fury, The Independent's Fashion Editor, has a suggestion.
"The bag itself is stylistically close to one known as the Sac Haut à Courroies – after its high handle, which was originally used to carry saddles (Hermès was a saddler). If Hermès decide to change the name – because, of course, they trademarked it in 2004, so it's their decision ultimately to make, not Birkin's – why not call it that?" says Fury.
"Personally, I think The Birkin bag is played out, ubiquitous, and so knocked-off that, when I see one on the street, I generally assume it's fake. But a Hermès Sac Haut à Courroies? That sounds new, even desirable. I'd carry it.
"I think for many people, the name 'Birkin' immediately conjures up the image of a leathery luxury bag, not a leathery old singer-slash-actress-slash-whatever whose main claims to fame are orgasmic groaning on an art-house French track. Her other main claim to fame is the Birkin bag."
Join our new commenting forum
Join thought-provoking conversations, follow other Independent readers and see their replies