Jean Paul Gaultier's 40-year catwalk reign: An audience with fashion's eternal enfant terrible
As his hit retrospective arrives in the UK, the fashion designer talks corsets, tattoos, and being a bit of a Brit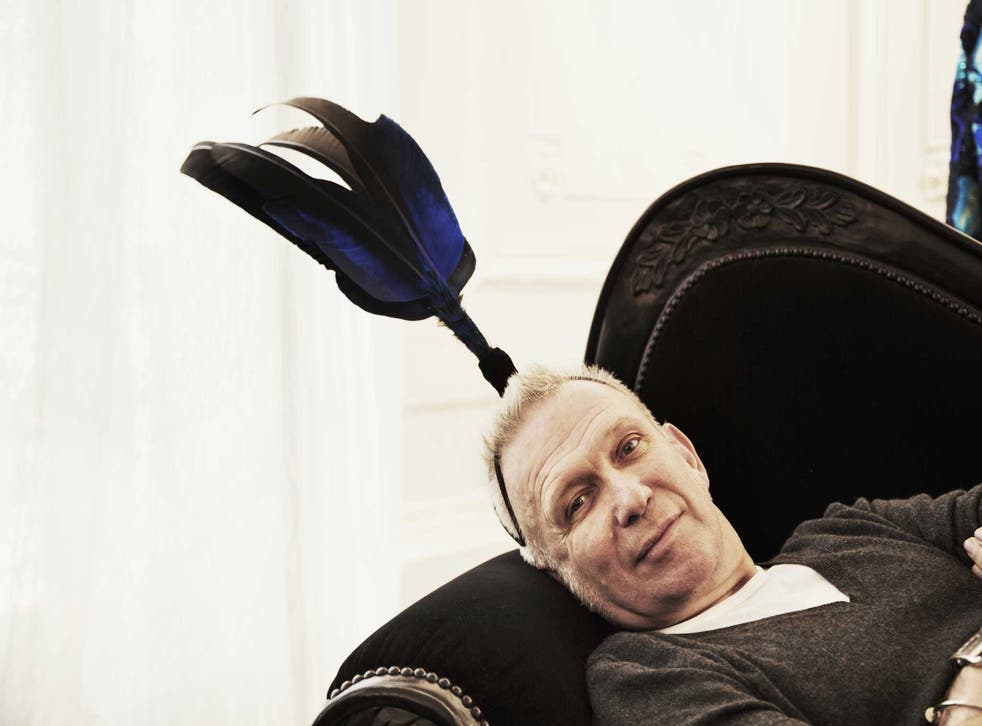 'In-cre-dee-ball!" Jean Paul Gaultier laughs. He's talking – in an accent more sing-song Inspector Clouseau than condescending fashion drawl – about his new exhibition, The Fashion World of Jean Paul Gaultier: From the Sidewalk to the Catwalk, at London's Barbican until 25 August. However, the wit, the wonder, and that distinct 'Allo 'Allo! accent of Frenchness, are all hallmarks of his life's work.
And what work: over four decades, Gaultier has firmly cemented his place in fashion history and in the public consciousness. The latter isn't just by his self-deprecating appearances alongside papier-mâché giraffes Pepe and Popo on Channel 4's cult Nineties TV show Eurotrash. Gaultier has achieved the relatively rare level of fame where, even to the public at large, his name is synonymous with high fashion, redolent of punk and provocation, of exquisite French finishing, of perfume in a tin can. Hence the fact that the Gaultier exhibition has already toured a clutch of cities, been seen by over a million visitors, and is a guaranteed smash hit. "I feel like Marlene Dietrich doing the tour," says Gaultier, laughing even more. "We start in Montreal [in 2011], after was Dallas, San Francisco, Madrid, Rotterdam, Stockholm, Brooker-lyn now London... next Australia, Melbourne then Paris next year, maybe a couple more, we see... and of course I make a leetle changement for each city..."
Jean Paul Gaultier is invariably described as an enfant terrible – despite the fact he turns 62 this year, and his business has been going for close to 40 years. Gaultier launched his own line in 1976, menswear in 1983, perfume in 1993 and haute couture in 1997. He's fashion establishment now. Nevertheless, though his bleach-blond crew cut may be speckled with grey, his impish smile – and the imagination behind it – is still school-boyish. We meet in his Parisian HQ – his maison de couture, actually, because Gaultier is one of the few houses still to show and sell one-off, labour-intensive haute couture pieces for clients twice annually. But Gaultier's house isn't nestled on the bourgeois streets of the 8th arrondissement like the rest of his cohorts. It's up in the Marais, in an old music hall. Parfait, because Gaultier likes to break rules – skirts for him, corsets remixed as empowering outerwear for her, high-heels, fishnets and printed tattoos for all – and is certainly something of a showman.
Ironically, we're in Paris to talk about the London leg of the Gaultier exhibition. "Alors, at the beginning I must say I was against the idea, for me [an exhibition] was like to be dead," he states. "But, little by little, when I saw some of my clothes in the Camden Market – at zee flea market – I think 'Ahh, you know, maybe I am a leetle old!'... No, I didn't get zee idea because of that... I met the team and they were so enthusiastic, young. Truly I didn't imagine people from a museum would look like that you know, and I like... so, I became open to the idea."
Classic Jean Paul Gaultier

Show all 8
Gaultier's exhibition is not the traditional retrospective. There isn't a chronology, rather a distinct series of thematic sections: "Femininity, masculinity, égalité, frivolity and the whatever! I didn't want one classical presentation, 'zis is not me," Gaultier says. He slips Lady Gaga's marabou headpiece on as he says this, posing like a Ziegfeld Folly for his portrait. Maybe it's the music hall ambience of his HQ? Or maybe the fact that Gaultier wears his twin hats as the joker and showman of Parisian couture with such panache. He is never conventional.
It seems fitting that Gaultier's exhibition hits London before being shown in his home-town of Paris (it's slated for the Grand Palais next year), as the British capital remains a huge source of inspiration and fascination. "I should say London is very important for me, for many reasons," Gaultier states, almost seriously. "One, I only realise now... because of my grandfather. His mother was English... maybe this influence my future relations with England, because you know, 'e was 'alf English? He was quite fascinating in reality, I regret not to have taken more time speaking with him but I was eight when he died." Gaultier sparkles as he speaks, like an animated seven year old, perhaps trying to gain praise from an austere grandfather. "But I am very proud I have a leetle part of 'Roast Beef'." He laughs, and laughs.
London still forms a vital part of the Gaultier stylistic glossary. "The last collection I did was inspired by the English flag," says Gaultier of his autumn/winter 2014 ready-to-wear show. "You have so much there – the monarchy, the punk-i-tude, all the woman, the eccentric old ladies, the physiques which make the English so easy to recognise." To emphasise how important London is to him, he's added several new pieces to the exhibition. "I add one big part called 'My Muse', so I have photo and clothes that were super important for me, lot of English girl like Amanda Cazalet, of course Kate Moss, but there is Missy and Mimi which were all from the Eighties, Erin O'Connor, Jade Parfitt, bon... all those girls that inspire me. Also, I accentuate some parts. For example, punk: that was a big shock and a big influence for me I felt in London. I remember going to King's Road and seeing all of them, with the hair, and being shocked and at the same time quite frighten 'cause they were looking like that."
London might have cast a spell, but Paris is unmistakable in Gaultier's collections. Right? "Paris is a beautiful city, but is it truly my inspiration? I don't think so," he shrugs. "Maybe it's the cliché of it, the old movies when Paris was 'Élégance à la Française'. Me, I was born in the suburbs where it was not the eccentric of London, but I should say I appreciate the popular thing of Paris, the movies, showing stripe a little, flower a little, foulard a little, beret, baguette. Me, in reality, I always try to show that those things that are popular, it's not populaire vulgaire but very elegant for me. To make them the opposite, the contrast, to mix the denim or the biker jacket and make them an evening dress or something that is interesting to me."
Those are, of course, picture-postcard French. The stuff no true Frenchman should ever admire. However, from the start, Gaultier refused to play by the rules. "So, I was lucky in my career because I had no money, so it's means I could do what I wanted," he explains. "I could do the biggest mistakes, which I did surely. Now they all want to be too big, too fast... must be complicated. Some start and do it their own way but the majority want to be like the big ones, go into a big group, and that is the end of creativity." He pauses to emphasise his point. "At the moment, fashion is marketing, marketing, marketing, people frightened not to sell everything..."
Ironically, in the mid-Nineties, Gaultier was first tipped both to head up Dior pre-Galliano, and then Yves Saint Laurent, the founder being an open Gaultier fan. Neither happened. He also turned down an offer from LVMH head, Bernard Arnault, to take the reins at the house of Givenchy (it went to Alexander McQueen). "That I was supposed to do, yes," says Gaultier of the Givenchy deal. "I cannot say I am glad of it, or what, when it didn't happen." Like Edith Piaf, then, 'Je ne regrette rien'. The offer did, however, prompt him to open his own couture house, the first new one established since Christian Lacroix in 1987, which has garnered both critical acclaim and clients.
Gaultier isn't wearing his signature Breton today, but I checked: tattoos – he has two. One on each bicep, a Taurus Bull and Tahitian ink. "I had my first done in 1987, in London, as the one doing the tattoo was very cute, but, alas, he make an ugly one. Bon. I should have choose the one that was doing it well rather than looking well himself! Anyway, in 1991 I went to a tattoo convention, there were these boys and girls with pear-sing [piercing] and tattoo that was incredible. One of the things I never forget was an old lady, my age now; she wore a black leather pencil skirt, 'igh 'eels, almost white hair, little glasses and a blouse, transparent, very chic, with a bra, printed, oohh. Then I realise it's not a bra – because I see a piercing – it was a tattoo like the bra, the bra was a tattoo! My God, so incredible, so fabulous. I had already started my collection but now everything I wanted tattoo, tattoo, tattoo, and that was how it start and now I print on the clothes, chiffon, everything."
Tattoos are an unconventional, but immediately recognisable, trademark of the house of Gaultier. He even titled a much-copied collection 'Les Tatouages' in 1994 – and they feature heavily in the hallowed halls of the Barbican. As does another classic Gaultier code, possibly the most recognisable of all: the corset. You may think Madonna and her conical breasts, but the Barbican goes one better, featuring the first-ever Gaultier corset, crafted by a pre-teen Jean Paul for his teddy bear – Nana Bear. "He's a star! He see the world, he's more important than me now!" Gaultier says of Nana. "Fashion express me, so this is the most intimate part of myself, my first creation, my first muse," he peels with laughter at the thought. "You will see the state it's in, it's a monster! I was taking the powder of my grandmother and putting powder on the teddy bear and the lipstick, but it didn't stay. Powder, lipstick, powder, lipstick. Mmm... poor bear."
The road from Nana to Madonna was simple, it seems. "The time of the 'I burn my bra' was past, it was more like 'I want to have that, not because we are obliged, but we want to be seductive'," declares Gaultier, of the post-feminist reclamation of the raiments of a boned and bombasted fashion past. "I went to New York and saw a show set in the backstage of a Thirties cabaret. They were all with corsets, all déshabillé, and it reminds me the corset that I saw with my grandmother..." – she was a beautician and masseur, so it's less weird than it sounds. Madonna wore "one of my corsets from 1985, for the premier Susanna Seeking [Desperately Seeking Susan]... et voilà, she wore with men's suspender instead of shoulder straps – mixing men and women. She was into corsetry, she asked to Frederick's of 'Ollywood the 'Who's That Girl' tour and I think, please, she should better ask me because truly it's my speciality and I love it." He throws his hands up, "Et, then, voilà! She did."
At this point he hadn't – yet – put men in corsets. Skirts came first, in his collection 'L'Homme Objet' – celebrating the idea of the man as sex object. Gaultier is openly gay, yet still declares, "Definitely I prefer to dress a woman, they are more free. With men, I am only happy I can show the feminine part of the man more than before." Example: when David Beckham was pictured wearing a skirt in 1998, it was by Gaultier. "Fashion is not liberated at all. [Now] we are more in a moment where things are very classic, very conservative, I think it is a reflection of the society we are. I'm against it, you know..."
Classic. Conservative. Straight. Thankfully none of those dull epithets can be applied to Gaultier, nor to the exhibition of his Fashion World. "I should love [visitors] to be amused... to have fun... They see me, and I receive the people at the entrance as a projection... though I look more like a Ninja Turtle, but anyway... ouff... some people recognise me, which I don't appreciate very much..." he laughs. "I want them to enjoy, and not to see an étalage [display] of pretentious beauty..." Traditionally, of course, the French and the English hate each other, so what's his game? "I shouldn't like British?!" he asks, scandalised. "On zee contrary I love British... it is the war of the two rose... I mean I love France for a lot of thing, there are beautiful part, marvellous souvenir, where I am born, blah blah blah," he laughs, his face crinkled with joy, "but don't forget I am British one-eighth!"
So maybe Gaultier's Barbican bonanza isn't a celebration of French fashion's finest, but London reclaiming one of its true sons. At least, one-eighth of him.
The Fashion World of Jean Paul Gaultier is at the Barbican, London EC2, to 25 August; barbican.org.uk
Register for free to continue reading
Registration is a free and easy way to support our truly independent journalism
By registering, you will also enjoy limited access to Premium articles, exclusive newsletters, commenting, and virtual events with our leading journalists
Already have an account? sign in
Register for free to continue reading
Registration is a free and easy way to support our truly independent journalism
By registering, you will also enjoy limited access to Premium articles, exclusive newsletters, commenting, and virtual events with our leading journalists
Already have an account? sign in
Join our new commenting forum
Join thought-provoking conversations, follow other Independent readers and see their replies