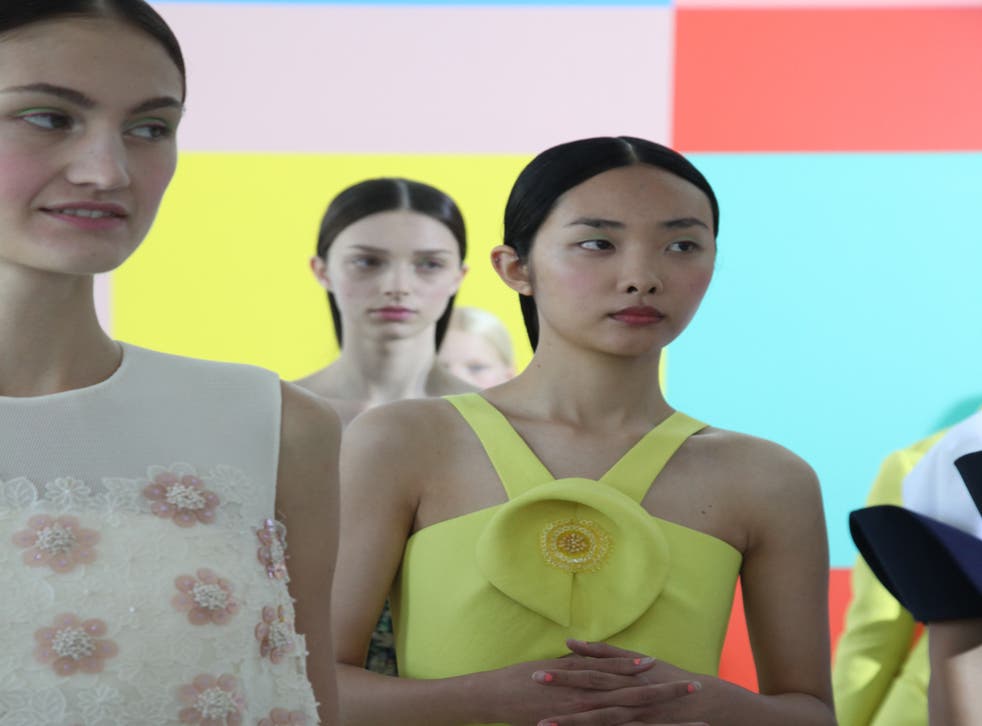 Josep Font interview: Meeting the designer who took Spanish label Delpozo worldwide
Rebecca Gonsalves meets Font to discover his unlikely inspiration
Rebecca Gonsalves Comments
How important is heritage? As the buzzword of the last few years, it has been enlisted to describe everything from centuries-old luxury brands to varieties of tomato, so can it still manage to have meaning? That's something that Josep Font, the creative director of Delpozo, has to consider as he engineers the renaissance of a four-decades-old fashion label.
Founded in 1974 as Del Pozo, the brand began life as a boutique in Madrid, for which the owner Jesus del Pozo began producing his own designs: first for men, before finding greater success as a womenswear designer and later adding lucrative fragrances and bridal ranges. For his efforts del Pozo received plaudits and became something of a household name in his homeland. But he failed to replicate such success outside Spain before his death in 2011. In 2012 the label was purchased by Perfumes & Diseño SA, who hired Font to lead the renaissance of the label, re-branded Delpozo.
Font's first move was to fight for a spot on the New York Fashion Week schedule – making it clear this is a brand with international intentions. Barcelona-born, Font, 47, perhaps understands better than most the history of the brand – although he classes his appointment as a new beginning, a cleaning of the slate which has been something of a mixed blessing. "At the beginning it was difficult to get on to the New York schedule because no one had heard of the brand," he says on a visit to London. "Although it does have a 40-year history, that's only really in Spain. With the re-launch we were always being asked: 'Who are you? Where are you from?' But now that we've shown there for five seasons, we're becoming an established part of that schedule, and people are coming to the show with excitement to see what we're doing."
That buzz has already attracted renowned stockists, including Browns which has bought into the brand for the first time this season. "We first started thinking about it two seasons ago," says Laura Larbalestier, buying director for the London boutique, which Font admits was one of 20 stockists worldwide that were on his wish list. "Then the spring/summer show started to get a lot of attention – I think it's quite clever to show in New York, it offers something a little different to the other brands that show there. I love the sculptural nature of Josep's designs mixed with the couture detailing, and yet there's still something quite easy about some of the pieces."
That sculptural rigour – often blended with a fairy-tale frothiness in a way that is already distinctly Delpozo – can be explained by Font's original training as an architect. "I studied architecture [at the Polytechnic University of Catalonia] as it was a more classic subject, but fashion, for me, was always there. I was interested from a young age in different shapes, colours and fabrics. I'd go shopping with my mum and I was very verbal about changing things to find my own aesthetic. My mum was very modern for the time, but she owned a lot of couture, and it was amazing to see this world and these beautiful gowns put together with the modernity of her sense of style."
Those shopping trips inspired a life-long interest in fashion and provided an opportunity to get up close and personal with couture. Sadly, Font's mother died before she could see him pursuing his passion; but, more happily, his fear that his father wouldn't understand his new direction proved unfounded.
"I was always attracted to architecture, the elements of construction and aesthetic. But when I got there it was less creative and more about numbers than I was expecting. When I was one year short of completing my studies I started studying fashion at the same time, without my father knowing. I participated in Concours International des Jeunes Créateurs de Mode [a 1984 fashion award], which I won; and when it was in the press my uncle saw it and said: 'Did you know that Josep won an award in Paris?' That's how my father found out about the fashion – he was very confused – and that's when I came clean and said I was going to finish architecture, but fashion was what I really wanted to do. My father said: 'Ok, but you have to be the best.' So there was a bit of pressure!"
After graduation, Font began designing under his own label, showing his collections internationally to quiet success. In 2007, he was invited to show on the Paris Haute Couture Week schedule, an opportunity that is rare indeed, and he did so for four seasons. Font admits that his appointment at Delpozo was something he resisted at first. "When the group approached me I was in China, I was coming back to Spain but I didn't want to stay there, I was thinking of going to Paris. They insisted I come and see the base in Madrid, but I was a bit reticent because Spain doesn't have the sort of fashion culture that you'd find in London or Paris. But then I finally gave in and went to visit. The project was very interesting – it was the re-launch of the brand – and when I came on board they gave me total freedom to bring my ideas of modernity into couture."
In fact, Delpozo is classed as a demi-couture label – which means that, while it calls on the rarefied traditions of craftsmanship associated with couture, pieces are not bespoke: "All our production is based in Spain, and it was very hard to find the level of skill in order to get the finish we wanted. There are fewer and fewer people who have that know-how of pattern, construction and modelling on a mannequin. But now we have people from Maison Lesage [the legendary embroidery atelier, now owned by Chanel] who are part of the embroidery team. They are bringing the tradition of the atelier and trying to teach a new generation – because that craftsmanship is part of Del- pozo's heritage."
There's that word again – it's hard not to use it when talking about a brand that has such strong roots – but perhaps it doesn't give credit to Font's ability to design clothes that women want to wear right now. Still, while he's well aware of the legacy of the house, it doesn't seem to weigh heavily on him. He has plans to introduce pre-collections, a fragrance and expand on the brand's own boutiques – he designed the Miami store himself, putting that architecture degree to good use – but all in good time: "We want everything to have its own moment. [Interest in] the re-launch has been so quick, but we don't want to rush anything. We have to keep our feet on the ground."
Register for free to continue reading
Registration is a free and easy way to support our truly independent journalism
By registering, you will also enjoy limited access to Premium articles, exclusive newsletters, commenting, and virtual events with our leading journalists
Already have an account? sign in
Join our new commenting forum
Join thought-provoking conversations, follow other Independent readers and see their replies