Exclusive interview with Jourdan Dunn: Mother, one of the world's best-paid models and ambassador for sickle-cell disease
Falling pregnant at 19 could have ended her modelling career, but instead her son has spurred her on to become one of the best-paid models in the world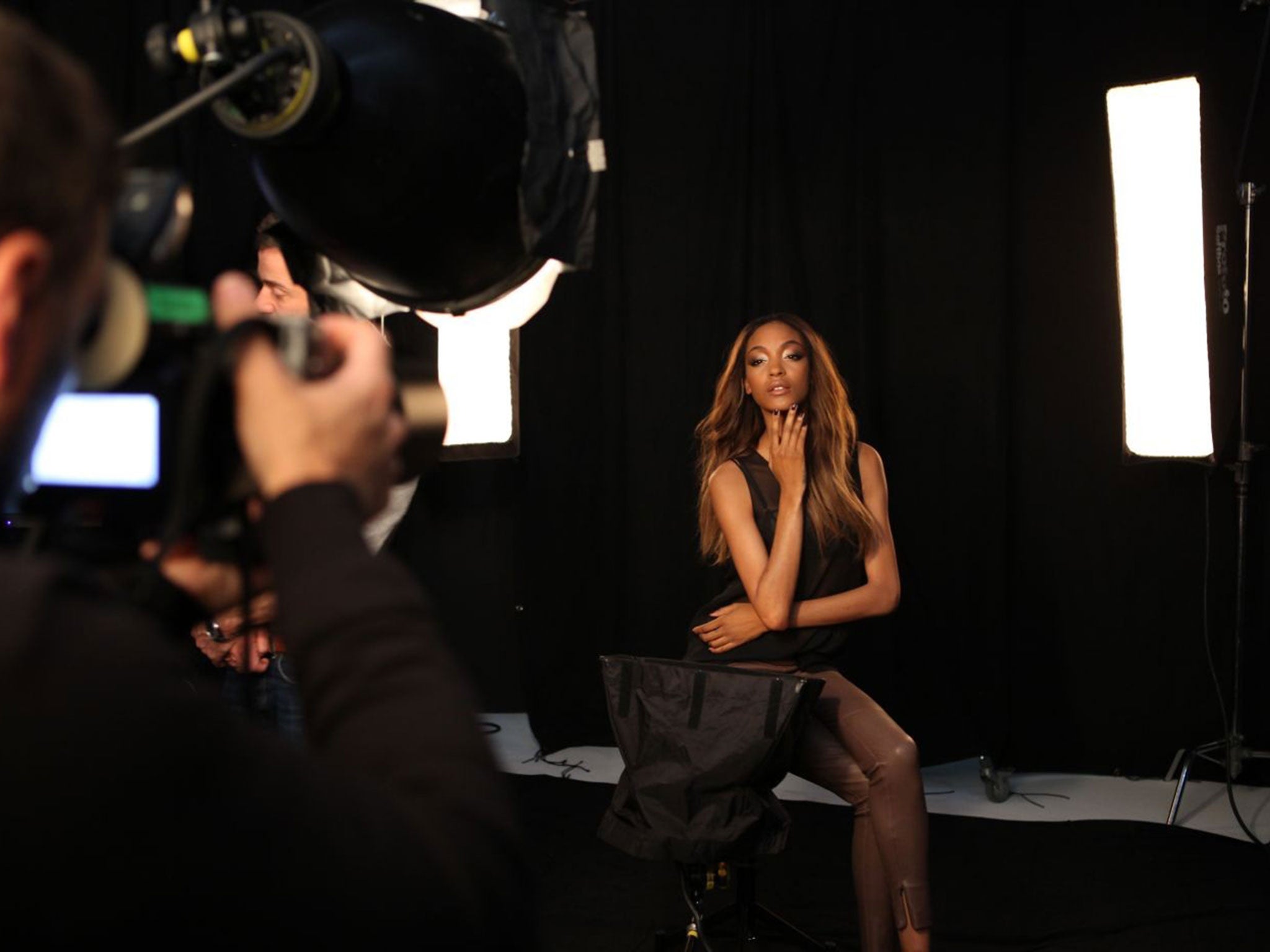 As the mother of a four-year-old son with sickle-cell disease, and one of a handful of world-famous black models, Jourdan Dunn is not your average 24-year-old. We meet during London Fashion Week, where Dunn appeared in only two shows, albeit those of Topshop Unique and Burberry Prorsum – the most high-profile brands on the schedule.
She was curiously absent from the catwalk at New York Fashion Week, too, but she was in the city, she tells me, hosting an event for her own charity, Cell for Gratitude, and appearing at the annual Fashion Rocks fundraiser. Oh, and shooting two campaigns as the newest face of Maybelline, the official make-up sponsor of London Fashion Week.
Such a schedule would have most of us retreating between the sheets, but Dunn seems to be made of far more indefatigable stuff. "That's how I was when I first started," she says. "I used to want to go to bed and order room service, I definitely didn't want to go to parties with all these old people; I didn't even think you could call it a party."
Now, though, she embraces the fact that such events are part of her job description. It helps, of course, that she has so many friends in the industry – Cara Delevingne, Karlie Kloss, Naomi Campbell and Rihanna all turned out in support of Cell for Gratitude.
First spotted at the age of 16 at the Hammersmith branch of Primark, Dunn signed to Storm Management and made her catwalk debut at Marc Jacobs' autumn/winter 2007 show. Since then, her career has been a series of highlights – in 2008 alone she became the first black model to appear in a Prada show in 13 years, walked in 75 shows in one season and won the British Fashion Award for model of the year.
So when Dunn announced an unplanned pregnancy in 2009, there were concerns that her meteoric rise could soon be over as she crashed back down to earth. "Before Riley, I didn't enjoy modelling at all," she confesses. "I just did it because I liked the money and wanted to continue my shopping sprees. But my son has put it into perspective for me – I have to do this, I want to, to set him up for life. I took it for granted that I had a great career in front of me, but now I realise my opportunities – the fact that I can provide for my family and be an ambassador for sickle-cell disease and raise awareness."
Dunn, like many of her brand-building contemporaries, is much more than a pretty face. "Before, models were only to be seen and not heard, but now [thanks to social media] we have a platform, we have a voice. People want to get to know us, to get to know our interests. I feel that you have to use that to your advantage by becoming a brand." Dunn also stars in her own Jay-Z sponsored cookery series online, Well Dunn with Jourdan Dunn, and has appeared in two of Beyoncé's music videos.
Jourdan Dunn in pictures
Show all 9
"Before modelling, I always wanted to be an actress," she says. "It's great the position I'm in that the opportunity is there, I've been sent on auditions and I'm getting the feel of it. But I don't want to get a role just because of who I am. Eventually, I want to take my acting seriously: get a coach, go to drama school. I'd want a role that would push me, to surprise people and make them take me seriously."
The emotional effects of a month of early call times and late nights should be good practice for any future roles, she thinks: "Every season, without fail, I've cried. Happy tears and sad tears, over-it tears – everything. It's a very emotional time. You go into castings and hear the reason you're not going to be booked for those shows, and you just think 'wow'."
Since the early days of her career, Dunn has been outspoken about the lack of diversity in the industry. Tellingly, last month she was the first British black woman to be included in Forbes list of the highest-paid models, published annually since 2006. The business magazine estimated her income as £2.4m for the year up to June 2014, a large part of which came from Dunn's contract with Maybelline, which she signed in April. Although not her first big campaign – she's previously been the face of Burberry and Topshop – it's one that Dunn has always hankered after. "It sounds so cheesy, but it literally has been a dream come true. I remember being asked what I'd like to do in the next five years, and I said, 'walk for Victoria's Secret, have a Vogue cover and I'd love a Maybelline contract.' It's always been Maybelline."
"I never really had make-up growing up so I used to raid my mum's make-up bag. I remember being drawn to the green-and-pink packaging of Maybelline's Great Lash mascara and my mum said. 'OK, that's the only make-up you're allowed to use.' Maybelline was my first introduction to make-up. Now, I love the nude lip glosses – they always have such a great selection for different skin tones."
Dunn's mother still plays a significant part in her life, not least looking after Riley so that the model is able to travel – one of the most rewarding, yet difficult, aspects of her job. "It's really hard to be away from him, but he's beginning to understand. He's my priority, so if he has a parents evening or it's his birthday I'm going to pick that over a job. First and foremost, I'm a mum before I'm a model, so I'll always put him before anything. There are opportunities that I've missed out on, but there's always another one around the corner."
When Dunn misses her son, she turns to her model family to get her through, especially one person in particular. "Whatever Cara's doing, I'll support her, and vice versa. It's a real, true friendship – she's like my little sister," she says of her partner in crime, and in matching tattoos. Indeed, when Delevingne was on the front row at Burberry last week, rather than in the show, she proudly filmed Dunn walking down the catwalk. Meeting new people has been one of the unexpected pleasures of her job, says Dunn: "I love Christopher Bailey, he's such a nice guy, and Alexander Wang knows how to have fun but is so sweet and humble, which is rare in this industry. When I get to meet real people, it's comforting – I think OK, I'm not the only one that's normal here."
Jourdan Dunn is the new face of Maybelline New York
Join our commenting forum
Join thought-provoking conversations, follow other Independent readers and see their replies