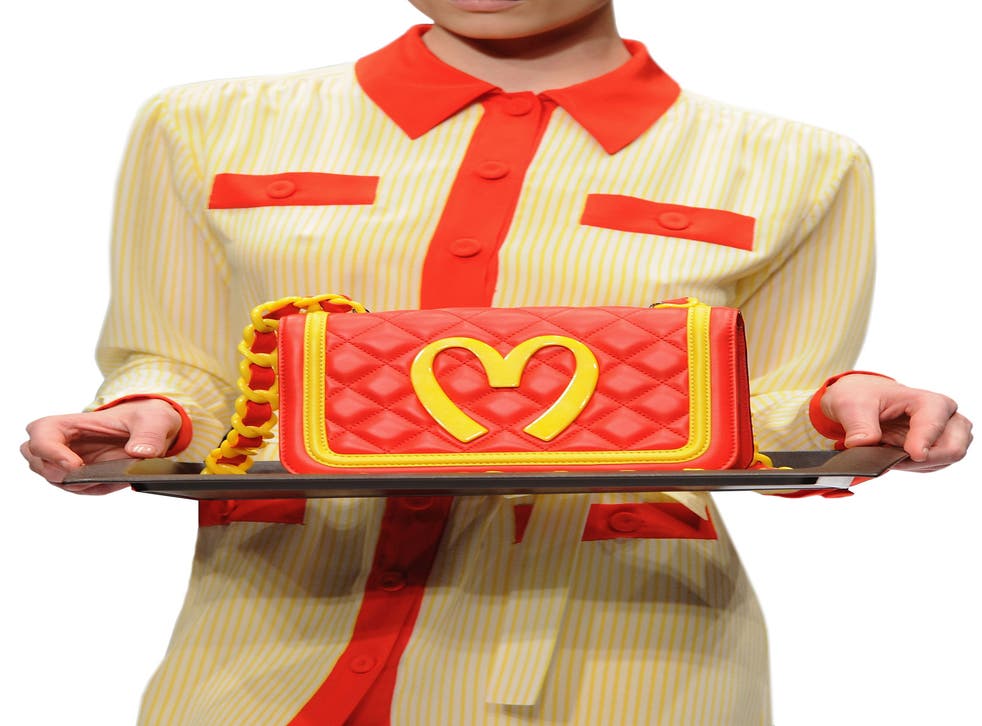 Junk food hits the catwalk: The unlikely fusion of fast food and high fashion
Quick, easy, and of little nutritional value, fast fashion shares all the issues of fast food, says Alexander Fury
Alexander Fury
Friday 17 April 2015 16:27 Comments
Fast food and fashion should have nothing in common. They are diametric opposites, ideological adversaries. Fast food is egalitarian, en masse – let them eat Big Macs! It's cheap and cheerful, makes you fat, greasy and garish, and is available on every corner.
Fashion, by contrast, is elitist. It relies on superlative craftsmanship and fine materials, on the expense those ingredients entail. More than anything else, fashion is exclusive – only available to a few; excluding others.
That's the theory, at least. However, chart the rise of 'fast fashion', the Burger King to high fashion's Cordon Bleu. Fast fashion, generally, is a term applied to high-street clothing. The term relates not only to the speed of production – meaning that stores such as Topshop and Zara have not the traditional biannual drops of fresh clothing, but new stock flooding in every week – but of consumption. Cheaply constructed and hence not made to last, fast fashion clothes have a shorter and shorter use-by date coupled with ever-diminishing prices. They're disposable.
Fast fashion isn't a new phenomenon – the success of Seventies label Biba was that teenagers could buy Biba clothes they saw on TV on Friday night at the store on Saturday, while the high street has been proposing faster and faster deliveries of clothes directly influenced by catwalk fashions.
Today, however, those catwalk fashion themselves have become fast fashion. Witness American designer Jeremy Scott's first collection for Italian fashion house Moschino, presented last February in Milan. Franco Moschino, the label's founder, once showed a 'dinner jacket' buttoned with knives and forks. Its 21st-century reincarnation? Scott's reappropriation of the McDonald's logo, including a deluxe rendering of the chain's tomato-red and mustard-yellow uniforms. Mc-schino's model carried not a hamburger, but the label's latest handbag – which sported an ersatz version of the Golden Arches. M for Moschino, geddit?
It's all a bit tasteless, in my opinion – particularly so closely aping the uniforms sported by near-minimum wage workers in clothes that cost more than their monthly take-home. Nevertheless, Scott's 'Schino is not only selling, but selling out. The label's revenue rose by almost 7 per cent after Scott's first collection. That's because a capsule collection was on sale the morning after the catwalk show, and consumers bought lustily. "Seventy-five per cent of our offer sells immediately," states Jean Monnier, of accessory-only etailer Monnier Frères. "The most talked-about pieces are often sold out on the day after the show."
Scott isn't unique: he's just more open. Much of fashion apes that fast-food mentality, ever decreasing the time between catwalk and sales rail. Across the board, its lead to the rise in importance of inter-season collections – dubbed Cruise and Pre-Fall – which are delivered earlier than the traditional biannual collections fashion houses present under the banners spring/summer and autumn/winter. For most, those make up 60-80 per cent of sales. Labels like Burberry offer fashion-hungry consumers the chance to order clothing direct from the catwalk show – it's not the immediate retail hit of Scott's Moschino (who has also offered a similar buy-it-now capsule after his subsequent two Moschino catwalk shows) but it satisfies a craving.
Finally, the issue is thus: are we breeding a new generation that will be blighted with aesthetic obesity? Will designs available immediately become the norm, rather than the exception? It's possible for many more brands to offer the kind of immediacy Scott and Burberry give their product, by cutting corners and restricting evolution of ideas. But do we want to strangle that out of our clothing, in the name of getting it that little bit before everyone else? This fashion lives fast, and dies young. But I'm not sure it will be remembered.
MARC JACOBS
With his focus on capturing the transience of the pop culture moment and a love of elevating the everyday, Marc Jacobs is, arguably, the Andy Warhol of fashion. And, if Warhol painted his Coca-Cola bottles in 1962 as the perfect embodiment of democracy and an American Dream of equality, in 2013, Jacobs decided to pattern a sweatshirt with the brand's 'Arden Square' shaded red logo, bisected with a white 'wave'. Incidentally, the designer had also recently partnered with the soft-drink manufacturer on a limited-edition range of bottles patterned with his fashion designs. What a coincidence.
PRADA
For spring/summer 2011, Miuccia Prada took inspiration from uniforms and uniformity for her menswear collection. Quite naturally, that included fast food – jarring contrasts of primary colours in fine cotton poplin, worn with shlumpy chinos or under scrubs inspired by hospital garb. The shoes were the clearest ode: mashing together brogues, espadrilles and trainers into a single, triple-soled monstrosity, they resemble the Big Mac of footwear. And, of course, they became a bestseller.
JEREMY SCOTT
Throughout his career, Jeremy Scott has been obsessed with trash, and with the 'otherness' of American Culture. For one famous show in the early-Noughties, he restaged the US game show 'The Price Is Right', culminating in the designer hurling money emblazoned with his face into an eager crowd. Back in 2006, Scott called his collection 'Eat The Rich', using decorative motifs inspired by food to create his clothing. Sophisticated, it wasn't: imagine wafer cones as a brassiere, eclairs and profiteroles as necklaces and earrings, and reconfigured candy-wrapper prints splooshed across leggings and sweatshirts.
Register for free to continue reading
Registration is a free and easy way to support our truly independent journalism
By registering, you will also enjoy limited access to Premium articles, exclusive newsletters, commenting, and virtual events with our leading journalists
Already have an account? sign in
Join our new commenting forum
Join thought-provoking conversations, follow other Independent readers and see their replies