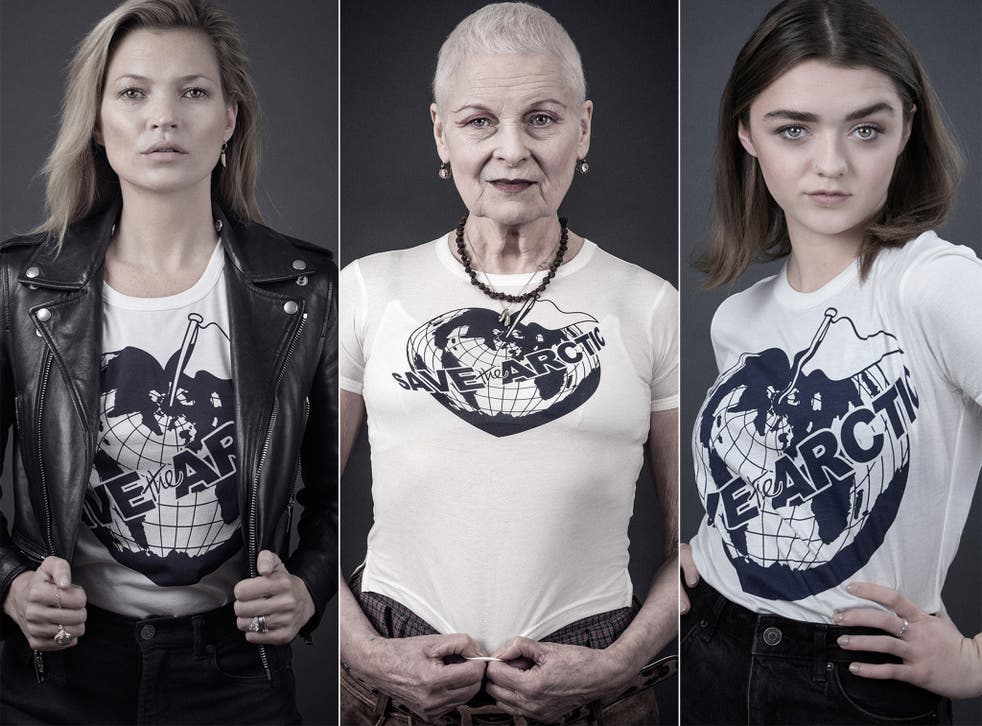 Kate Moss, Maisie Williams and Rita Ora join Vivienne Westwood's star-studded campaign to Save the Arctic
The legendary fashion designer and environmental activist groups 60 celebrities in a photoshoot to help her collect 10 million signatures against the Arctic drilling.
Linda Sharkey
Wednesday 15 July 2015 11:38 Comments
A gang of fashion icons have joined an array of TV stars and musicians to support Dame Vivienne Westwood's Save the Arctic campaign with Greenpeace.
From Maisie Williams, to Kate Moss, Rita Ora and Judi Dench, the legendary fashion designer and environmental activist has put 60 multinationals and multitalented celebrities together in a photoshoot, aiming to collect 10 million signatures against Shell's decision to drill the Arctic, which is due to start this month.
Legendary London-based photographer Andy Gotts was the man behind the lens. He's known for his black and white portraits of Hollywood actors, so he seemed perfect fit for the campaign. He captured them all in a series of different poses (some with much energy), sporting the campaign's white T-shirt.
Save the Arctic photoshoot

Show all 22
The images were shot over a period of 18 months and the results will be displayed in Waterloo's underground station, which is the closest station to Shell's headquarters in London.
"This is really a matter of life and death if we don't save the Arctic, forget it – the human race will not survive," said Westwood.
"This drilling madness in the Arctic has to stop. There are seven million people signed up to Save the Arctic, with global public opinion still growing- we need to continue this momentum until it becomes a torrent they can't afford to ignore."
Register for free to continue reading
Registration is a free and easy way to support our truly independent journalism
By registering, you will also enjoy limited access to Premium articles, exclusive newsletters, commenting, and virtual events with our leading journalists
Already have an account? sign in
Join our new commenting forum
Join thought-provoking conversations, follow other Independent readers and see their replies