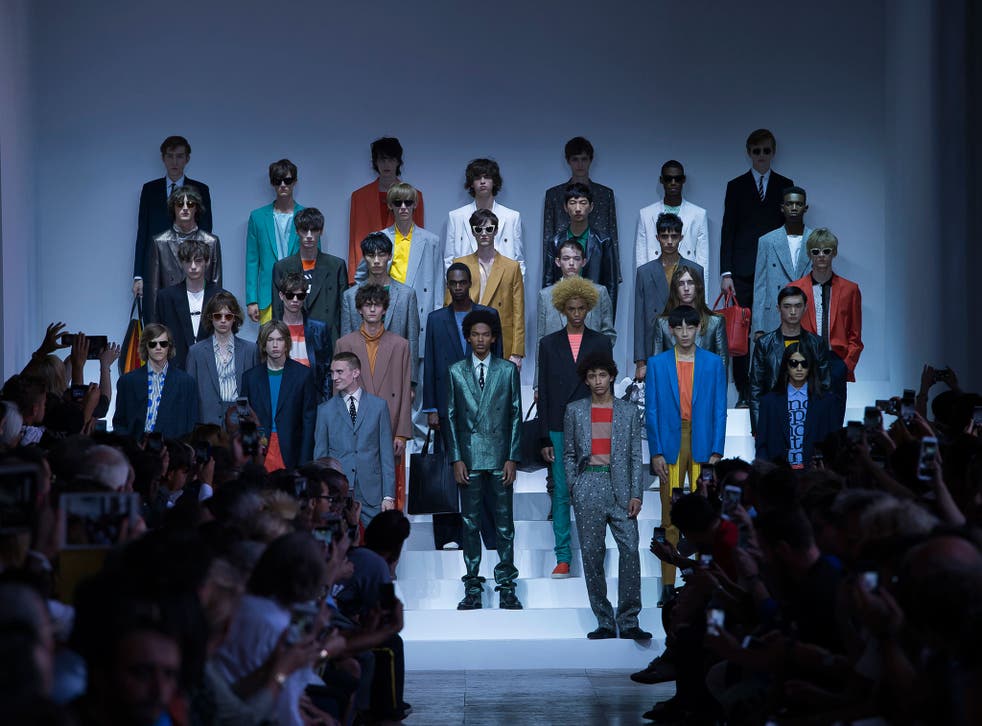 London's menswear shows reflect a truly cosmopolitan city
All credit to the London menswear designers, whose models (and backroom boys) are respecting cultural diversity in this weekend's collections. And as Rebecca Gonsalves reports, the result is a wider wardrobe for the peacock male
Rebecca Gonsalves
Thursday 07 January 2016 23:46 Comments
With a new year comes yet another round of fashion shows, and this time it's the turn of the men, as London Collections Men begins tomorrow. Four days of catwalk shows and presentations in the capital will be followed by the industry trade show Pitti Immagine in Florence and fashion weeks in the other three main fashion capitals – Milan, Paris and New York. NY holds newcomer status, hosting as it is the second season of its dedicated menswear fashion week, making London's eighth instalment seem positively established.
But, while there is plenty of establishment and tradition to London's fashion offering – the assorted tailors of Savile Row and heritage brands such as Barbour and Belstaff are to thank for that – there is also a sense of youth in revolt. That's in part because some of the most innovative designers are operating here: Craig Green, JW Anderson and Christopher Shannon are all designers with a disruptive edge. And that sense of going against the grain and pushing boundaries has helped London menswear to become something that's almost indefinable, so broad is its reach.
That's true of the clothes, but also of the men wearing them: while casting is some way from an accurate reflection of the multicultural capital, there are many designers who should be applauded for a diversity of models that goes beyond mere tokenism.
London's menswear shows

Show all 6
As 2015 came to a close, the fashion media were in a reflective mood, and platforms such as Vogue and the Huffington Post hailed it as a breakthrough year for diversity in the industry. Those articles largely referred to women's fashion: to the fact that Dominican Republic-born Lineisy Montero was the face of the season, natural Afro hair and all; and that gender, race and body shape are being discussed more than ever before. But it's not pats-on-the-back-all-round time just yet: the womenswear default is still white and willowy, and that seems to be ingrained. Perhaps it's time that those designers took inspiration from their menswear counterparts who have made representative casting the norm – and without unnecessary fanfare or self-congratulation.
"I feel it's extremely important to promote equality," says Nasir Mazhar, whose club-wear collections are infused with a sense of raw energy that is wholly convincing. "To promote the idea of models being only tall, slim and white is discrimination to the majority of humankind." Such a stance is admirable, and reflects the Turkish Cypriot roots of the designer. But Mazhar says he has had difficulty pursuing this ideal through the usual channels. Most fashion models are signed to agencies and are represented by a booker. Agencies tend to be relied upon for a certain, specific aesthetic – often a traditional, even conservative, idea of beauty. When a designer wants to use a broad range of races, body shapes or even ages of models, they may struggle to find enough professionals to fit the brief.
There is a solution: "street-cast" models are on the rise and are favoured by designers such as Mazhar because they can help to disrupt the conversation. "Unfortunately, the majority of model agencies tend to have mostly white models for men and women: it's shocking and it makes it difficult to work with them," says Mazhar, who works with casting director Eddy Martin on the task. "Luckily, however, when you street-cast, you can pick whoever you want. When we do our castings we look for all types of beautiful people, so it's a joy."
While racial diversity is important to him, Mazhar understands that, as a designer, fitting to a standardised body shape is easier: "When you are creating a collection, you don't have the time or money to create every style in every size," he says. "That's why I think the majority of designers stick to one sample size. However, there is space to include variation – some fabrics do stretch, you know."
Astrid Andersen is another London-based menswear designer known for a strong athletic aesthetic, and her models tend to be on the muscly side. They're also often shirtless or dressed in translucent fabrics or lace, a juxtaposition of strength and fragility that is a mark of Andersen's work.
"I definitely prefer a more athletic look," she says. "But we also have some boys who are not big but have a lot of attitude and, to me, this is the most important factor. I think it's interesting for the guys to tell a story rather than choosing a somewhat generic look and leaving all the storytelling to me." Andersen teams with Elgar Johnson, fashion director of GQ Style, on the casting for her shows, and they work to ensure the model make-up is diverse. "I can't imagine a life in one colour," she says. "That's not how my world looks, so to me it's natural to reflect that in the casting."
That idea accurately reflecting society is interesting, because in menswear it's not just the models on the catwalk who are more diverse; there are also many prominent non-white designers, buyers and editors - which perhaps means that representation jars less. In London, at least, the agenda is set by younger designers, whose ideas about how to dress may be matched by their social attitudes. "I believe that menswear is more diverse [than womenswear]," says Andersen. "But I think it's about the new generation of designers actively choosing to bring a different look to fashion. It's not about the gender [of the clothes]; it's more about the mindset."
To give them due credit, designers such as Paul Smith and Haider Ackermann take an approach to casting that is more than just tokenistic. But the fight to overcome antiquated views cannot be won on the catwalks alone: advertising campaigns and fashion magazines need to be representative, too, in order to reinforce new ideals. Younger brands don't have the financial clout to take out extensive advertising or woo (read, contractually oblige) celebrities into wearing their designs, so bigger brands must do more too. Not just because it's the right thing to do – "A child should grow up feeling like they can be accepted in life no matter what their ethnicity or colour of skin," Mazhar says – but because it makes good business sense in an increasingly international market. And making money is always in fashion.
Register for free to continue reading
Registration is a free and easy way to support our truly independent journalism
By registering, you will also enjoy limited access to Premium articles, exclusive newsletters, commenting, and virtual events with our leading journalists
Already have an account? sign in
Join our new commenting forum
Join thought-provoking conversations, follow other Independent readers and see their replies