'The make do and mend attitude isn't new, but there's been a renaissance'

Show all 8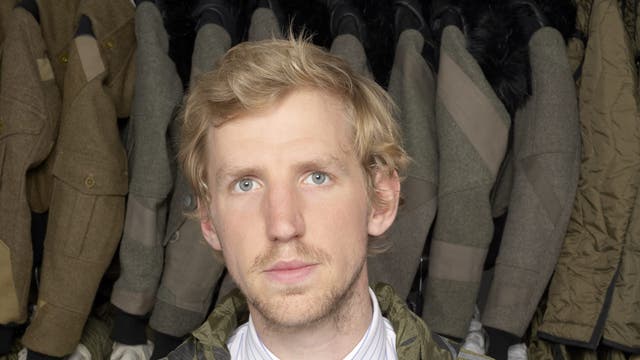 'The make do and mend attitude isn't new, but there's been a renaissance'
Interview: Christopher Raeburn, Designer, 29
Some designers, perhaps understandably, don't like meeting the press.
You can tell by their defensive body language, awkward answers and the ill wind that generally blows from their direction. Christopher Raeburn, or so it seems on a sunny May day in Mile End, east London, is not one such. When I arrive at his studio, above a Bangra music TV studio, he greets me and shows me around the production space, the archive of pieces from past collections, even the fire escape with its view of the murky water of the Limehouse Cut and the former industrial glory of the East End.
Hailing originally from a rural Kent village, Raeburn started his label as a womenswear designer, before expanding to include menswear and now accessories.
His core ideals of recycling and remaking may seem humble in the great scheme of luxury fashion, but his designs are far from worthy.
In November he was presented with the British Fashion Award for Emerging Talent Menswear and later this week he has the coveted role of closing the inaugural London Collection: Men weekend.
"There wasn't a big fashion scene growing up in Markbeech," he jokes. "But I was always interested in functionality. We [Raeburn has two older brothers] grew up with a relatively idyllic lifestyle. In summer we made our own fun because there was nothing else to do. That spirit – making something out of nothing – is what I do in my adult life. I went through air cadets, the Duke of Edinburgh Award and various sporting things at school. Although I wasn't going out spending all my money on Diesel Style Lab or Puma Platinum, I was saving up for the newest bit of kit."
Looking at Raeburn's designs it is clear that this idea of functionality is a significant factor. Specialising largely in outerwear, garments are often made from reclaimed military surplus – utilising fabrics such as parachute silks or wools. This practice first came about while he was still a fashion student – he completed his Masters at the Royal College of Art in 2006, following in the footsteps of his older brother Graeme – now a designer for the cycle brand, Rapha. "I was interested by the technical side; making things properly – I'd stay after class, late into the evening practising my sewing. With that came a love of robust quality fabric and the functionality that comes with it. So many of the original garments that I really loved, you couldn't buy the fabric on a roll even if you wanted to because they were from the Fifties and Sixties. Instead I was going to Portobello Market or military surplus warehouses and picking up jackets dating from that era at £5 a piece."
Inspired by the concept of turning something redundant into something useful again: "I don't think for a minute that I started this. I've got photos of my grandmother in 1941 in a bombed out church getting married in a silk parachute dress.
"The attitude of make do and mend is by no means new, but there has been a renaissance – not to deflect from what we've done here."
Raeburn explains that there are three tiers to his current business model, the first is the "Remade in England" tier – garments that are deconstructed, reworked and remade from old.
"It's not flicking through a textbook that hundreds of people have looked through before – it's understanding textiles, which seeps into the lightweight second tier where we're working with recycled fibres to begin with, which has become the biggest part of the business and allows us to offer something showerproof, breathable and something we can scale. The third tier is our work with a different British mill each season. Local manufacture and quality are an important part of that, but it's also great on a personal level because I'm 29 and still learning."
The responsibility to manufacture in England seems to resonate with Raeburn's generation of young designers, something that perhaps is a by-product of a childhood under the cloud of the industrial dissolution of the late Seventies and early Eighties.
"I never felt we should be tied to produce in England, it doesn't keep me awake at night, but I do think that if you take it abroad you should know what's happening in those factories," he says. "If we're working with a lightweight tech fibre that maybe there isn't a heritage of in this country, it makes good sense to do it overseas. That's something we're looking at, but we might do it in a recycled way. I'm so proud to show people our studio and say this is real; it's happening."
When studying for his Masters, he continues, the general consensus was that manufacturing in England was financially prohibitive. But: "I'm stubborn and thought: 'why not?' If anything now there's a little more business coming back this way. Our pieces are produced in London, Leicester, Nottingham, but it's about where the best place is for the product."
It's a formula that is working. Christopher Raeburn now has 30 stockists worldwide across womenswear, menswear and, more recently, accessories. "We've picked up amazing stores such as Colette for the new season and we've had such support in the UK from Harvey Nichols and Liberty. I'm proud of the team we've built up, but I'm interested in the long term, too. What would happen if we were recycling and recyclable? Then we could start giving back. That would be the next step."
Raeburn is passionate when talking about the future of his own business, but also seems genuinely excited by how sustainability is growing as a concept. One of his first big breaks came when he was working as a freelance pattern cutter above a J Cloth factory in Luton in 2007. A former tutor handpicked his work with his brother Graeme's for "Camouflage", an exhibition at the Imperial War Museum which explored the crossover between army fabric and street wear. "All of a sudden an original Raeburn Design was in a glass box between Jean-Paul Gaultier and Maharishi. We didn't think we were meant to be in fashion but it kick-started me."
In 2008, Raeburn entered, and won, the Ethical Fashion Forum's Innovation Competition, the prize for which was a chance to present during London Fashion Week.
"I was there for two of five days, in a space smaller than my desk. In a year we went from that booth, to winning Newgen sponsorship [he was the first designer to do so for both mens and womenswear in the same season] and two years later winning the British Fashion Award.
"I had nothing prepared for the awards at all, I really didn't expect to win it. I felt very humble – it's not often that I don't know what to say."
Join our new commenting forum
Join thought-provoking conversations, follow other Independent readers and see their replies