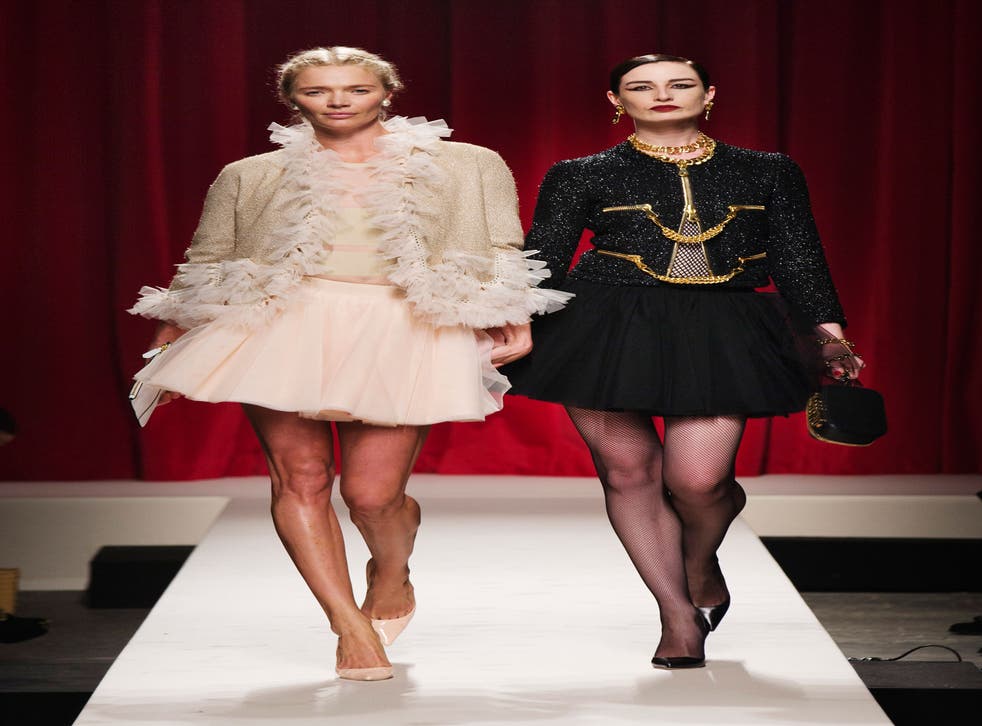 Moschino 30 years on: Italy's most light-hearted label enters a new era
From 'waist of money' belts to garbage-bag dresses, Moschino has spent three decades gently ribbing planet fashion – while steadily building a style empire. As Jeremy Scott presents his debut, Rossella Jardini talks about keeping the label going after the death of its founder, Franco
Rebecca Gonsalves
Saturday 22 February 2014 01:00 Comments
The old adage that friends are the family we choose may sound trite, but it never seemed more true than behind the scenes at Moschino's 30th anniversary extravaganza in Milan last September. Bittersweet as these celebrations often are, Moschino the brand didn't shy away from the pain of its past – namely losing Moschino the man to Aids-related illness in 1994.
Before his death, Rossella Jardini was Franco Moschino's right-hand-woman; in his absence, she was appointed the brand's creative director, taking control of a brand that had become known for accessorising its clothing with wry social commentary. In the Eighties and Nineties, Moschino was one of a cabal of powerful Italian brands. Much-coveted and copied, its kudos was unassailable, not least for the way it provoked debate. Even the correct pronunciation of the name was a source of some dispute (the correct answer is Mos-kee-no by the way). With multiple sub-brands and licences and even a hotel, Moschino has expanded further than anyone foresaw, but its sass and wit remain rare attributes in Italian fashion, where sleek and sexy are so often the order of the day.
"There's a lot of enthusiasm and joy," says Jardini, when we meet before the spring/summer 14 show at Moschino's headquarters. Bill Shapiro, American-born menswear designer and long-standing member of the clan, is serving as translator while Jardini's spaniel, Charly, happily scampers around the room. "We care about other people. I think it's a bit Italian, the family thing in fashion in Italy is important – it's part of what Italian fashion is." Indeed, the dynastic element of Italian fashion houses from Gucci to Pucci, Missoni to MaxMara is in part what has allowed so many of them to become commercial juggernauts – regardless of whether offspring or an outsider is at the reins. Shapiro may joke that the Moschino family is "dysfunctional", but the emotion and trust that is involved is clear to see.
I am shown a preview of a montage of Franco Moschino's life on film – later that evening, it will be played as an introduction to the show. "I wasn't able to watch for years," says Jardini about the memories such footage provokes. "It's easier now, a little bit easier. Franco left a lot of open doors, a lot of open roads, so in that way it was difficult – he was incredibly missed, for his charisma as well as his talent."
"This is sort of a love story," she says, at once referring to the brand, the collection, and tonight's celebration. "The people who worked with Franco, the people who knew him, well he was so special. It was incredible, people really loved him – and one of the ways to keep you going through the work was the love that he had for people, and that people had back for him. Celebrating the roots of the brand is a way of keeping Franco and those people alive, a way of keeping the love alive."
The Moschino spring/summer 14 show

Show all 6
Franco Moschino burst on to the scene with his eponymous label in 1983, and it didn't take long for stetsons, shopping bags, slogans, question marks and cow print to become signatures of his catwalk shows. They were a spectacle from the start, featuring supermodels of the day including Pat Cleveland and Violetta Sanchez, Amalia Vairelli and Gisele Zelany, who all returned to the catwalk for the anniversary celebration, wearing clothes from the archive that they had previously modelled.
"It's like a big family reunion," says Jardini. "Yesterday [when those models came for fittings] was very emotional. We said, 'No one's going to cry' and as soon as they saw each other: 'Waah!'. Alek Wek came in and said 'It's just like coming home. With all this crazy world and everything changing, it's just like coming home'."
Backstage before the show, Wek was thrilled to have been brought back into the fold: "I can't believe it's the 30-year anniversary, it's so historical, and to be a part of that is humbling". As well as affection for the team, especially Jardini, Wek feels strongly about the emotion behind the clothes: "They're clothes that every woman can wear and feel lovely [in], they can feel sexy and they can be themselves. I'm wearing one piece from the archive – it just tells you when something is great, it's timeless. The chemistry is so wonderful, it's not something you can script or make up."
"Franco felt that people should dress as they want, not as they should," says Jardini, and it's true that Moschino's message was just as important as the surrealist and ironic creations he used to convey it. Details such as a belt that spelt out 'waist of money', or a singed shirt with 'too much irony' sloganed on the back, were snapped up by those who wanted to show that they were in on the joke. But Jardini is keen to clarify that it was not Franco's aim to make fun of the way that people themselves dressed – rather to poke and prod at planet fashion. "He liked the idea of people being free to dress as they wanted," she says. "It was liberating for him."
Now the message behind the clothes may have veered away from those roots, but there is a sense of empowerment and positivity that remains inherent, as well as those signatures. "In the Eighties it was easier and there was a lot less pressure – it was a little bit more free," says Jardini, before reeling through the collections, pre-collections and licences under the umbrella of Moschino brands she must oversee. Although Moschino has never been a label that takes itself too seriously, it is a business and an important one, generating nearly 60 per cent of parent group Aeffe SpA's sales.
Later that evening at the packed show venue, as the supermodels took to the catwalk accompanied by Gloria Gaynor performing "I Am What I Am", it was clear from the audience's reaction that this was a fashion moment for the ages. The personality of those glamazons on stage as they revelled in their return to the spotlight was truly spectacular, and threw into sharp relief how impeccably polished and professional modern shows may be, but that they are far more bland because of it. After all, it's not easy to impress the fashion world, many of whom have been there, done that and got the (slogan) T-shirt the first time around.
Understandably, that reverence to a founder whose brand has existed for nearly twice as long without him as it did with him, is an emotionally fraught tightrope to walk. "When I see Rossella get emotional, it's hard to be strong," says Shapiro as he shows me the brand's extensive archive the day after the show. "It was hard for her when Franco died, not only taking on the workload, but not having him there as a friend or colleague – but she kept it together." And then there's that 'f' word again: "You get protective of one another and you form a family."
From the beginning, Moschino has been about family – not only creating that bond between colleagues, but also reaching out to bring people into the fold. In Italy, when in need, first you look to your family, explains Shapiro: "When Franco had to have garbage bags [for a dress from spring/summer 1994], one of the women we work with, her mother had to go out and buy the garbage bags – everyone's involved!"
That garbage-bag dress, from one of Franco's final collections, was one of a handful to be included in the Metropolitan Museum's punk-themed exhibition last summer. Looking through the archive, there are many pieces that are symbolic of their time, providing a commentary on whatever social issue needed to be prodded and poked into the public consciousness. But what's surprising is how they still resonate; the fit may need adjusting here or there, but actually many of the pieces still look modern – proof, perhaps, of how ahead of its time the brand once was, no matter who was at the helm.
"It's funny when people who work here talk about Franco's designs, and really it's Rossella's work," confides Shapiro. Moschino's larger-than-life persona may have overshadowed Jardini's achievements, but her shyness and reluctance to step in to the spotlight, coupled with her affection for her late boss, imply there is nowhere else she'd rather have spent the past two decades.
"In the first years I asked myself, 'What would Franco do?'," says Jardini. "But I stopped because he wasn't answering. I started listening to my heart instead." For spring/summer 2014, Jardini chose to address dressing for a range of women in black-and-white terms. And so the models promenaded down the catwalk two-by-two, exploring the good girl versus bad girl dichotomy that the 'MTV crowd' (Rihanna, Cara Delevingne, et al) lap up, all while bringing Moschino brand to a new generation. "People sometimes say 'Who's your woman?', but my woman is both good and bad," says Jardini. "A collection is a reflection of who you are, and in the end everyone's good and bad."
Jardini says she is drawn to the 'good girl' persona, and the duty and devotion she's shown to the label, and the man who founded it, would certainly reflect that.
Now, though, that duty is over. Almost 20 years after Franco Moschino's death, and just a month after the anniversary celebration, Jeremy Scott was announced as the new creative director for the brand. Fittingly, the American designer was a former Moschino intern, making him just another family member who has returned to the fold. In Aeffe's statement, Jardini was thanked for "her enormous contribution in keeping the spirit of Moschino alive ... Her creativity and tenacity drove the brand on and Rossella Jardini will always remain a crucial part of our history".
It's unclear, as yet, how Scott will continue that heritage: this piece went to press before his highly-anticipated catwalk debut for the brand. An insider reveals that London stores are courting Moschino in a way they haven't in years, while following the press presentation of Scott's Moschino pre-collection in New York in January, customers are already surging into boutiques and eagerly clamouring for his creations.
There's evidently plenty more left to tell in the Moschino story. Now, it's time for the next chapter.
The new Mr Moschino
By Alexander Fury
Moschino's new man, Jeremy Scott, may hail from Missouri rather than Milano, but his tongue-in-cheek chic is molto Moschino. Designing under his own label since 1996 (the late British fashion editor, Isabella Blow, was an early and vocal supporter), Scott has created dresses printed to look like credit cards, swimsuits that open like conch-shells around the models' heads, and for one memorable Paris show – titled 'American Excess' – tossed bales of dollar bills bearing his face into the crowd.
A graduate of New York's Pratt Institute who has shown his eponymous collection in Paris, London and, now, back in New York, Scott feels like the perfect fit for the house. He even interned for Moschino's US press office in his final college year. Besides all that, Scott has that very rare thing in fashion: a sense of humour. Couple that with his design talent, and a taste for ironic opulence, and he's the perfect choice to safeguard Franco's fashion legacy.
Register for free to continue reading
Registration is a free and easy way to support our truly independent journalism
By registering, you will also enjoy limited access to Premium articles, exclusive newsletters, commenting, and virtual events with our leading journalists
Already have an account? sign in
Join our new commenting forum
Join thought-provoking conversations, follow other Independent readers and see their replies