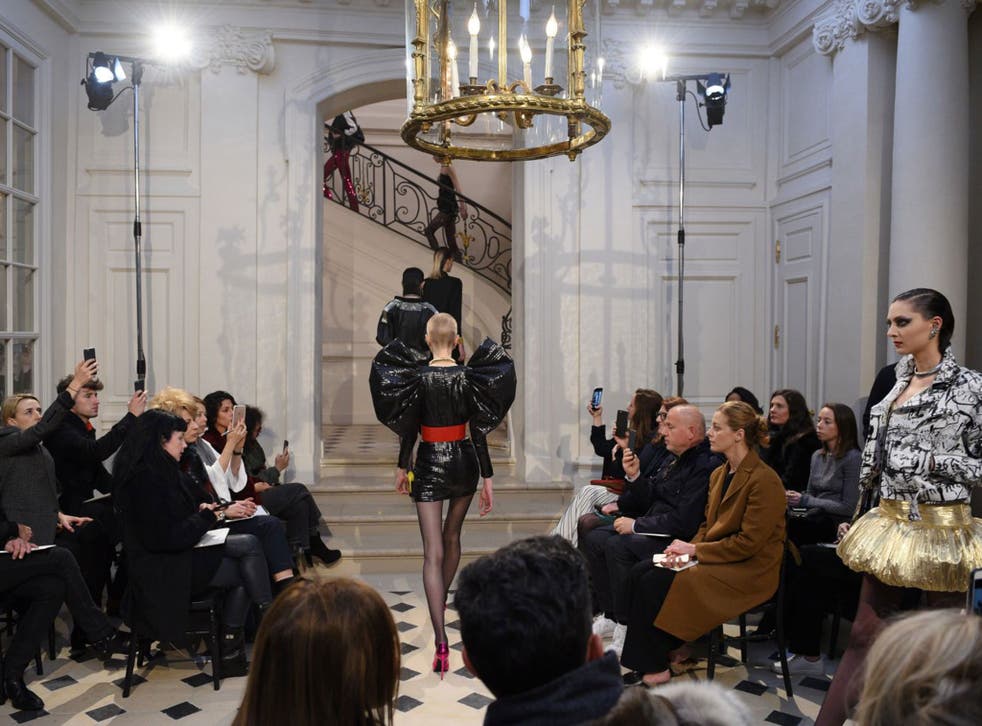 Paris Fashion Week: The autumn/winter 2016 shows were all about intimacy
From stadiums to standing-room-only, the shift in Paris' autumn/winter shows summarised fashion's craving for intimacy in the age of the masses, says Alexander Fury
Alexander Fury
Thursday 10 March 2016 22:08 Comments
There are two ideas at the root of the existential conundrum at the heart of the autumn/winter 2016 shows, closing this week with a strong Paris season that nonetheless left many unanswered questions and, worse, unreconciled issues. Those two ideas are intimacy and spectacle, opposites that often prove attractive, leading designers to tussle with the problem of sating urges for both at once. Because, although fashion itself breeds spectacle – of the flashy PT Barnum variety, and of the darker Guy Debord breed – clothing is, fundamentally, intimate. It touches your skin, it holds you.
So that's why Chanel pulled 2,400 chairs to hand-span distance of its 90-something models, and why Miuccia Prada urged us to recline on velvet ottomans and watch her Miu Miu wares drift by. You could hear the clatter of jewellery and the swish of fabric at Chanel; at one point, the Miu Miu soundtrack cut, and the models' footsteps echoed around the Palais d'Iéna. On the Left Bank, Hedi Slimane ditched the tortured pop-star posturing and rock-concert staging thusfar integral to his Saint Laurent shows and presented in silence to 150 guests crammed into the haute couture house, which he recently installed in a 17th-century Parisian mansion. All were spectacular examples of fashion, but alienation and distance wasn't the key. You didn't watch these clothes at a remove; you experienced them in the flesh (although I didn't attend Saint Laurent, and there wasn't much flesh on the models).
That's enough about the shows, though. What about the clothes? They should be the focus – the ostensible reality extracted from the spectacle, if we're talking in Debordian terms. In Paris, there was a new sense of intimacy to those, too. Clothes that were about more than their external, flat image – clothes that you had to pull on to really comprehend what they were all about. Demna Gvasalia's Balenciaga debut was, arguably, the benchmark. These were clothes cut with specific "couture attitudes", to borrow his phrase. Looking at images doesn't really translate: the pictures make it look a bit like someone shoved a couple of tennis-balls into the pockets of a jacket or yanked a parka off the models' shoulders. But these clothes were actually engineered to look that way, as though they were falling off, or too big, or too small, cut with curves to manipulate the body inside. It's all very clever.
So too is Comme des Garçons, although their work chafes, perhaps, at the confines of the term "clothing". Rei Kawakubo referenced 18th-century punks, dressed in the frills and furbelows shared by rococo dress and furniture: brocade florals, swagged drapery like Versailles curtains, grand curlicued shapes like the back of a chaise longue, transformed into panniers and panelling that wound up resembling armour. "Dress for women is the first of arts," stated Octave Uzanne in 1894. "The one that contains all the others. It is her offensive armour, her harmonious palette." He was a century or so too late for Kawakubo's statement, but the feeling was the same. These clothes were armoured, and harmonious, and you were overwhelmed by the notion that they could only be understood by getting them on your back, by seeing how they felt when you were inside them. How intimate is that?
Of course, that's the pull of intimacy for big fashion brands. Unlike Kawakubo, who is compelled to make an intellectual statement with her shows rather than kowtowing to commercial demands (although the varied Comme des Garçons lines do, quietly, generated some £155 million in revenues each year), intimacy spells clothes on bodies, and hence cash in tills. There's a degree of intimacy to the notion of "see-now, buy-now", collapsing the gap between show and sales. It also makes the clothes, generally, less spectacular, more anodyne. Clothes that shirk seasons and are hence easily consumed by anyone, anywhere, at any time; less geared to making a big impact visually, more a big impact on sales. Both Paco Rabanne and Loewe shot advertising campaigns that scrambled perceptions of the season, showcasing their autumn/winter 2016 clothes across the hoardings of Paris in springtime 2016. Both offered a clutch of the stuff available to order immediately.
Maybe that's the whole point of this push towards intimacy – less about amazing with the untouchable and more about seducing through the tangible. Debord reasoned that the spectacle – of society, rather than a Ringling Brothers big top show – elevated "the human sense of sight to the special place once occupied by touch; the most abstract of the senses, and the most easily deceived."
We're not deceived when it comes to touch: once on, you realise how those Balenciaga jackets fit, or the various complex textures that compose Nicolas Ghesquière's Louis Vuitton clothes, for instance. Touch is essential to mapping out garments that seem simple but are in fact anything but. Ghesquière is obsessed with travel, because Monsieur Louis Vuitton was a trunk-maker and voyaging via Vuitton is his abstract way of reflecting the heritage of the house. In some collections, that approach works better than in others – his autumn/winter 2016 excursion felt like we were still on the move, physically, with flyaway panels on slip-dresses and cropping, ribbing and pulling apart of tailoring. It was as if the garments were caught in perpetual motion. Ideologically, it seemed as if we hadn't quite reached our destination yet, with certain aesthetic notions unresolved. Nevertheless, there was an urge to figure out these clothes, to get your hands on them, rip them open, put them on. To explore them.
There's a curiosity about Ghesquière's Vuitton, just as there is about all the best shows, when journalists throng around designers backstage to hear them explain their thought-processes – pressing closer, invading space, to hear their justifications. It's a reflection of the human hand, and mind, behind these garments. It's what makes them designed, rather than simply fashioned. Intimacy doesn't sate curiosity about clothes, it doesn't dissolve the myths of fashion. It excites us more – maybe even enough to make a purchase.
Which, pontificating cant to one side, is the point of this whole damn "fashion" thing.
Register for free to continue reading
Registration is a free and easy way to support our truly independent journalism
By registering, you will also enjoy limited access to Premium articles, exclusive newsletters, commenting, and virtual events with our leading journalists
Already have an account? sign in
Join our new commenting forum
Join thought-provoking conversations, follow other Independent readers and see their replies