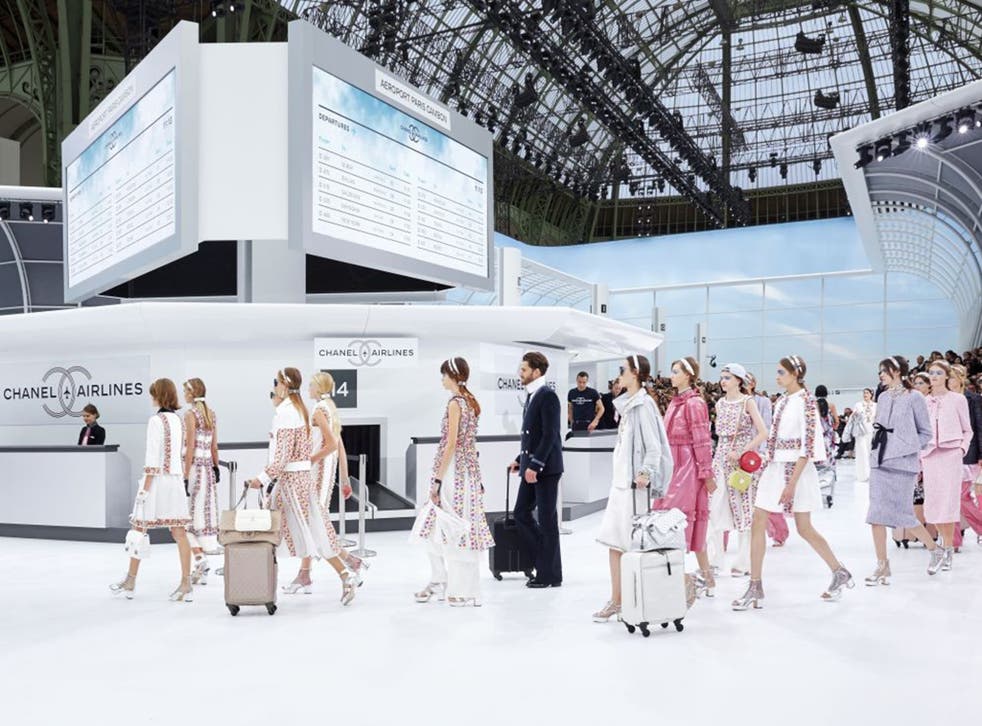 Paris Fashion Week: From Chanel to Louis Vuitton, Dior and Maison Margiela, spring collections were out of this world
In the packed schedules of Paris's spring/summer 2016 shows, the ideas that really stood out were from designers who took us on a journey to their own private universe.
Paris is the point where you stop, check and take charge not just of the city's talents, but of the season as a whole. What were the overriding messages? And where they any good?
On Wednesday evening, I left early for a late train from the Gare du Nord, crawling through interminable Paris traffic. It felt a bit like the fashion industry, clogged as it is with far too many designers showing far too many clothes. In both cases, you end up going nowhere.
It feels like this season has been a strong one, overall. A bunch of designers have broken free of that creative gridlock, and shown ideas that were engaging and desirable; some were second-hand, an exciting number were new.
I'm sure other critics will disagree with me and rail that the season was weak and wishy-washy. Conversely, I reckon that means it was strong, too. It means designers showed ideas that weren't immediately accessible, or easy. You had to work to understand their clothes; sometimes you couldn't. Brilliant. A difference of opinion means there is an actual opinion. There's nothing I enjoy more than loving something other people loathed. And that's what you're looking for, something to love, something that gets your blood pumping and your brain ticking over, your fingers itching to buy. That's part of it, too, but it's not the sole part. It shouldn't all be about me (or indeed you) wanting to wear everything.
But how great is it if you do?
I think a good fashion designer wants to create a world, or at least convince you that they have and that they can dress one. Worlds were something of a theme for the week: Nicolas Ghesquiere played Minecraft snippets and roamed via computer screens around virtual landscapes, dressing his Vuitton woman in garb inspired by hyperreal cyberscapes. Contrast that with Raf Simons' Dior – another show, another world. Rather than projecting the inside world of internet-addled youth out, he brought the outside in, erecting rolling, flower-dappled hills inside his habitual white box, a backdrop to bits of voile and misty watercoloured organdie, that sound flimsy but weren't.
Video: Louis Vuitton spring/summer 2016 show
Karl Lagerfeld at Chanel articulated it best, or at least in the boldest and most brazen fashion. A departure lounge was his set: that's a gateway to the world, which is arguably what a fashion show is, too. How terribly meta, as Lagerfeld's brave, not-so-new world of tweed and pearl pumped out. If Chanel was a planet, it would be Jupiter, the grand, gaseous giant of fashion's solar system, with so many satellites (Chanel's "satellites" make buttons and embroiders things). It dominates.
After the Chanel show, I spent time in the Hotel Costes, the Eurotrashy establishment on Rue Saint Honoré with dark rooms and, during fashion week, a queue of roughly 5,000 waiting to be miraculously fed. Ten minutes in, I'd seen about 15 women wearing head-to-toe Chanel: bags, blouses, bouclé suits patterned with knives and forks from its winter Brasserie collection. One wore an alpine cap with ostrich plume from Chanel's Paris-Salzburg show. The feather bobbed as she nodded, flicking through her show programme, shopping. Lagerfeld's world is real. It's the world of luxury.
The world of Demna Gvasalia's Vetements is very different. It showed in a Chinese restaurant on a bunch of mostly non-models, and the clothes were made from cheap, tacky fabrics such as stretch velour and prickly lurex. There are only 18 people working at the company, which is less a fashion start-up than a fashion upstart. Until relatively recently, this collective was based in Gvasalia's flat. Vetements, however, has a world far wider than it initially seems: its energy is infectious, its clothes influential. I felt like I'd seen a clutch of Vetements shows already, by other designers, because its cut-up sweatshirts and odd proportions have been copied again and again. After three breakneck seasons, this was its official breakthrough: it wound up feeling slightly retrospective, restating a few garments they'd done before (flowery dresses, oversized biker jackets) for an audience that wasn't watching back then.
Paris Fashion Week spring/summer 2016

Show all 35
The designer Jonathan Anderson once said something very interesting to me (he says lots of interesting things; he talks a lot). "Now, everything is at high speed," said he – he showed his Loewe spring collection on Friday morning, in a city already plastered with Steven Meisel advertisements for said collection, so he's partly to blame. "Whatever is on the internet is all that there is; once you've seen it, you devour it and then you're over it… and I don't know what the solution is for that, unless every garment you send down the runway or photograph someone in, is completely different on the rack."
You know what? I think that's precisely the appeal of Vetements' vêtements. Pawing through them in the label's showroom in a scummy Paris arrondissement (that late train on Wednesday gave me the time to do just that) you realised stuff, such as the fact that the sleeves are stiffly interfaced on those flowing florals to sit differently on the body, or the executioner-style slashes on the necks of sweatshirts, enabling you not only to wear them back to front, but adjust the fit via a channel of ribbing.
The creative head, Demna Gvasalia, was announced by Kering as Alexander Wang's replacement at Balenciaga on Wednesday, just before the Louis Vuitton show. He's an interesting choice, and clever. He's a clever designer, I mean; it remains to be seen if he'll work at Balenciaga, whose legacy is, superficially, so different from his own.
Gvasalia's work has a strong root in the world of Martin Margiela, but I'd argue that the aesthetic is similar because Vetements' approach is, too. They explore and have ideas – lots of ideas, all of them exciting.
John Galliano is an unexpected match for an unexpected house – the aforementioned Maison Margiela – but his second ready-to-wear show consolidated his position there. It felt, this season, like seeing two worlds collide, especially when Galliano sent out a clutch of Japanese-influenced garments that seemed a rediscovery of his own past. A past so storied isn't a bad thing: perhaps Galliano was afraid to look backwards. When a bias-cut dress emerged, a harking back to the start of Galliano's ascent to fashion supremacy, your heart skipped a beat. They've been everywhere, by the way. But Galliano still does them best.
The season, however, isn't over. On Sunday, Azzedine Alaïa – a man who many (including me) call the world's greatest fashion designer, is set to show his latest collection. He's off fashion's schedule, because he's a world unto himself. All the best designers are.
Join our new commenting forum
Join thought-provoking conversations, follow other Independent readers and see their replies