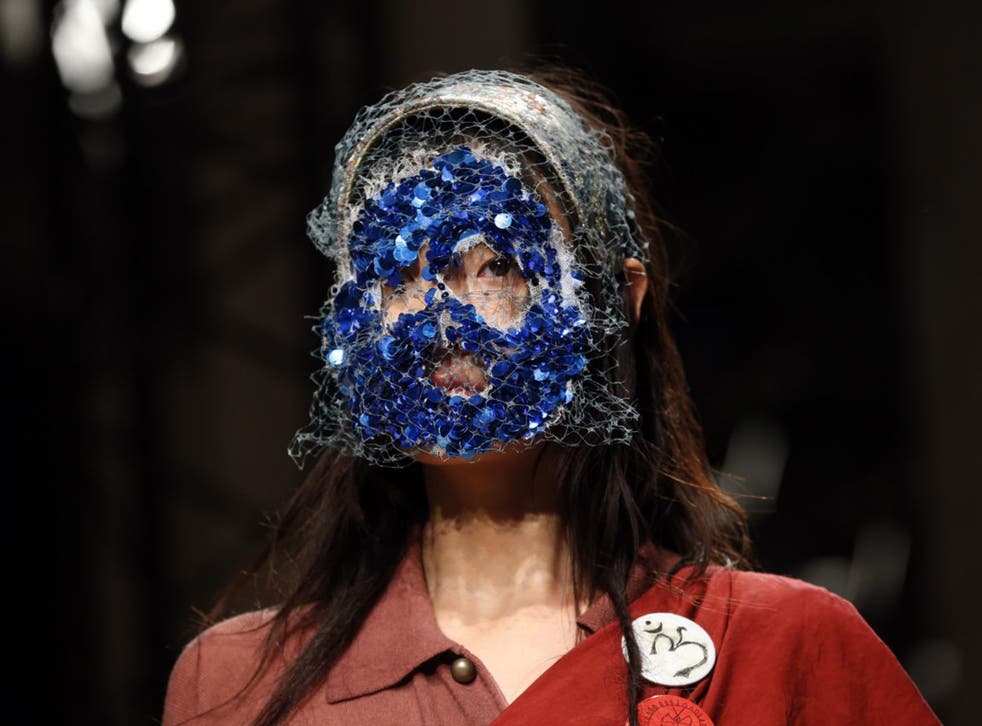 Paris shows of Rei Kawakubo and Vivienne Westwood should silence critics who say it's all about insecurity
Isn't fashion about caging women, literally and figuratively? No
Alexander Fury
Saturday 05 March 2016 23:04 Comments
6 March is Mothering Sunday – at least in the United Kingdom – and 8 March marks International Women's Day, both falling slap-bang in the middle of the autumn/winter 2016 Paris womenswear season. Some will see this as an anomaly: the fashion industry is frequently chided for its attitudes towards femininity and its perceived exploitation of female insecurity, as is evident from the ever-raging debates about body ideals.
Isn't fashion about caging women, literally and figuratively? No. It can be about setting them free, empowering them. That was the overriding message of Rei Kawakubo's Comme des Garçons show. Of an undeniably, unequivocally, extremely pink, strength. Kawakubo presented outfits composed of ruffles and frills, gargantuan rosebuds, piled-up boned panniers and exaggerated flounces. Pink dominated, alongside rococo floral prints and foliate brocades. A few of the dresses – and I use the term loosely – were articulated like plate armour around the body. The overriding mood was of the 18th century, of Fragonard and Boucher, a whiff of Versailles, the grandeur compressed on to the body of woman in a construction of fabric.
What does it all mean? To begin with, it contradicted entirely the label attached to these garments: Comme des Garçons. This was about woman absolute and all-powerful, where the perceived traps and trappings of an archetypal femaleness – heavy, wide pannier skirts, boned stays, flowers and ruffles – became a kind of protection against the world. Totemic, traditionally, of fragility, they became something tougher – a defence, not an aggression.
That said, this wasn't a sinister Kawakubo offering: there was a lightness of mood – "The Dance of the Sugar Plum Fairy" played – if not of garment. The latter is a simple fact, given the masses of fabric forming Kawakubo's grand shapes. Those made me think of woman in control, occupying a space, emphasising her presence and physicality through the clothing on her back. It's a power play afforded to women that men have never quite been able to match.
These Comme des Garçons clothes were embedded in history, in a manner quite unusual in Rei Kawakubo's work. The 18th century, however, was packed with powerful women, and they clustered around the courts of France. Louis XIV didn't invent the notion of the maîtresse-en-titre – the chief mistress of the French king. But his mistresses were afforded more political power than any before – a notion taken to its height by his successor, Louis XV, and Madame de Pompadour.
Her influence also led to her personal style shaping the aesthetic movement we call rococo, crafting an entire female universe. Here, it was compressed into 17 exceptional outfits, a treatise on the absolute power of absolute femininity.
Vivienne Westwood's show habitually butts against Kawakubo's, showing just an hour before. Westwood's work also explores hyper-femininity, empowerment through clothing, and in her way she has shifted fashion as significantly as Kawakubo. The difference? Kawakubo does so with a straight face and a degree of abstraction that ensure quiet contemplation, whereas Westwood's literalism has occasionally fallen into farce. The dynamic this season, however, was different. Westwood's label had been rechristened Andreas Kronthaler for Vivienne Westwood, a reflection of the impact her husband and design partner of some 27 years has had on her aesthetic.
It also changed the entire tone of Westwood's presentation: the show notes (always a soap box eagerly mounted by Westwood) were written in his voice, not hers. Westwood herself was at a distinct remove. Kronthaler was looking at Bruegel when designing the collection, said he. Westwood was reading Rabelais.
Rabelaisian is a word easily applied to Westwood's clothes. It's defined as marked by gross, robust humour and extravagance of caricature. There's an argument that Westwood's work has fallen into a kind of caricature at the hands of Kronthaler – it's frequently cited that Westwood's unique aesthetic came as a result of her being a woman, sporting her own clothes (she wears no other designer) and reacting to their rapport with her body. Kronthaler had a bunch of men in this show, wearing garments we would traditionally define as feminine (a draped evening gown, a high-heeled shoe). Perhaps he is taking that tactile mantle from Westwood, also?
Given the duality of Westwood and Kronthaler's creative process over the past two decades, this felt less like a passing of the torch and more a handing over of the reins. Westwood was still along for the ride, and her name is still on the label. Hence, perhaps she still has a hand in the clothes, which this season weren't especially different but were nonetheless handsome, in a palette of Bruegel burgundies and peat-bog browns. Westwood took a bow with Kronthaler, a presence here as in the aesthetic values. Nevertheless, it felt as though one of fashion's grande dames had been dethroned.
Succession is something fashion is increasingly addressing. Again, it's very 18th century – the various French kings were obsessed with their dauphins, and so it is in fashion. You want someone in line to inherit your empire.
In many cases, it's pressing: Dior and Lanvin are both without creative directors; rumour-mongers insist that Saint Laurent is ready to join, with the departure of Hedi Slimane. Kawakubo and Westwood are both clever in that they have nurtured a new generation of talent to succeed them. Perhaps Westwood would rather you didn't talk about her husband in that way, but certainly her scaling-back her day-to-day design role isn't unforeseen. Westwood has advertised Kronthaler's design influence in her collections, and in turn promoted his talent, since the early Nineties. Kawakubo's approach is different: to establish subsidiary labels under the umbrella of Comme des Garçons, most recently the Noir line by Kei Ninomiya, and the menswear designer Gosha Rubchinskiy. Call them a school, if you will. Westwood was a teacher, too. It implies the authoritarian influence, and a guiding hand.
One of the first for Comme des Garçons was Junya Watanabe, founded in 1993. His autumn/winter 2016 show wasn't a million miles from Kawakubo's: both explored the notion of fabric constructions on female bodies, abstraction and exploration of decidedly three-dimensional shapes (the side-views of these clothes are frequently far more arresting than the front-on). But Watanabe's focus is, perhaps, stricter, and simpler.
Paris Fashion Week AW16 in pictures

Show all 29
This time his theme was "hyper construction dress" – his words, but they could be mine, as they are the perfect description of garments engineered from the kind of hi-tech, highly synthetic fabric normally used to upholster car interiors. In a handful of industrial colours – acidic, fluorescent pink, dull red, lots of black and battleship grey – it was cut into geometric shapes to unfold about the body, clothing studiously and fascinatingly structured with mathematical precision.
There wasn't much that was corporeal, or instinctive, or warm, honestly. This was a cold, scientific fashion show that was, nevertheless, extraordinary, in the way a complex mathematical equation chalked out on a board can fascinate. You weren't encouraged to unravel these mind-boggling, complex clothes. But they were interesting enough to encourage you to buy. If just to look at, rather than wear.
Register for free to continue reading
Registration is a free and easy way to support our truly independent journalism
By registering, you will also enjoy limited access to Premium articles, exclusive newsletters, commenting, and virtual events with our leading journalists
Already have an account? sign in
Join our new commenting forum
Join thought-provoking conversations, follow other Independent readers and see their replies