Printed Matter: Make a bold style statement this season

Show all 11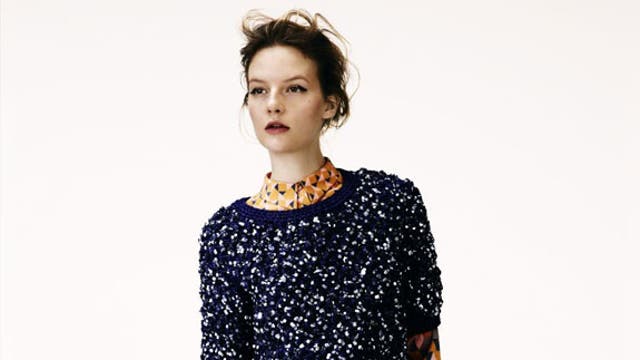 Printed Matter: Make a bold style statement this season
Layer as many patterns as possible this season to make a bold style statement. Charlotte Owen offers a how-to guide to the trend on the high street
Listen carefully and you can hear the wily, straight-edged shadow of minimalism scampering off into the distance.
That's because prints – bright and outrageous, fluffy and embossed, tidy and geometric – are back. And not as a top-to-toe solo performance. Instead of making a statement with one bold pattern, instead think in terms of the building blocks of your outfit, and layer stripes, checks and swirls.
More is More
You probably haven't worn this much colour with this much print since your seventh birthday party. Well, everyone loves a hint of youthful nostalgia… especially design duo Meadham Kirchhoff. Gingham pinafores, lace shirts, sequined bustiers and glittery tights? Sure. Oversized furs, tinsel jackets, polka-dot blouses and goofy knitwear? Why not. This is definitely a look where more is more. If piling it all on and layering into oblivion feels a bit much, take your lead from Issa's Paisley-print blouses teamed with cropped cartoonish trousers. Just remember: if you start finding method in the madness, you may be missing the point.
Textural tension
If garish prints in cartoon colours send you running for cover, then textured prints offer another way in. Think a kind of three-dimensional bricolage of jewels, embroidery and fluffy fabrics that creates a textured pattern. Channel Chanel with cross-hatched patterned tweed trousers alongside checked or striped bejewelled knitwear. Or if that's too proper then take a leaf out of Marc Jacobs's book with some grungy clutter – multicoloured Paisley prints, wool jackets and glittering tinsel scarves. All, of course, in oversized proportions. Bring everything together with an autumnal palette of burnt orange, bright pink and boozy purple. That's some tactile temerity.
Neat and Tidy
Is a sleeker silhouette more up your street? Go for tidy tailoring with a mix of tongue-in-cheek geometric prints. There are plenty to choose from: reworked Paisley, graphic squares, honeycomb grids… Don't be afraid of some primary colour and Warhol-esque brights. Illustration obsessive Mary Katrantzou showed zingy clashing prints designed with a graphic spirit of ruler-like precision and calculated irregularity. Opt for tidy designs such as tailored cigarette pants, a soft silk shirt or a lightweight knit. This look is big on colour but low on clutter – who said print couldn't have an OCD edge?
Closer than close
Is it the ultimate clash or ultimate cop-out? Tone down (or up) the clash by rocking prints that are as similar to each other as possible. Wear Basso & Brooke's houndstooth prints against triangular checks, or Miu Miu's caramel square-checks over caramel circular-checks. Go for prints that are enigmatic variations on a reassuringly common theme. Wide stripes with pencil-thin ones. Ditzy florals against broad, painterly, expansive blooms. A chequered skirt with a crew-neck cross-hatched jumper. It's basically a kind of sisterly double act – they're from the same gene pool and can be best of friends, but sometimes they clash like hell.
Register for free to continue reading
Registration is a free and easy way to support our truly independent journalism
By registering, you will also enjoy limited access to Premium articles, exclusive newsletters, commenting, and virtual events with our leading journalists
Already have an account? sign in
Register for free to continue reading
Registration is a free and easy way to support our truly independent journalism
By registering, you will also enjoy limited access to Premium articles, exclusive newsletters, commenting, and virtual events with our leading journalists
Already have an account? sign in
Join our new commenting forum
Join thought-provoking conversations, follow other Independent readers and see their replies