Socialite? Muse? Actress? Punk? Daphne Guinness continues to defy expectations
Guinness's attire veers from fashionable to fantastical but her extraordinary appearance is largely deceptive, says Alexander Fury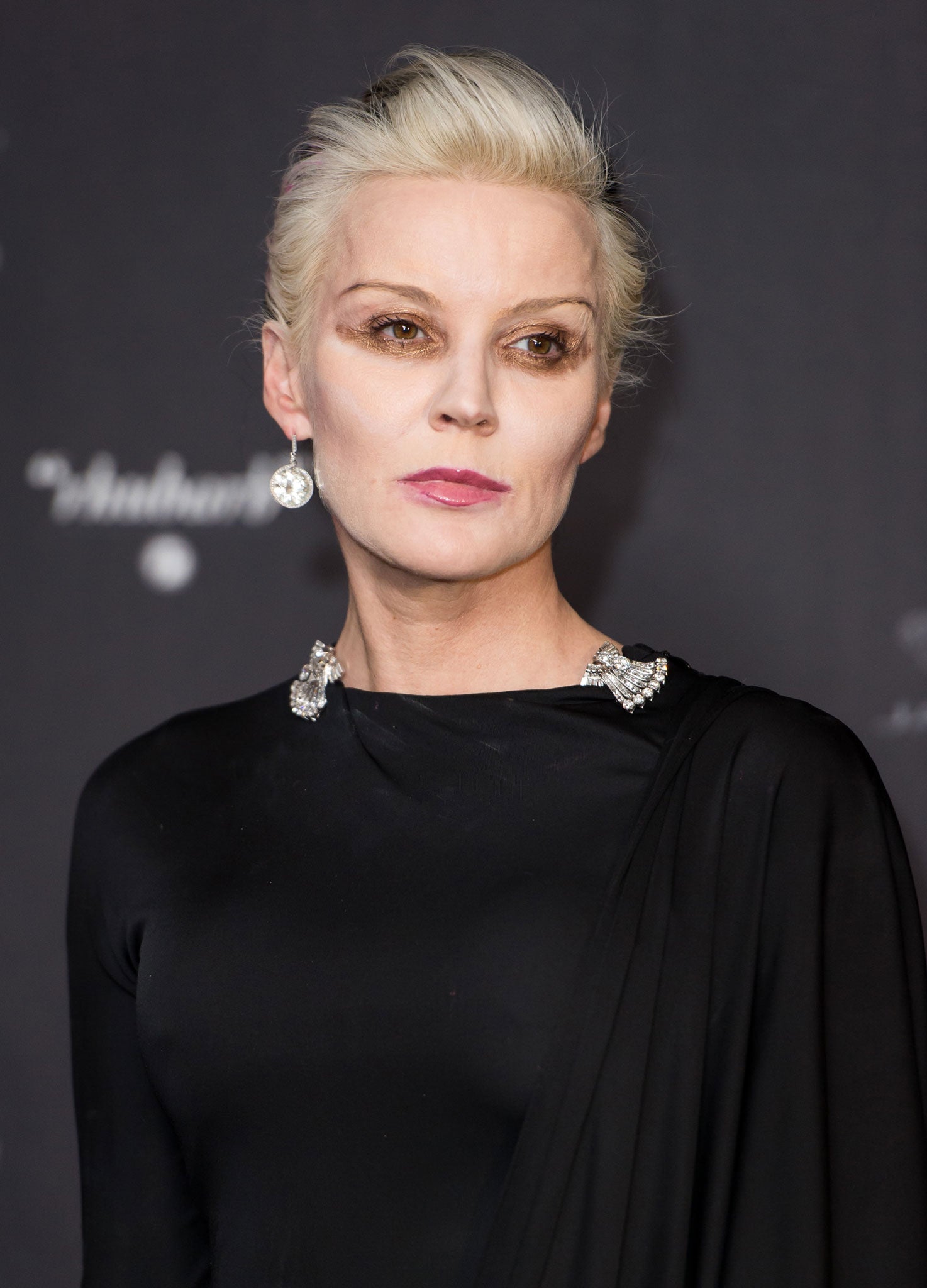 The first thing you notice about Daphne Guinness are her clothes. There's no way you could miss them. These aren't just schmattes covering the body; nor are they merely gorgeous, fashionable garments, beautifully made by leading designers (although, as one of the mere hundreds of women worldwide with the time, means and taste to buy haute couture, they are frequently just that).
Guinness's attire veers from fashionable to fantastical. When you see her during events in London or, perhaps, around the haute couture shows in Paris, she is a quixotic apparition, clad in high-fashion fetish-gear and glistening gewgaws and invariably elevated several inches in altitude. Most people are, understandably, petrified of her.
As is so often the case, Guinness's extraordinary appearance is largely deceptive. "I wanted to conceal myself," she says, somewhat obliquely in a measured, quiet voice, when discussing her first interests in clothing. Her words echo those of her friend Isabella Blow, who often self-deprecatingly declared that she wore her outlandish headgear to distract people's attention from her face. In 2010, three years after Blow's suicide, Guinness purchased her entire wardrobe, previously offered at individual auction. An exhibition of choice pieces was staged last year at London's Somerset House, to wide acclaim. In 2011, selected items from Guinness's own collection of clothing were the subject of their own exhibition at New York's Fashion Institute of Technology (FIT).
I've been inside Guinness's wardrobe – at least, inside part of it, the clothes she stores at her home here in London. It's half Aladdin's Cave, half jumble sale. Guinness recently sold that London flat, and renovations are ongoing in her new base in the capital, so she and a few dozen outfits have decamped to The Connaught Hotel for the interim. She also has homes in Paris and New York, all with their own couture cornucopias. As a result of the FIT show, Guinness's clothes have catalogue labels painstakingly stitched inside: everything from Alaïa through to Yamamoto inventoried for posterity.
For someone seen as a dedicated follower of fashion, Guinness is somewhat dismissive of the business at large. "Fashion, actually... I don't find that very interesting. The idea of being able to transform yourself because we can, because we are human beings, that's interesting. But I don't think fashion, because it has become so much of a business, is that interesting."
Daphne Guinness's style
Show all 8
Transformation was the reason Guinness was originally drawn to clothing. It has certainly worked: images of her from the mid-Eighties show a mousey, Chanel-suited teenager. 'Sloane' is the word often used, and certainly there is only the hint of the peacock Guinness was to transform into. "Fashion sort of grew out of that because first of all it was concealing yourself and then it was being able to spot your tribe, at school or at nightclubs... You know, you were either a punk or new romantic or something. I was more of a punk, I think. And also, I think it was something to do. I mean, I've never met a punk who wasn't very, very sensitive; they are always the most sensitive people in the world."
Guinness seems sensitive, too. For one, out of her high-octane clothing, she isn't looming and larger-than-life, but fragile and bird-like. When she slips off her habitual on-pointe platforms, with a carved-out void where the heel should be (originally created for her by the couture shoemaker Massaro in Paris, and much copied) her feet are child-sized, tiny.
Guinness is generally quite tiny too, when taken down off that pedestal, and a little childlike. There's an innocence, a genuine concern, a rollicking enthusiasm rather than the jaded insouciance so common in fashion's higher echelons. Genius is childhood recovered at will, said Charles Baudelaire. Guinness probably isn't a genius, but she's certainly smarter than most people give her credit for.
Perhaps her fixation on fashion is to blame – fashion being a pastime which, should it grow into a passion, is frequently dismissed as bird-brained. Guinness peppers her conversation with quotes from Shakespeare and references to obscure philosophical tracts – her affair, once upon a time, with the French author and philosopher Bernard-Henri Lévy, is something of an open secret. She also confesses, at various point, to reading three or four books simultaneously, such is the helter-skelter whirring of her brain.
As her name suggests, Guinness is an heir of the originator of the dry stout that still bears her surname. She is the daughter of Jonathan Guinness, 3rd Lord Moyne, and his second wife Suzanne Lisney. She is also the granddaughter of Diana Mitford and her first husband Bryan Guinness, the 2nd Baron Moyne (her second was Sir Oswald Mosley).
Guinness grew up between the Midlands and Cadaqués, the Spanish town frequented and immortalised by Salvador Dalí. "We lived in a chapel up the mountain – we still do – and he lived in Port Lligat, which was down by the sea," recalls Guinness. "My mother, her first husband was his only pupil, and he was her great mentor. There was also Man Ray, there was also Duchamp – he died when I was one, I wish I had met him... So, there was this idea of there being a kind of haven, away from the dealers, the galleries, all of these things. It was tough then, it is really tough now. It is a fantastic place because it is very difficult to get to, our house is about... it takes about half an hour up a very, very, very winding dirt track and it is a chapel. No water, no electricity, no toys, nothing. So, it was great. Spanish Wuthering Heights."
The names Guinness peppers her conversation with are mildly fantastical, but somehow are couched in reality – at least, for her. Others haven't always seen it that way. Guinness recalls, at school, "When we had to write our first essay in September – 'My summer holiday' – everybody else said 'I went to...' something incredibly normal. When I was writing these things, they were thinking I was lying. That was absolutely awful... I had to try to skip that essay, or not be there for the first day."
There's something endearing about Daphne Guinness – particularly when she's confessing the problems of her glamorously peripatetic childhood. "I grew up around some rather extreme situations," she says. "So it was just kind of normal to be rather 'out there'." Hence the fact that, in Guinness's story, it seemed perfectly normal to meet Spyros Niarchos, son of Greek multi-billionaire shipping magnate Stavros, at the age of 19, during a skiing holiday in 1987. They married the same year, and Daphne's first child of three, Nicolas, was born in 1989. In 1999, she and Niarchos divorced, with Guinness reputedly receiving a settlement in the region of £20m.
The divorce gave Guinness freedom – both emotionally and financially. That freedom has perhaps lead to some of the difficulty people now have in how to pin her down. 'Socialite' is a word often used to describe her – but its vapid intimations of empty privilege and idleness seem unsuitable. Guinness also isn't especially sociable – besides the chapel with no water nor electricity, a retreat she still cloisters herself in periodically, she spent most of August in an isolated house in Ireland, she says, avoiding people. She was also recording an album, alongside the producer Tony Visconti, which is due to be released this year; music, Guinness says, is her true passion.
At the same time, 'musician' feels like a limiting moniker for someone like Guinness, whose renaissance attitude to creativity has seen her feature in fashion shoots, design a range of clothing, devise a perfume for Comme des Garçons, and both star in and produce short films (one, Cashback, was nominated for an Academy Award).
Guinness also reminds me of the Marchesa Casati, the turn-of-the-century Italian aristocrat who declared that she wished to make of herself a living work of art. She did so through outlandish fashions and costume balls. Does Guinness relate to that urge? "The Marchesa Casati was extraordinary in so many ways, but I think that if you become too self-conscious, or if you have to have a million stylists, or if you are running through looks like no tomorrow, I mean it comes a point when you are slightly desperate," states Guinness. "And that's not artistic."
Guinness continues to evade categorisation – punk, Sloane, wife, eccentric. None quite fit. When asked to define herself, she shrugs, stammers a little, then comments, wryly and astutely, "People love labels". Despite her wardrobe, you sense she doesn't feel the same.
Join our commenting forum
Join thought-provoking conversations, follow other Independent readers and see their replies