The Independent's journalism is supported by our readers. When you purchase through links on our site, we may earn commission.
Summer holiday style clinic: Sartorial prescriptions for the man about the beach
Three intrepid Independent writers in their thirties, forties, and fifties are given an updated summer look by our fashion team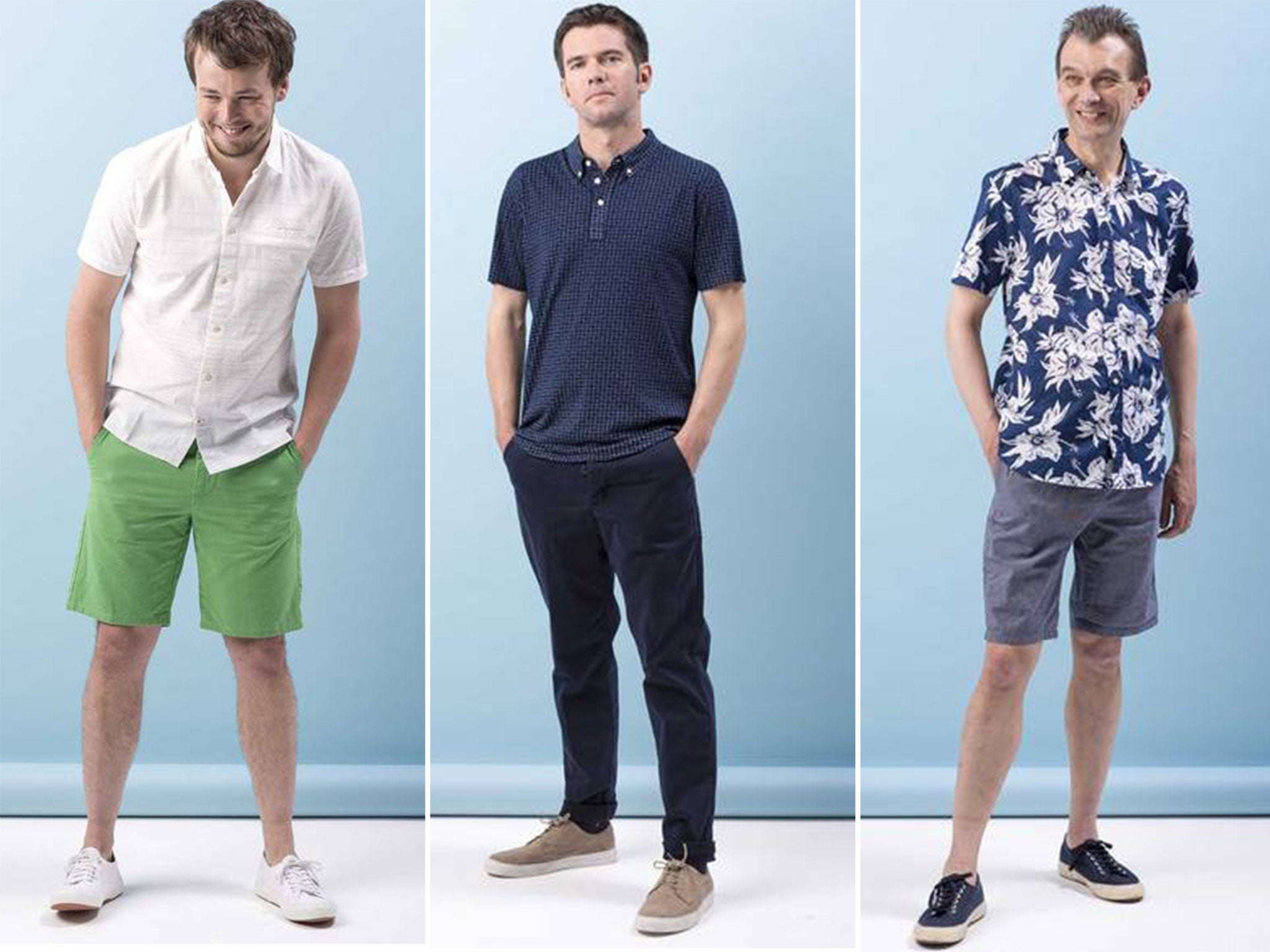 There are some things British blokes are brilliant at, but – and this may sting a little – dressing well on holiday is not one of them. As the mercury begins to rise, men may wilt, crumple and complain, but most of them have at least cracked the workplace dress code in a way that will keep HR off their sweaty backs. All sartorial sense seems to fly out of the window, however, as a holiday approaches – a time that is all about relaxing and not caring, you might think. Well you'd be wrong, it's not just David Cameron who will be long-haunted by holiday snaps of faded polo shirts, too-formal black leather shoes and unflattering swimming shorts.
Comfort is important – feeling at ease is what holidays are all about after all – but it doesn't mean that good style needs to go out of the window. Summer dressing needn't be scary, nor confined to a two-week jaunt – the items here can all be worn to the barbecues, picnics and gatherings in the pub that this season is bound to be filled with. Three intrepid Independent writers in their thirties, forties, and fifties were given an updated summer look by our fashion team.
30s
Archie Bland, senior writer, The Independent
The prescription
Bright shades worn in a block are a big trend this season, and it's far easier to wear on the bottom half than the top, as eye-catching colours tend not to flatter the complexions of inhabitants of these sun-forsaken isles. The brighter light of sunnier climes, and a bit of a tan, make a holiday the best time to experiment with colour.
Archie says: "I had a terrible feeling someone was going to propose a hat. Happily, the gear Lee put me in didn't upend my basic principles. By sheer good fortune, my feeling that on holiday one is obliged to be at least a bit jaunty has coincided with a trend for colour blocking – but it was good advice to keep the brightness below the belt. I might even buy these shorts. As for short-sleeved shirts – well, I've always thought they were for dads, but I quite liked this too, to my surprise. And no hat. Result!"
Shirt, £105, by Folk, folkclothing.com; shorts, £75, by Gant, gant.co.uk; plimsolls, £45, by Superga, superga.co.uk
Ben Ross, travel editor, The Independent
The prescription
What about a knitted polo shirt? Fancy enough to wear to a posh restaurant for dinner as well as cool enough for daytime use, there is something of the Italian Riviera about the knitted polo. Just be sure to leave a button or two loose. Usually, it's too hot and your skin will be too tender from sun, sea and sand to wear jeans, so a dark pair of well-fitted chinos is the best way to keep cool and look smart.
Ben says: "I wear holiday clothes until they dissolve, so it's nice to try something new. The shirt is great – just the right side of casual-smart. And chinos? I certainly feel like a grown-up!"
Polo shirt, £80, by Paul Smith, paulsmith.co.uk; chinos, £145, by Folk, as before; shoes, £69, by Cos, cosstores.com
John Rentoul, Chief political commentator, the Independent on Sunday
The prescription
Hawaiian prints are everywhere this summer, and can be worn well at any age. The more mature dresser would be wise to stick to a simple combination of two colours for the hibiscus print and leave anything more garish for the young or too-old-to-care. Comfortable canvas plimsolls are the perfect holiday shoe as they can be dressed up or down as the need arises.
John says: "Usually choosing clothes for holidays is the same as for any other time. Just not the best shirts. And: will I have to wear a tie in the restaurant? Plus the cut-off trousers and swimming trunks. Holidays, excluding dinner, are the only time I don't wear braces. Once a year I have to dig out The Belt. So what Lee chose wasn't so far off what I'm used to. Just less shabby. I liked the big patterned shirt rather than the usual office stripe. Posh shorts I can take or leave".
Floral-print shirt, £40, and shorts, £45, both by Howick, houseoffraser.co.uk; plimsolls, £45, by Superga, as before
Styling by Lee Holmes
Photographs by Jason Alden
Grooming by Lisa Valen ia at Carol Hayes Management
Join our commenting forum
Join thought-provoking conversations, follow other Independent readers and see their replies