Tribute to a supreme fashion fantasist: The unique life and times of Isabella Blow

Show all 15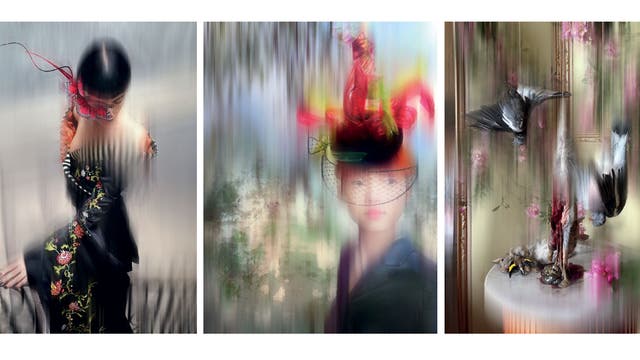 Tribute to a supreme fashion fantasist: The unique life and times of Isabella Blow
The exhibition Isabella Blow: Fashion Galore! opens in London this month – charting the life and wardrobe of one of contemporary fashion's most extraordinary and influential characters, the former fashion editor and stylist Isabella Blow, who propelled Alexander McQueen and Philip Treacy to superstardom. An ardent fan, and essayist for the show's catalogue, Alexander Fury unpicks her influence and legacy
First of all, a disclaimer. I never met Isabella Blow. When she committed suicide in 2007, I was a paper-pushing underling scraping my way into shows. Our professional paths never crossed. Nevertheless, it feels like she's always been part of my consciousness – certainly my fashion consciousness.
It's the same for many: "The Sunday Times Style was a bible to me!" declared JW Anderson when I interviewed him back in September, recalling the period when Blow acted as fashion director for the magazine. I shared those feelings as a fledgling but ardent fashion fan. I still have a 1996 issue featuring Blow herself on the cover in a jet-embroidered Alexander McQueen jacket and Philip Treacy saucer hat. In 1998, I won a Royal Mail letter-writing competition (well, third prize) by penning a missive to the person I admired most. Who else could it be, but Isabella Blow?
Blow is a woman to admire. Why? Well, contrary to popular belief, not because of the way she dressed, but because she operated outside the sycophantic constraints of fashion. Fashion wasn't a living, it was her reason for living.
"The fashion industry needs flamboyant, passionate people in it, who love fashion and want to make fashion – they want to live it and they see it as sort of self-expression," says the photographer Nick Knight. He worked with Blow and photographed her wardrobe for the catalogue to accompany the forthcoming exhibition, Isabella Blow: Fashion Galore! (at Somerset House from 20 November).
Blow was a tireless, fearless, inhibition-free champion of fashion – of her fashion. She spotted some of the finest Britain has ever produced – McQueen, Treacy, the models Sophie Dahl and Honor Fraser, a young Welsh knitwear designer called Julien Macdonald, whom she carried to Karl Lagerfeld's door at Chanel. "I don't like crap. I like craftsmanship," she once emphatically declared. That was her clarion call.
Isabella Blow was always outspoken, often outrageous. She compared her fashion instinct to a pig snuffling out truffles. She said nurturing designers was like being a mother, more than once stating, "The milk's dried up". Her voice was loud, her laugh louder, her outfits louder still. Isabella Blow was an event. Once, several hours late for a meeting at British Vogue, she decided to "flummox them with a look". She pitched up in a wedding dress replete with train. No one said a word.
But Isabella Blow didn't want to silence you with a look, she wanted to provoke. She hounded, hustled and bullied to further the careers of those she believed in, namely McQueen and Treacy. Blow spotted them both as students, famously buying McQueen's entire MA collection. He delivered the pieces in bin liners, she paid in cash instalments, £100 at a time. Still a Royal College of Art student, Treacy made Isabella's headdress for her marriage to the art dealer Detmar Blow in 1989. She fostered their talent, in every sense of the word. Blow opened up her homes to them: during the early Nineties, she was literally housing the designers at her place in Belgravia.
The exhibition, however, isn't about McQueen, nor Treacy, although as it consists of pieces drawn from Isabella's extensive wardrobe, both designers feature heavily. Rather, as the name suggests, it's all about Blow. I wasn't convinced of that title to begin with – Blow was never about fashion so much as style, pitching up in seasons-old frocks, possibly trailing a piece of Renaissance armour for good measure.
Then a friend of hers pointed out that it was reminiscent of Pussy Galore, which Isabella would have adored. Blow had a raunchy sense of humour, like a seaside postcard. The author and journalist Camilla Morton recalls her exclaiming, "Your mouth is a hole. And what do men put in your mouth? I think lipstick can maybe encourage someone to do that," in the middle of an interview ostensibly devoted to cosmetics.
Isabella Blow was born Isabella Delves Broughton in 1958. Her grandfather was Jock Delves Broughton, infamously tried for murder as part of the Happy Valley set in Kenya, and she was brought up in the grounds of Doddington Hall, the family's ancestral seat in Cheshire. Nick Knight returned there to photograph Blow's wardrobe for the Fashion Galore! catalogue – which is appropriate, as although Blow travelled far and wide, ideologically her mind-set was that of the quintessentially English aristocrat.
"I think that she had a sort of Twenties and Thirties aristocratic disdain for the concept of money," declares Nicholas Coleridge, president of Condé Nast International – Isabella's erstwhile boss. "And that, of course, was violently at odds with the concept of budgets within which magazines, as you know, tend to work. I think that she actually thought it was slightly demeaning to constrain your work in any way to the confines of a budget." He relates an infamous story of Blow missing a train from Liverpool during a shoot for Tatler. "So she hailed a taxi in the street, and she asked it to take her to London. And it cost something like £1,200." He roars with laughter.
Blow was on the masthead, at various points and in various positions, of Condé Nast's Vogue and Tatler, as well as the Sunday Times Style. She filled her shoots with the same clothes she wore out everyday, a walking billboard – r breathing editorial – for whatever designer she was eulogising at that particular point.
"She always wore what she was about to photograph," said Jeremy Langmead, then editor of Style, recalling Blow dining in the News International canteen sporting fur shoulder-pads with antlers by the then-unknown American designer Jeremy Scott (another of her success stories; he's just been appointed creative director of Moschino).
Those shoots were all about Blow. The best reinvent the models as her own doppelgängers – they're kind of self-portraits by proxy, which is why Knight's shoot feels quite so eerily appropriate. It's not just the outfits, but the entire ethos.
"I think she was very good at certain epic, very memorable shoots like the work with David LaChapelle, who I always thought was a big influence on her styling. These big, Baroque shoots," says Coleridge fondly. "She was capable of doing bad shoots as well as good shoots, as you know. But I don't think anyone ever tried to rein in her fantasies, ever. I think we all rather loved her fantasy pictures."
Fantasy was really what Isabella Blow dealt in, rather than fashion. But, as Nicholas Coleridge says, "behind the fantasy beauty of her world, there was hurt and disappointment a lot of the time... I think she found a lot of disappointments in the world. Don't you?"
Nick Knight states that, "The real physical meeting of Isabella was stronger than most images she produced". That's a fleeting, ephemeral thing, a fantasy, rather than the magazine images printed on glossy paper. It's a quality Knight's catalogue images manage to capture – ghosts of Isabella's wardrobe past, models attired in outfits recreated exactly as she wore them.
The exhibition does the same. Both are a testament to her styling skills, even if the styling, in this case, was on herself. Knight's images are lush, elegiac. They blow you away. No pun.
It may not have paid the bills, but the fantasy is what has endured. It's Isabella Blow's legacy. She was a supreme fashion fantasist. "We didn't want it to be mundane," states Jeremy Langmead of his tenure with Blow. "Life is mundane." That's what made me love her as a child. And it's why I still love her today.
Fashion images by Nick Knight
Join our new commenting forum
Join thought-provoking conversations, follow other Independent readers and see their replies