The Independent's journalism is supported by our readers. When you purchase through links on our site, we may earn commission.
Wines of the week
7 wines from Sicily that will remind you of the Mediterranean
As we're well and truly into autumn now, we can't help but look back to the holidays we didn't get to have this year. Terry Kirby's found the wines that will take you there instead
Friday 02 October 2020 15:39 Comments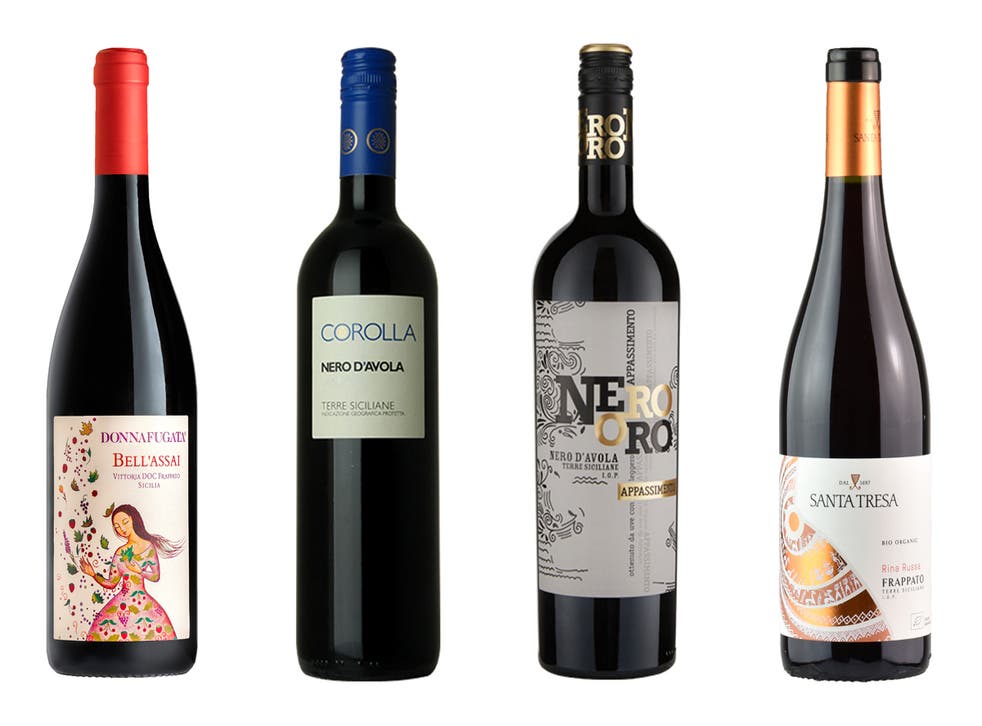 It wasn't the best of summers for exploring our favourite Mediterranean islands, was it?
Although some of us have braved travelling and the possibility of quarantine, many of us have missed the kind of holidays where enjoying the local food and wines is as much a part of the enjoyment as lazing on beaches, visiting ancient sites or walking in glorious countryside – all of which I've done in one of my favourite locations, the Italian island of Sicily.
I'm thinking here of pasta with sardines, anchovies, capers and breadcrumbs, accompanied by a jug of cooled, young, fresh nero d'avola, drawn straight from a barrel in a buzzy neighbourhood restaurant in the ancient fortified port city of Syracuse, the fresh mineral notes of the cool wine perfectly cutting through the rich, salty sauce, and giving a perfect answer to those who avoid red wines with fish…
Well, hopefully all of us will be able to enjoy such pleasures again soon, but for the time being, it's about seeking out some of those wines, many made from local indigenous grapes, to enjoy in our homes – and grabbing our cookbooks for something to match them.
I've never quite found an exact match for that fresh, out-of-the-barrel nero d'avola in this country, but there are many excellent bottles of Sicily's most well-known and widely planted red grape to try out, with its very accessible flavours of dark cherry, chocolate and black pepper, cut through with an appealing mineral freshness.
The Corolla Nero d'Avola 2018 (£8.99 or £7.99 if bought as part of mixed six-bottle purchase, majestic.co.uk) comes pretty close to the wine I had in Syracuse and is a lovely juicy everyday bottle – for any kind of pasta or pizza  – and will appeal to anyone who likes young malbec or beaujolais villages wines. The versatility of the grape is shown by the entirely different beast that is the Nero Oro Appassimento 2019 (£9.99 or £8.99 if bought as part of a mixed six bottle purchase, majestic.co.uk). It is made using some semi-dried grapes – the appassimento method, which is the same used to make the legendary amarone – making for a bigger, richer mouthful, with concentrated flavours of dried black fruits and a hint of sweet spice in the mix. 
That's one for when the weather cools down a bit, but for warmer autumnal nights, its time to seek out the other notable Sicilian grape – frappato, which makes light, tangy reds that need an hour in the fridge to bring out the best in them. Try the Santa Tresa Rina Russa Frappato 2019 (£11.70 rfvintners.co.uk) from an organic winery in the southeast of the island, where the aromatic, fragrant frappato grape is mostly grown and with vibrant, bright, refreshing cherry flavours. This is another good red wine for fish, particularly tuna, but also lighter meat dishes and goat's cheese. 
Although Sicily does very well in modestly priced wines for everyday drinking, some really classy, upmarket wines are being produced now as well. For a more aromatic, refined take on the delightfully light frappato, try the Donnafugata 'Bell'Assai' Frappato di Vittoria 2018 (£19.87 tannico.co.uk). A half hour or so in the fridge would be entirely beneficial here for both these bottles. Many really good wines come mostly from vineyards around Mount Etna, where they benefit from mineral-rich volcanic soils. 
The organic and biodynamic Etna Rosato Tenuta delle Terre Nere (£14.17 justerinis.com; £19.50 thelittlewineshopandsocial.co.uk) is a brilliant, pale pink, Provencal-style rose made from the local nerello mascalese, with sparkly, citrus and tangerine flavours, perfect for a plate of prawns on, hopefully, a warmer autumnal evening. 
Five hundred metres above sea level on the southeastern side of Mount Etna are the vineyards of the Malone family and their Calmarossa Etna Rosso DOC Santa Maria La Nave 2016 (£39.95 strictlywine.co.uk) is serious stuff. Made from old bush vines of nerello mascalese and nerello cappuccio, it is an impossible-to-pin-down wine – medium-bodied but with intense flavours of spice, red berry fruits and some savoury notes. Complex and beguiling – and suited to lighter dishes of pork or roast chicken for your autumn dinner party, socially distanced of course.
Another exceptional special-occasion wine is the Etna Bianco DOC Al-Cantara 'Luci Luci' 2018 (£22.61 tannico.co.uk; £27.50 strictlywine.co.uk) made from the local carricante grape and which is intensely complex, has flavours of tropical fruits and spice, a crisp mineral feel on the palate and a lovely, long persistent finish. A serious wine for almost any kind of rich fish dish – you just have to imagine a warm Mediterranean night, the slap of water on old stone sea defences and you might be back on holiday, in your mind at least…  
Register for free to continue reading
Registration is a free and easy way to support our truly independent journalism
By registering, you will also enjoy limited access to Premium articles, exclusive newsletters, commenting, and virtual events with our leading journalists
Already have an account? sign in
Join our new commenting forum
Join thought-provoking conversations, follow other Independent readers and see their replies