The Independent's journalism is supported by our readers. When you purchase through links on our site, we may earn commission.
Wines of the week
Eight red wines to drink when the chilly autumnal nights draw in
As the season of mists and mellow fruitfulness moves onwards to crispy golden leaves and colder nights, reds with plenty of body come into their own, writes Terry Kirby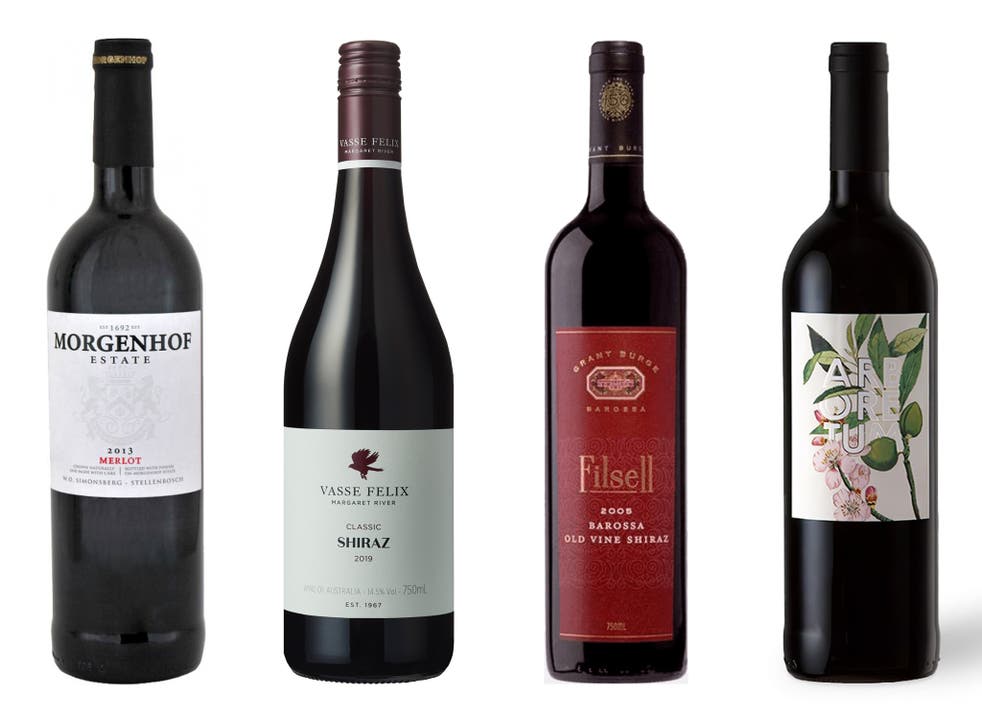 A bit of a chill in the air in the morning now: the equinox passed this week and we are into proper autumn, with some decidedly mixed weather over the past few days. What will October bring, I wonder… Yes, as I said last week, it's still the time of mists and mellow fruitfulness, but in the next few weeks it's also going to be about sweeping up the dead leaves and going for bracing walks in crisp air – activities that liven up the appetite for the richer foods of autumn, such as mushrooms, chestnuts and squashes, and prompt us to reach again for the lentils and pulses, and look up new casserole and traybake recipes. And, as we are all being expected and encouraged to spend more time at home as we fight the pandemic, why not make it as comforting as possible with some warming red wines to accompany those foods, all perhaps to be consumed in front of the first roaring fires of the season. So here are some medium- to full-bodied red wines from the New World for the comforting, cosy nights to come. 
Pinot noir is a lovely wine for any time, but its combination of often smoky, earthy flavours and bright cherry notes are particularly appropriate at this time of year, reminiscent of garden bonfires and the fungal smell of woodland. So, first, two big pinots for the dinner table and special meals: from the Santa Lucia highlands region of Monterey in California that produces excellent pinot, the Talbott Monterey Kali Hart Pinot Noir 2017 (£24.99 or £19.99 if bought as part of a mixed six-bottle purchase, majestic.co.uk) is medium-bodied, with intensely spicy, peppery, flavours, given depth with a touch of oak. Santa Barbara also produces great pinot in wines such as the Nielson Pinot Noir 2017 (£19.95 slurp.co.uk) which has ethereal, fresh flavours of ripe strawberries and a touch of spice. Both wines are ideal with lighter meats, duck and anything involving mushrooms.  
Slightly upping the weightiness, the well-priced Las Pampas Malbec 2019 (£8.80 tanners-wines.co.uk; £8.99 gustowines.co.uk) from Mendoza has soft, juicy, autumnal flavours of damsons and blackberries, some subtle oak and is perfect for everyday drinking. Chile's speciality grape carmenere is another go-to for this time of year, with its beguiling, flavours of dark chocolate, black cherries, white pepper and eucalyptus and is a great alternative to malbec to accompany steak – try the gorgeously approachable Miguel Torres Cordillera Carmenere Reserva Especial 2016 (£12.99 robertsandspeight.co.uk).
For many, the warm embrace of a silky, spicy syrah, with its characteristic aromas of tar, mint and liquorice and flavours of pepper, blackberries and black cherry is just the thing to combat the chill of an autumn evening, alongside a warming bowl of something like lentils and sausages. For a relatively easily accessible bottle, try the Vasse Felix Margaret River Shiraz 2018 (£12.00 tesco.com). From one of the oldest estates in one of the best areas of Australia for shiraz, it's got a little malbec in the mix, which adds some freshness and lift to the package. 
For a purer and more socially distanced dinner-party-level shiraz experience, the Grant Burge Shiraz Filsell 2015 (£24.99 noblegrape.co.uk) is benchmark Barossa Valley shiraz: big, very bold flavours of pepper, chocolate, with more eucalyptus and vanilla. While never too heavy on the palate, there is enough going on here to need decanting well before pouring, preferably with big roast meats or substantial vegetable dishes.  
The smooth, rich taste of merlot makes it also very much an autumnal grape and the velvety, mouth-filling Morgenhof Estate Stellenbosch Merlot 2014 (£10.99 until 13 October, normally £13.99, waitrosecellar.com) has fruity, plummy flavours with a hint of oak that make it, again, ideal with red meats. 
Finally, the Arboretum Red Botanica Wines 2017 (£18.88 laywheeler.com), a cabernet sauvignon-dominated Bordeaux-style blend made in the Devon Valley region of Stellenbosch, is a big, complex, intense beast of a wine, brimming with concentrated dark and dried-fruit flavours with a touch of tar and leather in the mix. It will wrap you in warmth like a fake fur throw on the sofa while you are enjoying a big casserole. And while all these wines makes me long for a few chilly nights on which to enjoy them at their best, I'm still hoping for an Indian summer because there are still some roses I'm desperate to try…
Register for free to continue reading
Registration is a free and easy way to support our truly independent journalism
By registering, you will also enjoy limited access to Premium articles, exclusive newsletters, commenting, and virtual events with our leading journalists
Already have an account? sign in
Register for free to continue reading
Registration is a free and easy way to support our truly independent journalism
By registering, you will also enjoy limited access to Premium articles, exclusive newsletters, commenting, and virtual events with our leading journalists
Already have an account? sign in
Join our new commenting forum
Join thought-provoking conversations, follow other Independent readers and see their replies