The Independent's journalism is supported by our readers. When you purchase through links on our site, we may earn commission.
Wines of the week
Returning to Languedoc-Roussillon: 9 special wines from smaller makers
These bottles from one of my favourite regions offer something the big brands can't, says Terry Kirby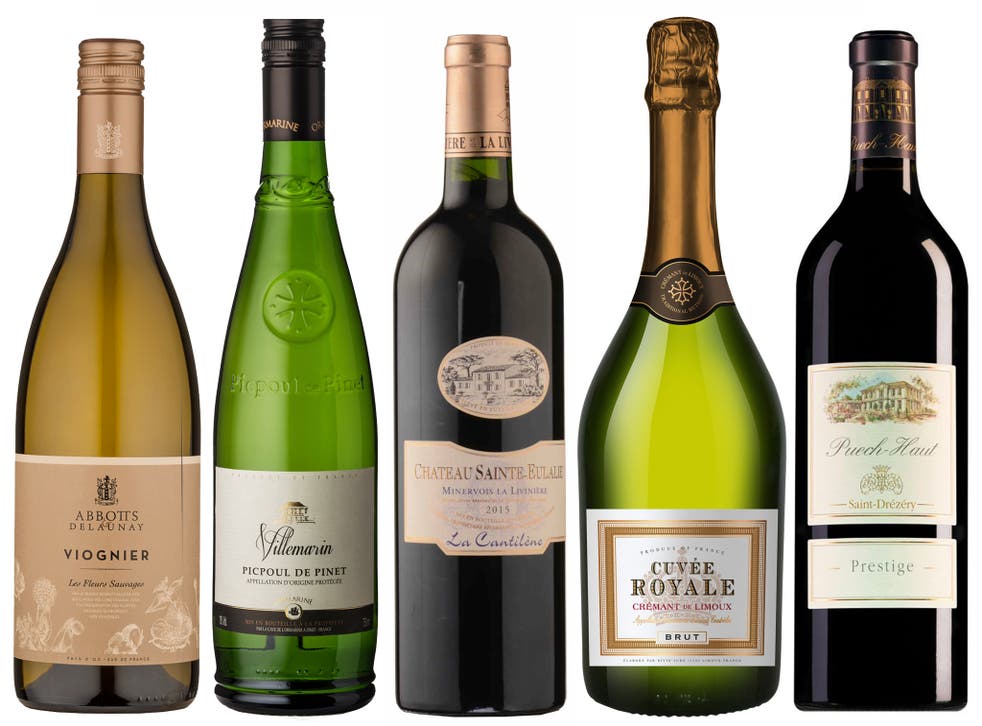 I make no apologies for returning to what is one of my favourite areas of the world for wines. The Languedoc-Roussillon area of southern France – which is now part of the broader administrative region of Occitanie – stretches from the Rhone Valley down to the Pyrenees and the Spanish border. It's a vast and varied landscape, with a wide variety of terroirs and wines which range from the rich, high-altitude whites and sparklers of the Limoux; to terrific roses that match Provence in style and undercut it in price; to red blends of the many appellations and small village cooperatives, from all-purpose everyday wines to serious boutique creations for your dinner table.
What, to me, characterises all these wines, is the integrity of the winemaking – even with the larger mass-produced cooperatives – and their sense of place, rooted in the character and climate of the region, which has a history of winemaking going back to the Greeks and Romans. When I last wrote about the region back in the early part of the year, I focused on the incredibly good-value wines of some of the big combines, that have a wide variety of estates across the region with wines under different names and brands, such as the Paul Mas combine, which produces some excellent everyday wines. I'll doubtless return to them, but today we are looking at more individual wines from smaller outfits.    
It is claimed that monks created the worlds first sparkling wine in the 16th century in the Limoux region north of Carcassonne. The sparkling cremants and blanquettes of the region – the former, made in the champagne style, has more ageing and usually therefore more heft about it – have a deserved reputation for quality. The Sieur d'Arques winery takes its name from a former ruler of the region who had a taste for these wines, but you can try them yourself in the form of the Cuvee Royale Brut Cremant de Limoux (£11.99 waitrose.com), made from chardonnay, chenin blanc and pinot noir; a golden coloured, full bodied, biscuity sparkler, with a pleasing citrus tang. A perfect chilled aperitif for a warm September day. Limoux is also famous for its excellent chardonnay, which has a similar rich creaminess and can rival classic burgundy at a fraction of the price. The La Voute Selection Terroir 2019 (£13.99 laithwaites.com) is a big mouthful: ripe, with oaky flavours of lemons and a hint of spice – perfect with big white-fish dishes.  
Abbotts & Delaunay may sound like a firm of Home Counties solicitors, but in the Aude region it is a boutique winery producing a classy range of wines (as well as the more budget, but generally good-value range of Les Jamelles wines). Abbotts & Delaunay Viognier Les Fleurs Sauvages 2019 (£9.99 or £7.99 if bought as part of a mixed six-bottle purchase, majestic.co.uk) actually punches well above its price point in terms of quality, with really aromatic, luscious flavours of apricots and peaches and those characteristic viognier notes of nutty, honeyed spice, but remains resolutely dry. If you are buying a mixed case in Majestic, try also the sprightly Villemarin Picpoul de Pinet 2019 (£9.99 or £8.99 if bought as part of a mixed six-bottle purchase, majestic.co.uk); also good value and a great example of the piquepoul grape which comes from just one strip of the Languedoc, south and inland from the port of Sete and close to the brackish Bassin du Thau, where a wide variety of shellfish like mussels and oysters are grown and for which the wine's citrusy, smoky flavours are just perfect. And remember, since there is an R in the month, it's traditionally time to eat them.  
But blended wines are really what make the Languedoc stand out, where the skills of the winemaker in matching and combining disparate grapes to produce something that is much more than the sum of its parts are most evident. The Mas Christine Blanc, Coume del Mas 2018 (£18.10 winebuyers.com) comes from a winery owned by an Englishman, Andy Cook, near the lovely old port of Collioure some miles south of Sete, near the Spanish border, and is an intriguing and complex blend of grenache gris, carignan, grenache Blanc, macabeo, marsanne and roussanne: quite hefty, with layers of generous, mouth-filling creamy flavours and a good, dry, mineral edge. A big plate of grilled Mediterranean fish and a dollop of aioli would be the obvious accompaniment – or more of those shellfish.  
And when it comes to reds, blending is much the dominant style, although the grapes can come from a wide range. The Château Sainte Eulalie estate lies in the Minervois appellation of the Aude region, near the Canal Du Midi, and the exceptional Chateau Sainte Eulalie La Cantilene, La Liviniere, 2017 (£13.50 thewinesociety.com; in stock 21 September) is a syrah-dominated blend, with grenache, carignan and cinsault also present, drawn from wines on sun soaked south-west facing slopes. It's robust and complex, but clean and elegant on the palate, with big spicy brambly, herby flavours. Very similar and from an area around Narbonne with a growing reputation is the Chateau La Negly La Cote La Clape 2018 (£13.48 laywheeler.com; £14.00 jnwine.com) is the same blend but with mourvedre in the mix; a similar classy drinkability, oozing smooth, rich dark-fruit flavours, some liquorice and cassis and a little pepperiness. Both these wines are classic southern French reds, ideal with any substantial Mediterranean foods, particularly grilled lamb with rosemary, or vegetable dishes featuring the classic combinations of tomatoes, peppers, courgettes etc.  
The newish Cabardes appellation is a small region in the hills north of Carcassonne and the home of the family run, organic Maison Ventenac which produces a smallish range of bespoke wines that benefit from a climate that has some fresher Atlantic influences balancing the hot dryness of the Mediterranean. So the Maison Ventenac  Signature Reserve de Jeanne 2017 (£10.95 jnwine.com) is a beguiling blend of the lighter, fresher notes of cabernet franc – not otherwise common in the Languedoc – and violet scented, tarry, peppery, velvety syrah. A lovely, medium bodied, well crafted wine of great charm and ideal with any charcuterie or pasta dishes.  
Moving back east and among the patchwork of vineyards and small ancient villages north of Montpellier lies another family run concern, the Chateau Puech-Haut in the village of Saint Drezery, which produces big, classy wines from various blends, such as the Puech-Haut Prestige Rouge 2016 (£21.50 waudwines.com ; winebuyers.com) made from, typically, a blend of grenache, syrah and carignan. And this is a serious wine for serious occasions: concentrated, complex flavours of plummy dark fruits, some brambly, herbal notes. A real mouth-filling, powerful wine, for roasted meats and, coming up of course, autumnal game and mushrooms. Flavours to relish, with a wine redolent of the sun-baked south of France.
Register for free to continue reading
Registration is a free and easy way to support our truly independent journalism
By registering, you will also enjoy limited access to Premium articles, exclusive newsletters, commenting, and virtual events with our leading journalists
Already have an account? sign in
Register for free to continue reading
Registration is a free and easy way to support our truly independent journalism
By registering, you will also enjoy limited access to Premium articles, exclusive newsletters, commenting, and virtual events with our leading journalists
Already have an account? sign in
Join our new commenting forum
Join thought-provoking conversations, follow other Independent readers and see their replies