The Independent's journalism is supported by our readers. When you purchase through links on our site, we may earn commission.
Wines of the week
Organic September: The wines to know about
Looking for a simple tipple that is on the leaner side? Try one of Terry Kirby's picks to celebrate Organic September this month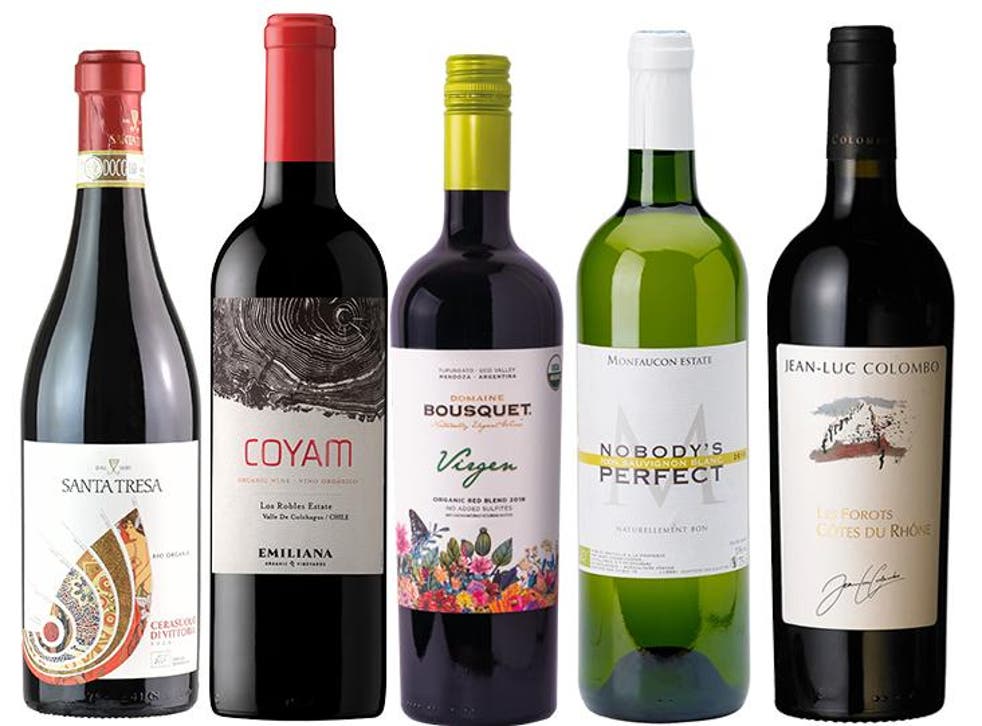 There is quite a bit of discussion within the wine world currently about "clean" wines. Not just organic, biodynamic, vegan or natural but "clean" – a conveniently snappy but also extremely vague description, which may or may not encompass all of the former qualities and aimed at being sold as a brand for those of us wanting a "healthy, happy, lifestyle". Etc, etc....
Such is the selling point of Avaline, the premium white and rose brand launched recently by actress Cameron Diaz and entrepreneur Katherine Power, which they say came about because they were fed up with feeling ill after a second glass of wine. Which does echo the comments of some people who routinely claim certain wines give them headaches, while others do not, irrespective of price or provenance.
Their wine is said to be organic, biodynamic, additive free and vegan friendly, but consumers are only told that the white wine comes from Spain and the rose from France. I've not had the opportunity to try the wine, which seems to be currently only available in the US, so I can't comment on its virtues, but it has intensified the debate about what additives are routinely added to wines and the fact that there is no legislation in Europe which requires winemakers to describe everything added to wines; the argument being that winemaking is a natural, variable process anyway, with flavours changing from vintage to vintage.
But it also raises other issues: how come there is very little on Avaline's website about the provenance of the grapes – not even the varieties? Is this just a marketing exercise and more part of the wellness industry than the wine trade? Such vagueness of origin of the grapes is normally a sign of a cheaper mass produced generic wine, rather than an upmarket one. It contrasts with the fact that most decent winemakers will be able to tell you everything about the grapes – from the specific clone of which variety, to the microclimate and the type of soil of the particular plot where they were grown.
But, it's also true they sometimes don't tell you about the dozens of additives which can be legally added. And Avaline is said to have some additives, such as pea protein and bentonite clay, which other winemakers do not add. You can read more on the Vinography blog or read this piece by Felicity Carter, editor-in-chief of Meininger's Wine Business International magazine.
Other issues follow from this: what exactly do we mean by natural wines – there are no regulations, but it usually suggests wines made by traditional fermentation – as opposed to added yeasts – and perhaps matured in amphora rather than stainless steel tanks and that sometimes taste a bit, well funky. Sulphites are another issue: added to wine to fight bacteria, they are not harmful, but, like, say, dairy produce, some people have an intolerance – those headaches again – and alternatives are used, but wines made in Europe don't need to be sulphite-free to be classed as organic, while those from the US have to be below a certain level.
So where does this leave the consumer concerned about what they drink as we embark on Organic September promoted by the Soil Association? Wines that are certified organic – ie pesticide and chemical free – are certainly labelled as such and it must therefore be a better guide than something simply called "natural" or "clean". But that does not mean that they are objectively good or that they are any more vegan friendly than an organic steak.
In photos: Street food across Asia

Show all 20
After a somewhat hesitant start – French winemakers in particular have been reluctant to add to the raft of regulations they already endure and which might cut across any individuality – organic wines are now commonplace at all price points. So here are just a few that I've come across recently that get my vote.
The idea that organic wines must attract a premium price – like, say, an organic carrot – has long gone. Aldi has several budget organic wines, as well as the Organic Prosecco I recommended last week, and includes the perky and gluggable fizz of Castellore Organic Pinot Grigio 2019 (£5.99 aldi.co.uk) from Sicily which is a rival to prosecco and has lovely autumnal flavours of apples and pears and the robust Toro Loco Organic Red (£4.99 aldi.co.uk) made largely from the revived Spanish grape bobal in the obscure Utiel Requena region near Valencia and perfect for pasta with bolognese sauce or a barbecue, if the warmer weather returns. Also from the La Mancha region of central Spain, the Entre Lunas Organic Moon Wine Tempranillo 2018 (£10.00 sainsburys.co.uk) is biodynamic – ie the vines are tended according to the phases of the moon; juicy, succulent and some spicy oak touches.
Again the perfect wine for some pizza or pasta, as is the Domaine de l'Arjolle Equilibre 2016 (£8.50 thewinesociety.com) a gorgeous cabernet sauvignon blend from the small appellation of the Cotes De Thongue in the Languedoc, both great easy drinking, good value, nicely balanced wines for every day consumption.
In South America, companies such as Emiliana Organico in Chile and Domaine Bousquet – said to be the world's most awarded organic wine producer – in Argentina, have led the field. From the former, try the gorgeous and complex Emiliana Organico Coyam 2015 (£19.95 vintageroots.co.uk; £18.95 ndjohn.co.uk) a rich Bordeaux style blend of cabernet, carmenere, merlot and others; big, punchy and meaty. Domaine Bousquet, which has French origins began in only 1990; one of their most recent wines is another big Bordeaux-style blend of cabernet sauvignon, cabernet franc and malbec, the no-sulphor Domaine Bousquet Virgen 2018 (£14.95 vintageroots.co.uk).
Both these wines are perfect with big steaks or a leg of lamb, as well as vegetable bakes and tagines. Another company founded on organic principles is the Santa Tresa estate in Sicily, which specialises in vegan friendly wines, but made from local grapes such as frappato and grillo, rather than, as with the South Americans, imported global favourites. Their Il Grillo di Santa Tresa Vino Spumante Brut (£13.50 vintageroots.co.uk) is another fabulous alternative to prosecco, bursting with peach and citrus flavours, while their Santa Tresa Cerasuolo Di Vittoria 2018 (£10.99 ocado.com; £13.75 vintageroots.co.uk) is a blend of nero d'avola and frappato, using a small sun-dried portion of the former to give real depth of flavour to the juicy, supple succulent black fruits.
In France, Jean-Luc Colombo has become one of the big names in Rhone wines and is turning many of their vineyards over to organic production. The Jean-Luc Colombo Cotes Du Rhones Les Forots 2015 (£13.99 simplywinesdirect.uk) comes from a former Cornas vineyard in the northern Rhone and is a powerful, spicy blend of grenache and syrah, with flavours of liquorice, mint, violets and some tarry notes.
Decant in advance and drink with substantial foods; ideal for the arriving mushroom season. While some French producers turn over to organic production, others start that way, such as the Monfaucon Estate near St Emilion in Bordeaux and the Nobody's Perfect 2018 (£20.00 winebuyers.com) where the sauvignon blanc grapes are organic, biodynamic, handpicked and the wine is made, by a female-led team, with minimum sulphites and designed to achieve, they say, a modest alcohol level of 13abv, to ensure it's a "no hangover" wine.
That may be the case, but it's full of lovely, soft citrus white peach flavours and highly drinkable anyway, with all kinds of fish and lighter vegetable dishes. And we certainly know more about it than Ms Diaz's wine, which is probably aimed at a similar market. And it does reinforce the point made by some about so-called "clean" wine and it is the fact there is really only one dangerous component in all wines, whatever they are labelled – it's called alcohol.
Register for free to continue reading
Registration is a free and easy way to support our truly independent journalism
By registering, you will also enjoy limited access to Premium articles, exclusive newsletters, commenting, and virtual events with our leading journalists
Already have an account? sign in
Register for free to continue reading
Registration is a free and easy way to support our truly independent journalism
By registering, you will also enjoy limited access to Premium articles, exclusive newsletters, commenting, and virtual events with our leading journalists
Already have an account? sign in
Join our new commenting forum
Join thought-provoking conversations, follow other Independent readers and see their replies