The Independent's journalism is supported by our readers. When you purchase through links on our site, we may earn commission.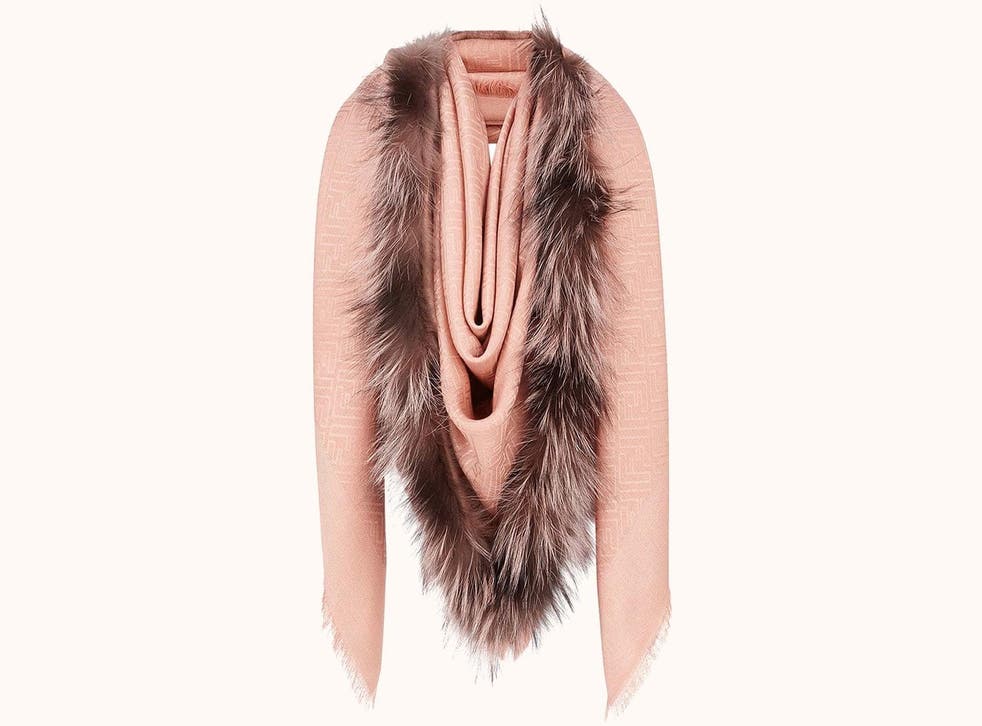 Fendi's £750 'vulva scarf' goes viral after shoppers compare it to a vagina
'I'm here for a scarf that recalls my emergence from my mother's body'
Olivia Petter
Tuesday 16 October 2018 17:07 Comments
In today's saturated fashion market, brands go to great lengths to ensure their products stand out, but the latest accessory from Fendi really takes the biscuit.
The Italian fashion house has designed a fur-trimmed shawl that bears an uncanny resemblance to a vagina - and it has not gone unnoticed on Twitter.
The peachy pink garment is made from silk, wool and fox fur and has been dubbed the "vulva" scarf online.
Whether or not Fendi intended for its £750 "Touch of Fur" scarf to resemble female genitalia is unclear, but it's certainly a comparison that has provided ample titillation on the internet and beyond since an image of it was shared on Twitter on Friday.
"I'm here for a scarf that recalls my emergence from my mother's body," wrote one user.
Another praised its "distinct vagina vibe" while someone else helpfully added that flipping the image upside down amplifies its vulva-like appearance.
Some people questioned whether the item would even sell, given its rather unusual appearance.
"I feel like this will be in the clearance section for a LOOOOONG TIME," wrote one person.
"Is there a woman (or person) alive who wants to walk around with a hairy vagina scarf around their neck?" teased another.
Evidently, there are many people who would like to do such a thing, as the scarf has now sold out online.
However, the reaction wasn't a complete bundle of labia laughs, as many issues took issue with Fendi using real fox fur for its pubic-like trim, with one user writing that she was "appalled" by the inclusion.
Fendi is one of the few designer labels to use animal fur in its collections, with Burberry, Gucci and Versace among those who have recently banned the controversial practice.
Fur remains a highly contentious topic in the fashion industry and the British Fashion Council received widespread praise after revealing that the most recent London Fashion Week would be an entirely fur-free affair.
Support free-thinking journalism and attend Independent events
The Independent contacted Fendi for comment, who politely declined.
Register for free to continue reading
Registration is a free and easy way to support our truly independent journalism
By registering, you will also enjoy limited access to Premium articles, exclusive newsletters, commenting, and virtual events with our leading journalists
Already have an account? sign in
Register for free to continue reading
Registration is a free and easy way to support our truly independent journalism
By registering, you will also enjoy limited access to Premium articles, exclusive newsletters, commenting, and virtual events with our leading journalists
Already have an account? sign in
Join our new commenting forum
Join thought-provoking conversations, follow other Independent readers and see their replies