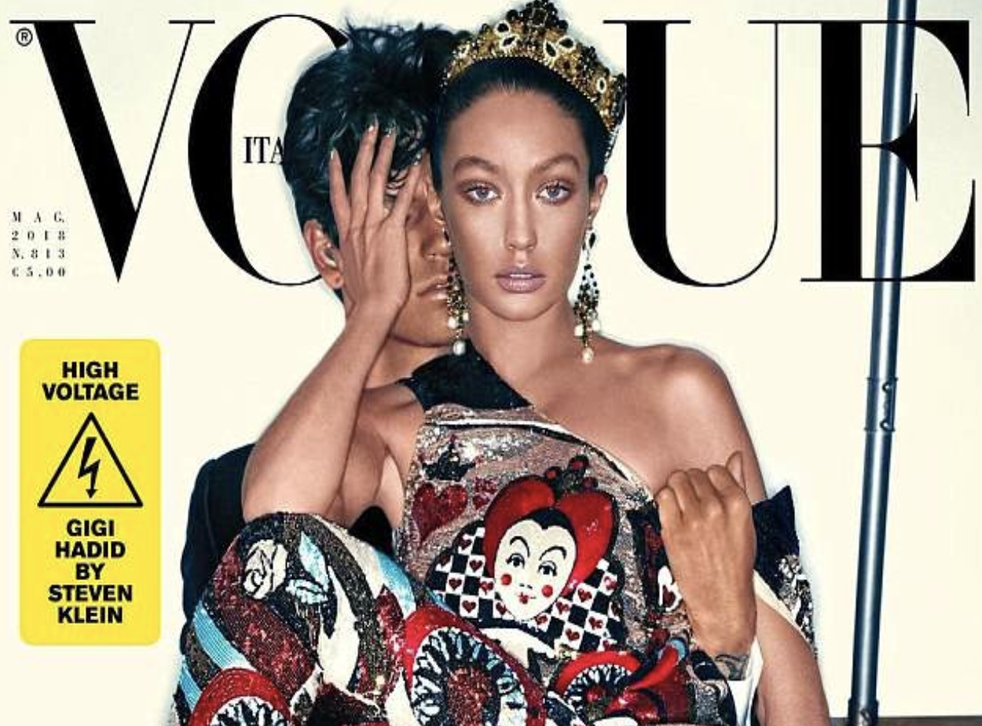 Gigi Hadid and Vogue Italia accused of using 'black face' on latest cover
'Doesn't even look like Gigi'
Gigi Hadid's appearance on the cover of this month's Vogue Italia is mired in controversy after fans accused the prestigious fashion title of darkening the model's skin.
Shot by acclaimed fashion photographer Steven Klein, the 23-year-old fronts the fashion title alongside male model Justin Martin wearing a sequin bodysuit and golden crown by Dolce & Gabbana.
However, the artistry of the cover image has been entirely upstaged by claims that Hadid looks "completely unrecognisable" in the snap.
The American model uploaded a shot of the cover on Instagram on Wednesday and has since been inundated with accusations of "excessive photoshop" and "blacking up".
"You don't even look like yourself, " wrote one fan.
"Is this supposed to be Gigi? Because you photoshopped her into an entire different girl," added another confused commenter.
"Another blackface attempt failing miserably," quipped another.
Some people suggested that Vogue Italia should've reconsidered casting Hadid for the cover shoot.
Gigi Hadid appears to be mocking Asian facial traits while holding a Buddha-shaped cookie to her face
"Your worst cover in years. You had to make her look black and her expression is so bad. Just hire a model of colour to do the job," one person wrote.
"There are so many talented and beautiful models out there who could actually make a better cover."
However, some members of Hadid's loyal fan base ignored the criticisms and happily lauded the cover:
"Beauty beyond the face and a personification of strength. Love you so much Gi. And the cover is amazing," wrote one adoring commenter.
Responding to the backlash, Vogue Italia has released the following statement:
"Throughout its history, Vogue Italia has respected and encouraged the creative viewpoints of commissioned photographers. In our latest cover shoot by Steven Klein, the vision was to create a beachwear-themed story with a stylised bronzing effect. We understand that the result has caused some debate with our readers, and we sincerely apologise if we have caused any offence."
Hadid has also issued an apology on social media.
The controversial cover marks Hadid's second for the title, given that the model was also accused of cultural appropriation when she fronted Vogue Italia in 2015 sporting an afro-style blue wig.
Join our new commenting forum
Join thought-provoking conversations, follow other Independent readers and see their replies