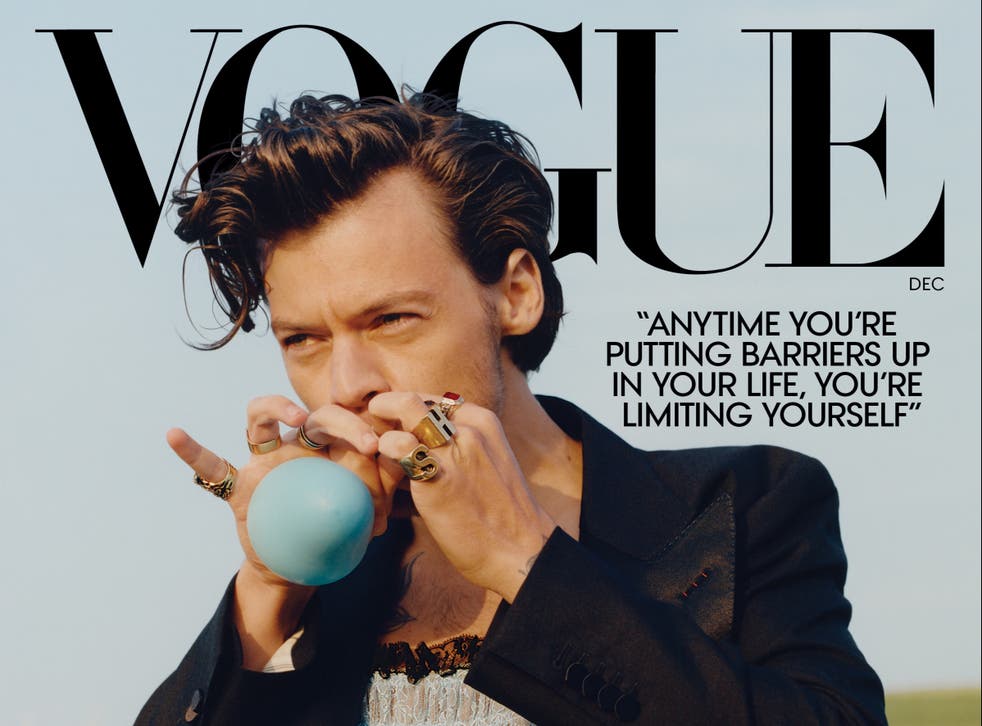 Harry Styles becomes first man to appear solo on cover of Vogue
'There's so much joy to be had in playing with clothes', he says
Joanna Whitehead
Friday 13 November 2020 16:58 Comments
Leer en Español
Harry Styles has become the first man to appear solo on the cover of fashion bible Vogue.
The One Direction singer is shown on the December cover of the US edition wearing a pale blue lace Gucci ballgown and black tuxedo jacket, photographed by Tyler Mitchell.
"You can never be overdressed," he said. "There's no such thing."
In the interview, the 26-year-old speaks about his own style and the benefits of meditation.
"The people that I looked up to in music - Prince and David Bowie and Elvis and Freddie Mercury and Elton John - they're such showmen.
"Now I'll put on something that feels really flamboyant, and I don't feel crazy wearing it."
He said: "I think if you get something that you feel amazing in, it's like a superhero outfit.
"Clothes are there to have fun with and experiment with and play with."
On the subject of gendered clothing, Styles said that such defined boundaries are "crumbling away", something he finds "really exciting".
"When you take away, 'There's clothes for men and there's clothes for women' – once you remove any barriers, obviously you open up the arena in which you can play.
"I'll go in shops sometimes, and I just find myself looking at the women's clothes thinking they're amazing," he said.
The Gucci model emphasised the joy to be found in experimenting with fashion.
"It's like anything – anytime you're putting barriers up in your own life, you're just limiting yourself. There's so much joy to be had in playing with clothes," he said.
Styles also talked about the positive impact meditation had had on his life.
"It has changed my life, but it's so subtle.
"It's helped me just be more present," he said.
"I feel like I'm able to enjoy the things that are happening right in front of me, even if it's food or it's coffee or it's being with a friend – or a swim in a really cold pond!
"Meditation just brings a stillness that has been really beneficial, I think, for my mental health, he added.
Musically, Styles says he has been working on capturing the experimental spirit that informed his second album, 2019's Fine Line.
The singer is looking forward to touring again, when "it's safe for everyone," because, as he notes, "being up against people is part of the whole thing. You can't really re-create it in any way," he says.
Styles' pioneering cover follows Prince Charles' appearance in the December edition of British Vogue  in which he championed sustainability within fashion and lamented the "extraordinary trend of throwaway clothing".
The full interview can be found online here and appears in the December issue of US Vogue.
Register for free to continue reading
Registration is a free and easy way to support our truly independent journalism
By registering, you will also enjoy limited access to Premium articles, exclusive newsletters, commenting, and virtual events with our leading journalists
Already have an account? sign in
Join our new commenting forum
Join thought-provoking conversations, follow other Independent readers and see their replies