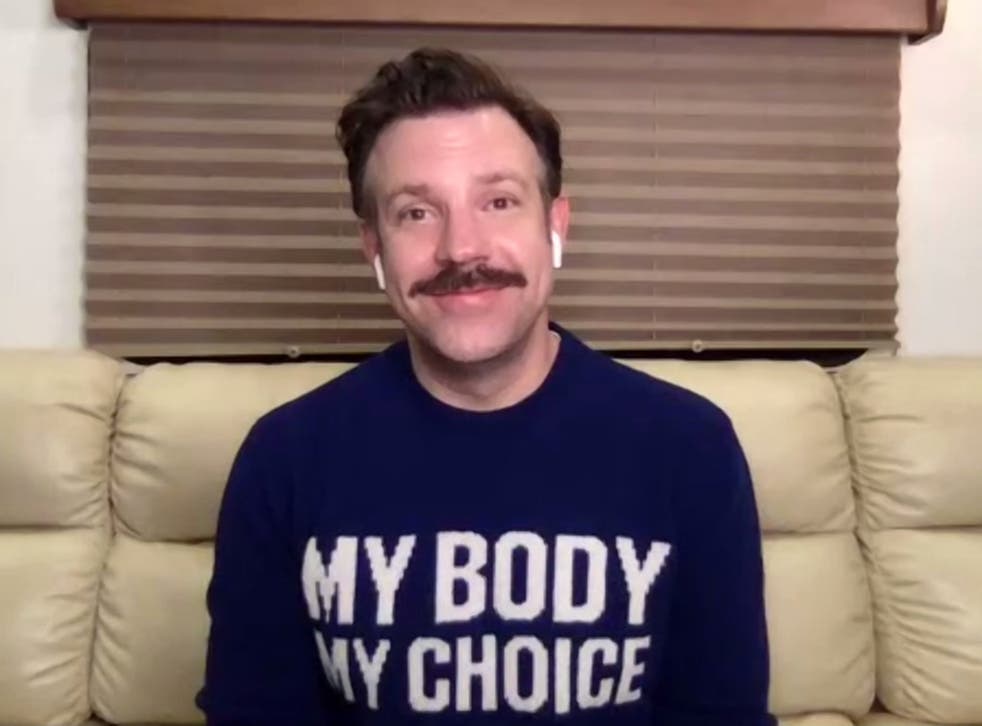 Jason Sudeikis wears 'my body, my choice' jumper at SAG Awards
Gucci jumper retails for £650
Jason Sudeikis wore a feminist ensemble for the SAG Awards that took place on Sunday evening.
The Ted Lasso actor and writer won the award for Outstanding Performance by a Male Actor in a Comedy Series.
To accept the award, which he did over Zoom as with all of the nominees, Sudeikis was pictured wearing a navy blue round-neck jumper with the words "MY BODY MY CHOICE" emblazoned across it in bold white font.
The feminist slogan is used around the world as a way of advocating for bodily autonomy and a pro-choice stance with regards to abortion.
The jumper is from luxury Italian label Gucci and costs £650.
Read more:
Part of Gucci's Resort 2020 collection, the jumper is described as creative director Alessandro Michele's way of championing support of reproductive rights.
"Jason Sudeikis wearing my body my choice, omg," tweeted one fan in response to the actor's fashion choice.
It's the third award for Sudeikis in recent weeks, who has made a name for himself by wearing exclusively casual clothing to the virtual ceremonies.
At the Golden Globes, for example, the 45-year-old actor made dealings for wearing a tie-dye hoodie from his sister's dance studio.
At the Critics' Choice Awards, Sudeikis wore a navy blue Crockett High hoodie, which referenced the fictional school from the film Booksmart, which was directed by his ex-fiancée Olivia Wilde.
Wilde and Sudeikis separated after nearly 10 years together in 2020. according to reports.
The couple, who were engaged for seven years, reportedly ended their engagement early on in 2020, People reported last November.
The former couple, who share son Otis Alexander, six, and daughter Daisy, four, first began dating in November 2011 after meeting at a finale party for Saturday Night Live.
Join our new commenting forum
Join thought-provoking conversations, follow other Independent readers and see their replies