The Independent's journalism is supported by our readers. When you purchase through links on our site, we may earn commission.
J.Crew praised for launching 'I am a feminist too' T-shirt for boys
'Thank you for this option for those of us who want to teach our sons to be better'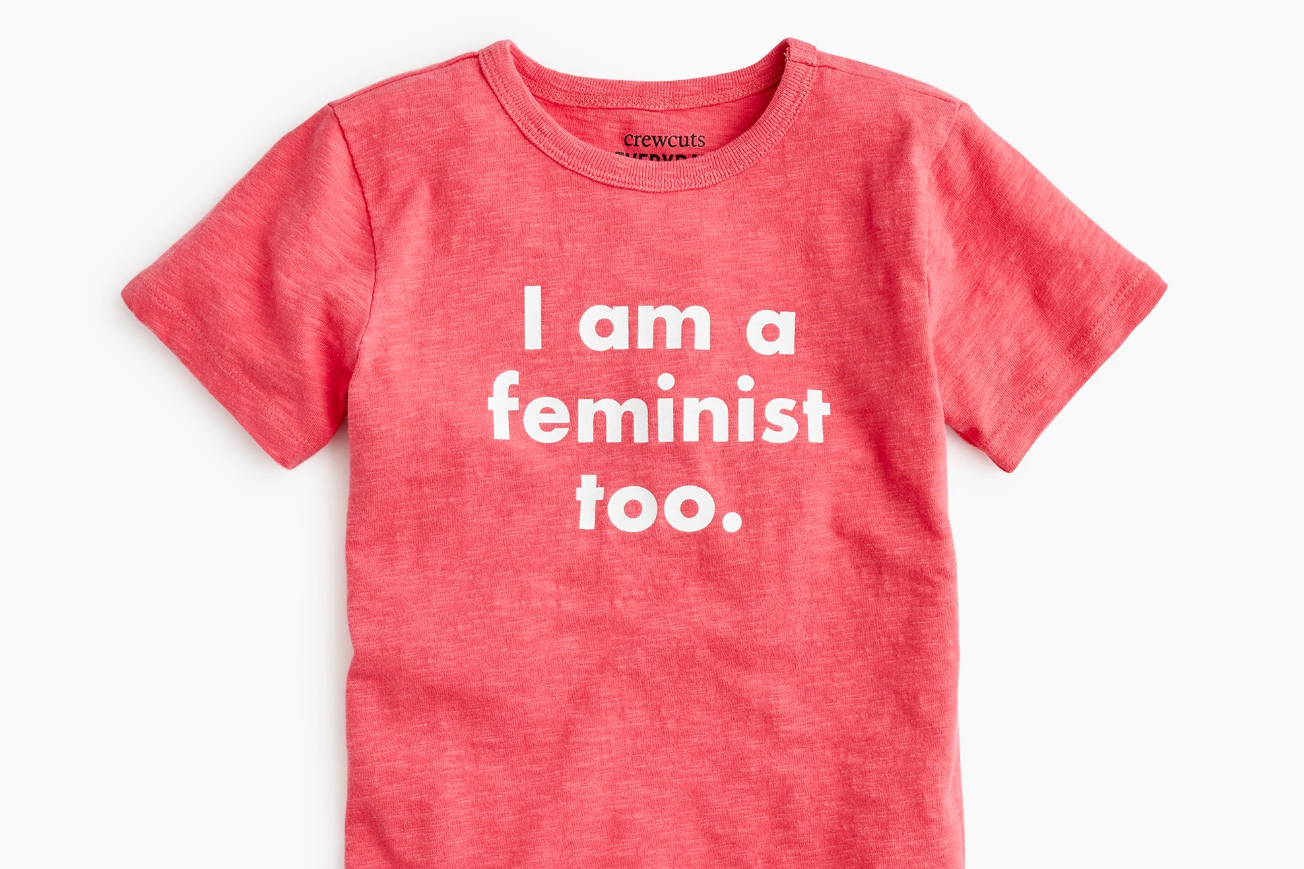 American retailer J.Crew has been commended for launching a T-shirt targeted at boys with the slogan "I am a feminist too" written across it.
The T-shirt has been released as part of a collaboration with prinkshop, a brand that's creates clothing with the aim of spreading awareness about important issues such as gun control in the US, women's reproductive rights and access to education.
The top, which retails at £16.50, has been praised for encouraging young boys to gain a greater understanding of and support gender equality.
"This is amazing! I wish it hadn't sold out so fast!" one person wrote on Instagram.
Another described the T-shirt as "spectacular", while someone else commented: "J.Crew you're doing amazing sweetie!"
One individual explained why the top was so poignant, as often children's clothing is emblazoned with questionable messages that reaffirm gender stereotypes.
"So many awful messages on clothing tell little boys that masculinity and manhood is disobedience and physicality," they wrote.
"For those who think that equal rights are a political agenda and inappropriate for clothing, I hope your children grow up to be smarter, better humans that you are.
"Thank you for this option for those of us who want to teach our sons to be better, and teach our daughters that they can conquer the world."
While J.Crew has receiving an outpouring of support in regard to its stance on educating young boys about the inclusivity of feminism, the T-shirt has also been criticised by those who are opposed to the slogan.
"I have young grandsons and there is no way I would put a shirt on them with this political statement," one critic remarked.
However, others have retorted that teaching young children about the importance of equal social, economic and political rights between the sexes shouldn't be perceived as controversial.
"It is beyond crazy that people are upset with this shirt when feminism simply means equal rights," an Instagram user commented.
"Children should be taught to love and respect all people regardless of race, gender, or sexual orientation."
Another person remarked that the negative comments are proof of the necessity of the T-shirt.
J.Crew has defended the release of the T-shirt, which is being sold alongside another slogan top targeted at girls that reads: "You see a girl, I see the future."
"J.Crew stands for equality, and is for everybody," a representative from the company told MarieClaire.com.
Join our commenting forum
Join thought-provoking conversations, follow other Independent readers and see their replies