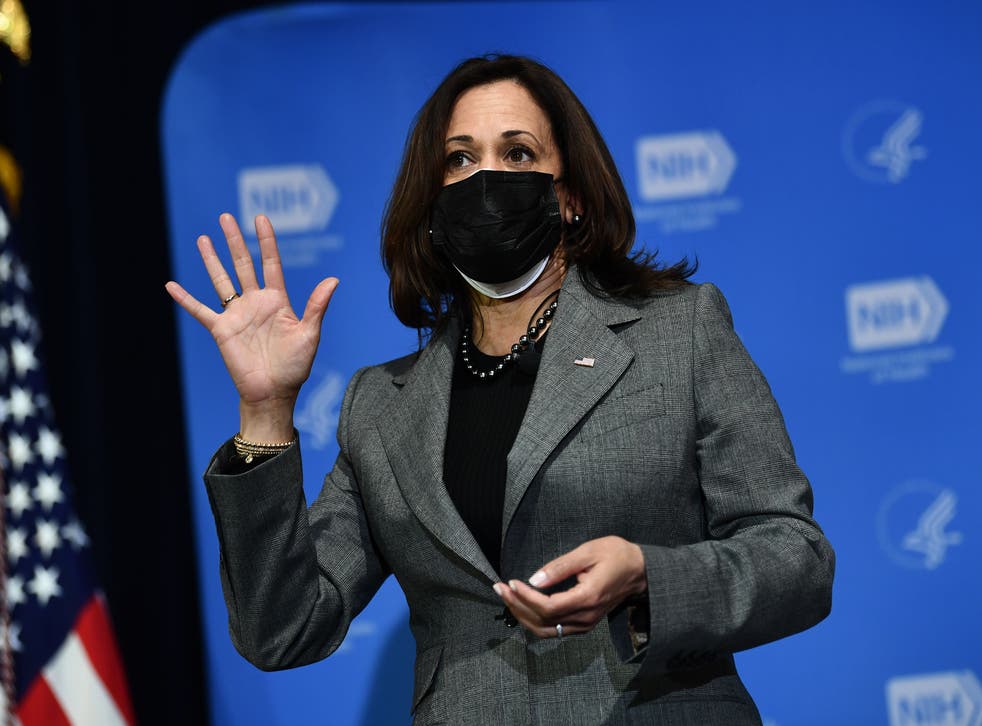 Kamala Harris criticised for wearing Dolce & Gabbana over 'race issues'
Brand has history of problematic imagery and controversial statements by its founders
Kamala Harris has been criticised for wearing Dolce & Gabbana clothing due to the brand's controversial history.
The luxury Italian label has been embroiled in several controversies in recent years. In 2018, celebrities pledged to boycott the label after adverts released by the brand featuring an Asian model eating Italian food with chopsticks were labelled "racist".
The backlash to the advert, which model Zuo Ye said "almost ruined her career", led to websites pulling Dolce & Gabbana products from stock and the label to cancel its Shanghai fashion show.
The brand's founders, Domenico Dolce and Stefano Gabbana, later apologised "to Chinese people worldwide".
It wasn't the first time the label had caused offence. In April 2018, Gabbana told Reuters that he wouldn't want a Japanese designer working for Dolce & Gabbana, while later that year, he described Selena Gomez as "so ugly" on an Instagram post of the singer.
Now, Harris's fans have questioned why the vice president of the US appears to be endorsing the brand by having worn it on several occasions since the inauguration.
For a lunch with president Biden, Harris wore a Dolce & Gabbana polo-neck wool jumper; for swearing in the treasure secretary, Janet Yellen, she wore a grey checked blazer and trouser suit from the brand; and she also wore a chevron Doce & Gabbana jumper when Biden signed executive orders at The White House.
"Someone seriously needs to tell her team about Dolce and their problematic issues with race," one Instagram user wrote below a post of Harris in a D&G outfit shared by the popular Instagram account Kamala's Closet, which documented Harris's clothing but has since been temporarily suspended.
Others urged Harris to "please stop wearing" the brand in Instagram Story posts that have been saved under the highlight "D&G debate" on Kamala's Closet's profile.
Another user asked if "anyone had an in" with the vice president so they could tell her to "stop wearing problematic D&G".
Vittoria Vignone, who ran the account Kamala's Closet, said in a statement shared to her Instagram Story explaining that she was "disappointed" to see Harris wearing the brand.
"D&G is a brand surrounded by a lot of political controversy," she wrote.
Acknowledging that the vice president may not be aware of the brand's complicated history and that her fashion choices are unlikely to be top of mind, the fashion writer says such blind spots are potentially more problematic given her highly-visible position.
"Was it an oversight on the part of her team?" she continued. "It's possible but also incredibly sloppy. They could and should be better, especially after the triumphs of last week.
"The timing of this so soon after her inaugural choices championed lesser-known American designers of colour is awful no matter how you look at it."
Vignone added that she doesn't think it's wise for Harris to wear "so many new expensive items during her first week in office".
"I also don't think she should be wearing non-American designers, especially when there are so many American brands to choose from… she and her team should care about the impact her choices have. For example, she could lift up a smaller or more affordable business instantly."
She also notes the founders' enthusiastic support of Melania Trump during her husband's time in office when other designers would not dress the first lady.
For her part, Vignone said she owns an item of Dolce & Gabbana clothing bought years ago that she cannot bring herself to wear for the above reasons.
Speaking to The Independent, Vignone claimed that her account had been temporarily suspended after fans of Harris trolled her for her comments.
"I understand that this D&G issue is disappointing to learn about and annoying to have to talk about because, as a fan of Kamala's, I feel that way too,"she added.
"I'd much rather be celebrating brands that Kamala wears that are worth supporting and not talking about racist, sexist, homophobic ones that exist in direct opposition to everything the Biden/Harris administration champions."
The Independent has contacted Ms Harris and Dolce & Gabbana for comment.
Register for free to continue reading
Registration is a free and easy way to support our truly independent journalism
By registering, you will also enjoy limited access to Premium articles, exclusive newsletters, commenting, and virtual events with our leading journalists
Already have an account? sign in
Register for free to continue reading
Registration is a free and easy way to support our truly independent journalism
By registering, you will also enjoy limited access to Premium articles, exclusive newsletters, commenting, and virtual events with our leading journalists
Already have an account? sign in
Join our new commenting forum
Join thought-provoking conversations, follow other Independent readers and see their replies