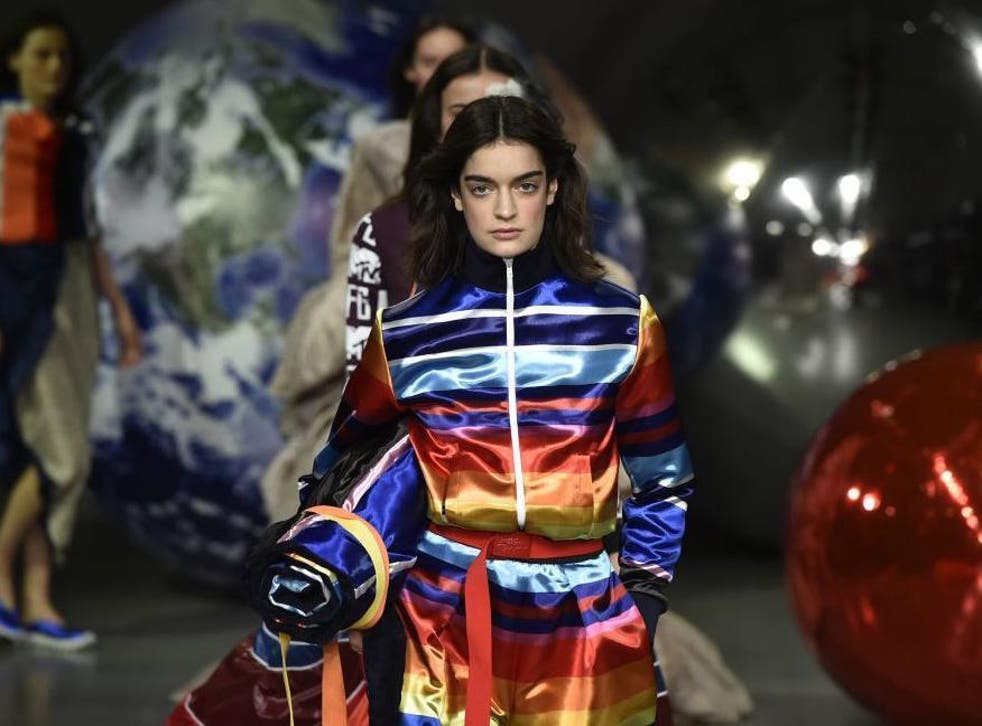 London Fashion Week: Day one highlights, from Mulberry to Richard Malone
From the quintessentially British to iron-fisted females and MTV, the first day of shows was action-packed
London Fashion Week officially declared its doors open today with an impressive set of shows that left us wanting more.
With the next five days set to showcase an array of home-grown and international talent, today's line-up was dominated by young designers looking to make their mark on the industry.
Here are the highlights from day one of the biannual showcase.
Richard Malone
Kicking off proceedings was young Irish designer Richard Malone with his second show inspired by the markets in his home town of Wexford.
Swarming a runway complete with rolled-up carpets and the hubbub of traders shouting about their wares, models appeared wearing hand-woven aprons and matching headscarves, artisanal jewellery and netted grocery bags.
Malone mused on his fascination with the lives of women by tackling the misconception that those from working class communities are subservient. An assumption he superbly shut down with a cast and audience – his 85 year old grandmother Nellie Malone sat front row – of iron-fisted women.
A real mish-mash of colour, print and texture, the collection switched between tailored riding jackets and silk trousers to checked tabards and a vibrant colour scheme of emerald green, aqua blue and Milk Tray purple.
Unsurprisingly, Malone continued his ongoing theme of sustainability through a partnership with the female weavers in southern India he has worked with since his graduate collection, and the addition of machine-washable evening gowns.
Ryan Lo
We've come to expect a certain level of sugar-coated romanticism from Ryan Lo with previous collections rooted in fantasy and childhood nostalgia. And this season was no exception as the designer took a trip down memory lane with a collection of his greatest hits.
At plush pink restaurant-cum-art gallery Sketch, Lo presented wonderfully girlish designs on mannequins, from knitted tulle and A-line princess frocks to candy floss nightgowns and pussy bow blouses.
He also continued his ongoing collaboration with milliner Stephen Jones to create a series of berets in a glitter candy palette that were inspired by Yayoi Kusama – a famous Japanese contemporary artist.
Fyodor Golan
A brand known for its sense of playfulness this season was quite unlike any other as Fyodor Golan collaborated with MTV.
For autumn/winter 2018, the design duo drew inspiration from billowing hot air balloons, the motion of flight and aerodynamics.
The collection also updated vintage sportswear references including two-piece tracksuit and zip up tops while technical fabrications saw pleats, which when pulled apart cleverly reveal hidden sports figures.
The partnership with American channel MTV was also felt throughout with its iconic logo embedded on to everything from puffer jackets to oversized jumpers.
Speaking of the collection, Fyodor Golan said: "MTV have been the voice of youth culture for decades, we wanted to embrace this and the memories of our teenage years.
This collaboration combines the iconic pop culture symbol with the vibrancy and bright colours of today's MTV. We've played with the logo, through textures and finishes, to enhance the contrasts of traditional techniques with new fabrications."
Mulberry
Held at eighteenth-century palace Spencer House, Mulberry's autumn/winter collection was a celebration of all things British. From Edwardian England to garden parties and holidays by the sea, the collection touched on almost every aspect of the nation's heritage.
Form-fitting suits and larger-than-life headwear, in sunny shades of yellow, pink and antique blue, paid homage to Ascot Ladies' Day, while silky blouses and matching ruffled skirts came armed with red, white and blue stripes reminiscent of seaside deck chairs.
Yet there was nothing out-dated about the collection. Injecting the collection with modernity, creative director Johnny Coca introduced sculptural heels, shrunken handbags and even tiered layers of sequins.
Join our new commenting forum
Join thought-provoking conversations, follow other Independent readers and see their replies