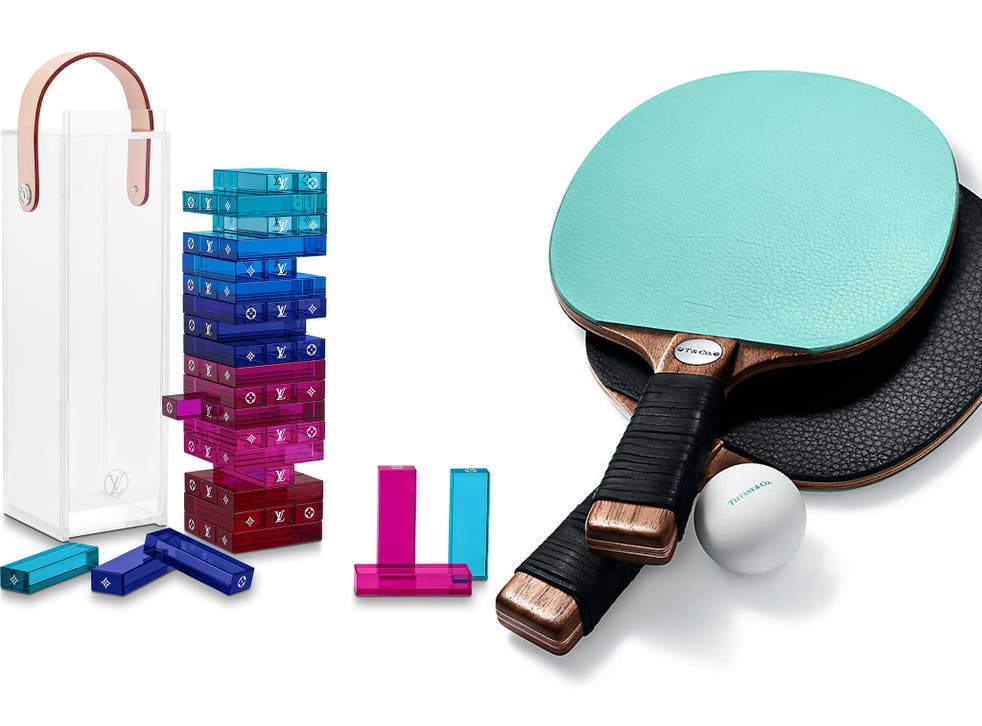 8 outrageously extravagant designer items we secretly want, from a Louis Vuitton Jenga set to a D&G fridge
Would you dish out £2,000 for a Louis Vuitton 'Monogram Tower'?
How much are you willing to spend for the latest "in" product in fashion?
High fashion labels such as Christopher Kane and Raf Simons are known for pushing the boundaries when it comes to dictating sartorial trends.
However, several brands take their interpretation of the word luxury to a whole other level, such as Louis Vuitton with the recent release of its £2,000 Jenga-style set. Yes, really.
Whilst we acknowledge the needlessness of owning a Prada money holder shaped like a paperclip and table tennis paddles designed by Tiffany and Co, we can't help but guiltily wish that we owned such bizarre and extortionately-priced household items.
From Chanel ping pong paddles to Raf Simons duct tape, here are eight luxury products that are beyond baffling, but still ever-so-slightly appealing:
1. Louis Vuitton Jenga set
Six months after first announcing plans for its production, Louis Vuitton has now unveiled its "Monogram Tower", which costs £1,960.
While the notion of spending almost £2,000 on a glorified Jenga set is highly irrational, you can't deny that the set does look very aesthetically pleasing.
Just look at that red, pink, purple and blue-coloured plexiglass, displayed in a sleek, glass box.
Described by the brand as a "whimsical gift to delight the entire family," something each brick is decorated with the motifs of the French fashion house.
2. Smeg x Dolce and Gabbana fridge
In December last year, Harrods was heavily mocked on social media after customers spotted a Dolce and Gabbana fridge being sold in its London store for a hefty £36,000.
The hand-painted fridge in question was part of a range of kitchenware designed by the Italian fashion house in collaboration with domestic appliance company Smeg.
The collection of Sicilian-inspired kitchenware was originally released in 2017, and includes a toaster which retailed at £499.95, a blender which cost £699.95 and a juice which was priced at £499.95.
Ludicrously expensive? Most definitely. Appealing to the eye? Admittedly, yes.
3. Prada paperclip money holder
The Prada paperclip-shaped money holder, which is available for £125, is made from sterling silver and measures 6.5cm in height.
Following the release of the product in 2017, numerous people expressed their confusion over its practicality.
"$185 for a paperclip? This thing better be able to hold my life together," one person jokingly tweeted.
"Ready for another round of 'ridiculous things I've ever seen'? I present to you, a $185 paper clip. I can't," another remarked.
4. Raf Simons duct tape
In 2017, Belgian fashion designer Raf Simons sent his models down the runway during his New York Fashion Week debut wearing specially-designed duct tape.
Months later, the fashion brand made the household product available to purchase for the masses.
Designed with the slogans "RSYP Youth Project" and "Walk With Me", the duct tape retailed for $200 (£159).
So the next time you're looking in the mirror wondering what accessory you need to complete your look, perhaps a strip of high fashion duct tape is what you're missing.
5. Tiffany and Co table tennis paddles
On the Tiffany and Co website, the America luxury jewellery brand offers a range of so-called "everyday objects" which it states have been transformed into "handcrafted works of art" by "Tiffany artisans".
One of said products is a pair of table tennis paddles, manufactured from leather, walnut wood and sterling silver.
We can't help but picture ourselves winning match after match on the table tennis table this summer, chic Tiffany mint-coloured table tennis paddles in tow.
However, for $700 (£557), we may have to give this sports apparatus a miss.
6. Chanel basketball
Fancy throwing some hoops this summer?
As part of its range of sports accessories, Chanel is currently selling its very own basketball.
However, it's not any old basketball – it's a basketball adorned with gold metal and priced at $2,300 (£1,832).
While we'd much rather play basketball with a ball that we wouldn't be afraid of getting battered on the court, one can't help but admire the craftsmanship of this product.
7. Supreme brick
In 2016, American streetwear brand Supreme released a brick designed with the label's name written across it, a product which some speculated was created to poke fun at the way consumers will splash their cash on anything adorned with a recognisable name.
The brick originally retailed for $30 (£23.90), selling out within minutes upon its initial release.
The brick went on to sell for $1,000 (£796) on eBay, thus proving Supreme's suspected point.
8. Christopher Kane cable ties
Off all the products to be given the high fashion treatment, we never suspected cable ties would make the cut – enter Christopher Kane.
In 2015, the British fashion designer debuted his version of the practical cable tie as an accessory in his spring 2016 collection, which he displayed at London Fashion Week.
The cable ties went on to retail for $30 (£24), and were made available at the Christopher Kane store located at Mount Street in Mayfair, London.
Kane had his models wear the cable ties on their wrists, on their necks and in their hair, proving just how versatile it can be as a fashion accessory.
Join our new commenting forum
Join thought-provoking conversations, follow other Independent readers and see their replies