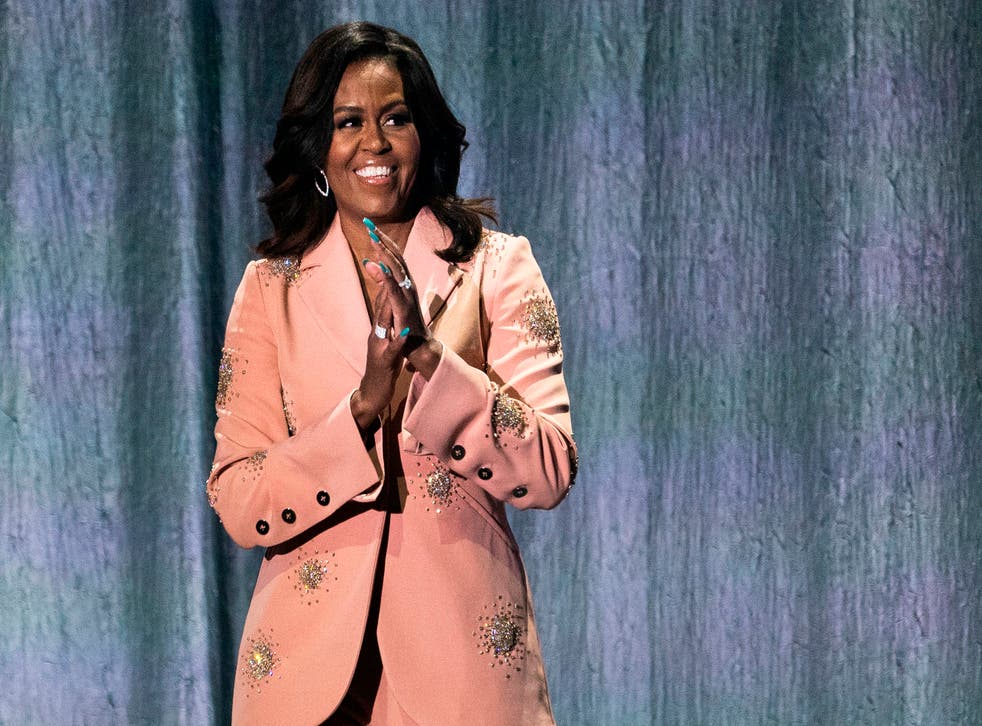 Michelle Obama's stylist has launched a range of 'Vote' merchandise
The collection features style and homewares from black and women-owned brands
When Michelle Obama delivered a speech for the first night of the Democratic National Convention she wore a necklace that spelled out the word "vote" - and it quickly went viral.
The necklace was discovered to be a custom design from ByChari, but now, the same design has been revealed as part of a new collection of merchandise curated by Obama's stylist Meredith Koop.
Koop has collaborated with business owner Sarween Salih on a line of "vote" emblazoned merchandise for the former First Lady's non-profit organisation When We All Vote.
Encouraging the right to vote and be heard, the collection is named Vote 4Ever.
Products include homewares, makeup, stickers, t shirts and jewellery which Koop and Salih selected to be gender-neutral, size-inclusive, sustainable and handmade.
It is available on the When We All Vote website, with brands including ByChari and re-inc providing shipping to the UK for overseas supporters of the rights of their US counterparts.
"The vision for this collection was to create unique covetable pieces in collaboration with talented creatives and business owners around the country", Koop said in a statement.
Salih, who acted as brand strategist, explains that as well as using slogans to speak to the brand's message, some of the items also help make voting easier using technology: "QR codes on packaging take you directly to voter registration — eliminating obstacles to participation and creating opportunities for organic digital storytelling moments that have the power to spark change.
"When Michelle Obama launched this organisation in 2018, we set a goal to change the culture around voting, and Vote 4EVER Merch is a part of that mission", Stephanie L. Young, When We All Vote Chief Officer of Culture, Communications and Media Partnerships, said in a statement.
"We know people, especially young people, make statements through what they wear and our hope is that this new line motivates more people to get registered and ready to vote."
The US election takes place on 3 November.
Join our new commenting forum
Join thought-provoking conversations, follow other Independent readers and see their replies