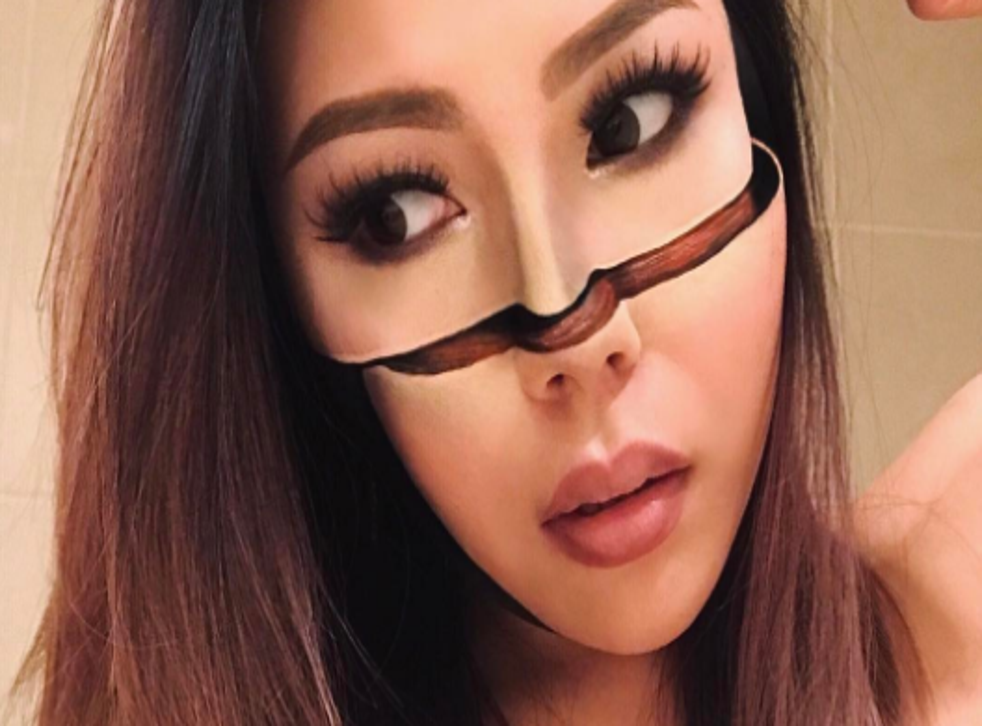 Mimi Choi: Meet the makeup artist creating astonishing Instagram optical illusions
"My face is a blank canvas where I can practise my art", Choi says. 
Mimi Choi, 31, is a Vancouver-based make-up artist carrying more than just the one trick up her sleeve.
Never using Photoshop for any of her pictures, Choi creates the illusions using only her makeup skills to achieve everything from quadrupling eyes to slicing her head in half.
"My face is a blank canvas where I can practise my art", Choi tells the Metro.
Choi perfects the illusion of melting her face, cracking it like a sheet of glass and lacing up her eye sockets with little blue bows.
Using a black eyeliner to give the effect of negative space, she has also severed her arm to show lemon flesh and transformed her hand into a piece of prawn sushi.
Often spending up to five hours on an artwork, Choi aims to use her Instagram to champion the benefits of releasing your creativity through any and every possible outlet.
"I hope that my strange creativity can inspire people to think outside the box", Choi writes on Instagram.
On her Instagram, Choi writes about having struggled with anxiety and panic attacks, expressing the liberating value of imagination in her work.
Choi formerly worked as a teacher but says that although she enjoyed teaching, she wasn't completely happy and needed a new challenge.
"It felt like it was too late to change my career, but my mum was so supportive that I soon realised it was ok", Choi told the Metro.
She started experimenting and exploring the possibilities of makeup art in her parents' bathroom and her creative drive was soon ignited.
Also employing her impressively intricate skills for wedding events, Choi now has over 156,000 Instagram followers who await her next optical illusion.
Painting, highlighting and contouring through these inventive experimentations, Choi's creations are in every way jaw dropping.
Join our new commenting forum
Join thought-provoking conversations, follow other Independent readers and see their replies