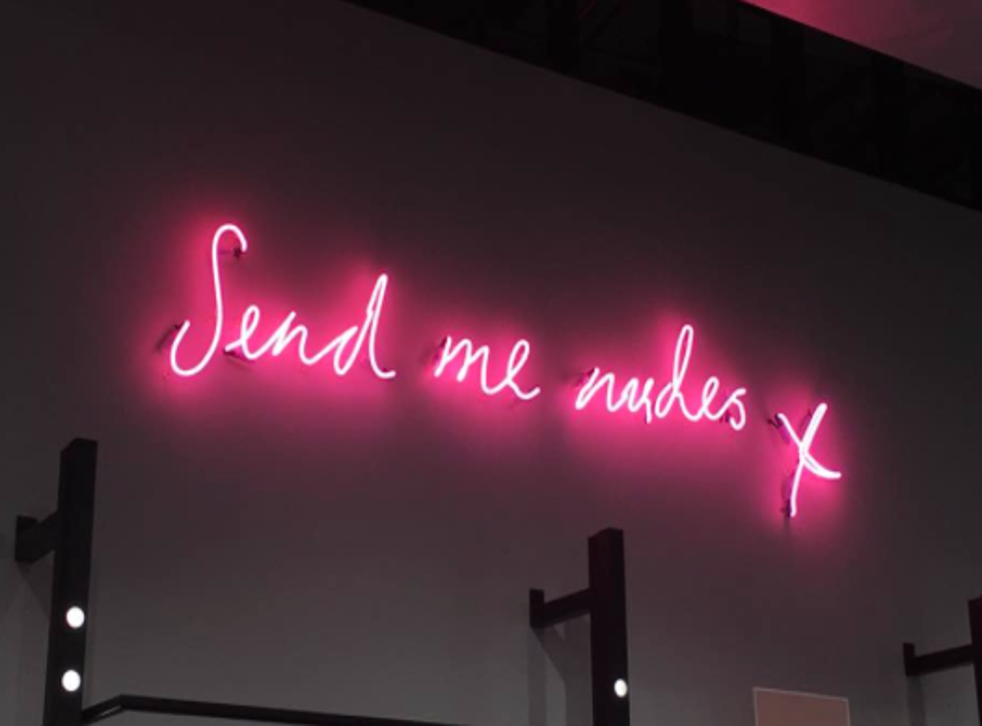 Missguided fashion brand under fire for inappropriate 'send me nudes' sign aimed at young girls
What message does this send to young girls and women?
Sarah Young
Tuesday 08 August 2017 11:23 Comments
Fast-fashion brand Missguided has come under fire for an in-store sign that consumers have slammed for being 'sexist' and 'inappropriate.'
While women receive their fair share of messages asking for nudes - be it from prospective partners or even sleazy trolls – the idea that such requests should be put in front of young teens seems in bad taste at the least.
It's no wonder then that parents and concerned shoppers have called out teen clothing store Missguided for a sign asking them to do just that.
Spotted in the brand's Bluewater store, the neon pink sign reads "send me nudes x", and also appears to feature on the walls of the Westfield Stratford branch.
As soon as images began to circulate on social media, several angry parents demanded that the brand remove the 'reckless' and 'disrespectful' message.
While some branded it sexist, others were concerned that it could incite illegal activity of under 18s sharing nude images and the message it sends to young girls and women.
"Missguided, 'send me nudes' in-store marketing is wrong," one person wrote.
"Disrespectful, exploitive and very dangerous! Change the message now!"
Another agreed adding, "This is ghastly. Missguided is a 'millennial brand' claiming to empower teens/early 20s.What a crock of s***."
One other person tweeted, "Young girls are under enough pressure without this stupid sign. Shame on you."
In light of the uproar, a petition calling for the sign to be removed was signed by more than 8,000 in under 24 hours.
"Teenage girls feel under increasing pressure to create and send nude pictures of themselves," it read.
"Once online, these nude images can be seen and used by anyone, making girls and vulnerable young women the victims of bullying, revenge porn and exploitation.
"It is illegal in the UK for nude images of under 18's to be created, sent and shared.
"'Send me Nudes' legitimises the culture of sexual coercion that teenage girls and young women experience daily.
"In posting 'Send me nudes' in their store, Missguided are promoting a negative and damaging culture.
"Instead, they should be empowering young women to value their intrinsic value and express their uniqueness through the art of fashion.
"So we are calling on Missguided to respect girls and take down their sign."
In addition, youth worker Tim Gough penned an open letter to the company's CEO, Nitin Passi, slamming the sign for contributing to a sexting culture that can destroy young people's lives.
"If you had spent any real time with a sixteen year old consumer who had followed your advice to 'send nudes', then you would witness first-hand the destruction that such a simple act creates," he wrote.
Bluewater shopping centre has since responded on Twitter to say that it had been 'advised' that the sign has now been removed from the store.
Register for free to continue reading
Registration is a free and easy way to support our truly independent journalism
By registering, you will also enjoy limited access to Premium articles, exclusive newsletters, commenting, and virtual events with our leading journalists
Already have an account? sign in
Join our new commenting forum
Join thought-provoking conversations, follow other Independent readers and see their replies