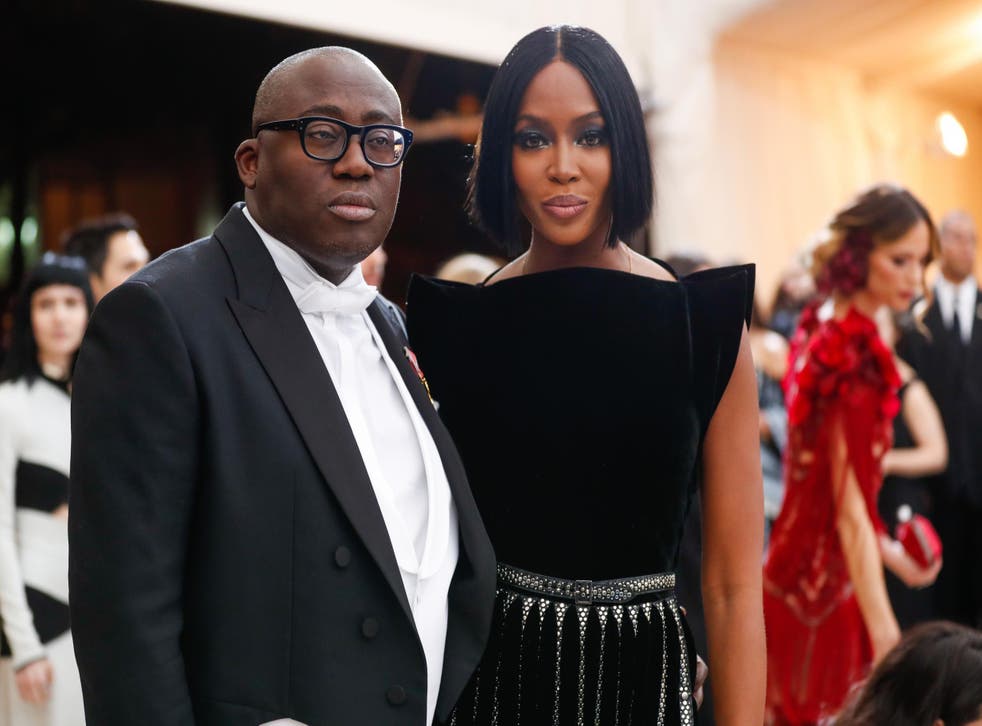 Naomi Campbell criticizes ex-British Vogue editor Alexandra Shulman for lack of staff diversity
'Looking forward to an inclusive and diverse staff now that Edward Enninful is the editor'
Olivia Petter
Wednesday 23 August 2017 11:38 Comments
Naomi Campbell has spoken out about the lack of racial representation at British Vogue.
The British supermodel uploaded a snap taken from inside the magazine's September issue which featured a photograph of the editorial team, all of whom appeared to be white.
Marking Alexandra Shulman's final issue as editor-in-chief of the title, Campbell used the image to express her excitement about the arrival of Edward Enninful, the Ghanaian-born stylist who took the reins in July.
Campbell – who has appeared on the British magazine's cover eight times – asked her 4.3 million followers to offer their thoughts on the staff photo in the post, which has now been liked more than 18,000 times.
Her followers were quick to offer their opinions, with some agreeing with Campbell's scathing comments.
"Yes well needed some people with colour," one wrote.
"I thought the same when I picked up this issue. I returned it back to the shelf. Change was definitely needed," another quipped.
However, others were quick to dispute Campbell's accusations, raising questions with regards to meritocracy whilst also praising Shulman's female-heavy staff.
"You see the pic and make an assumption that the reason there are no black peoples is because of some underlying oppression, I see the same pic and assume that these candidates were chosen because they were better candidates," one wrote.
"I believe in diversity - but I also believe in qualifying for a job. If you show me musical producers etc or Beyoncé's dancers - they ain't white," another added.
Since his appointment, Enninful has already added a number of diverse talents to the roster, including Campbell who will act as contributing editor, alongside Pat McGrath (beauty editor-at-large) and Steve McQueen and Adwoa Aboah, who will also join as contributing editors.
"All inspirational and highly-regarded in their individual fields, I'm really excited to see my vision for the British Vogue team come to fruition," Enninful said in July.
"I'm very much looking forward to working with everyone on forthcoming issues," the former W creative director added.
Register for free to continue reading
Registration is a free and easy way to support our truly independent journalism
By registering, you will also enjoy limited access to Premium articles, exclusive newsletters, commenting, and virtual events with our leading journalists
Already have an account? sign in
Join our new commenting forum
Join thought-provoking conversations, follow other Independent readers and see their replies