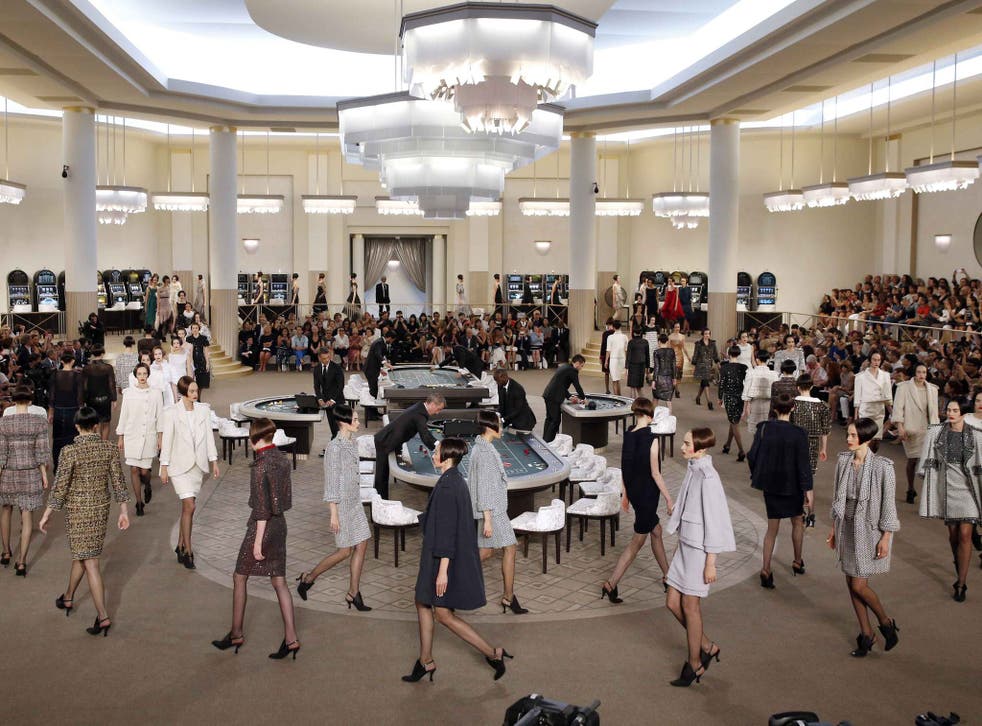 Chanel haute couture review: old-world artisanal craft meets Lagerfeld's permanent forward-thinking
Today's Chanel haute couture show demonstrates that Lagerfeld knows how to play his cards right
This season, the house of Chanel staged their autumn/winter 2015 haute couture show in a makeshift casino - part Monte Carlo, part Mecca Bingo Hall - peopled with the most glamorous Gamblers Anonymous meeting that ever congregated.
Julianne Moore, Isabelle Huppert, Kristen Stewart. The sort of people I don't usually care about, at a fashion show. But Karl Lagerfeld plonked them centre stage at a clutch of tables in the midst of Chanel's gaming hall, the audience ringed around in the round.
You could hardly ignore them.
The striking thing? Not their presence (although that doubtless cost a pretty penny), but the fact that, when the show began, you did just that: they melded seamlessly into the Monégasque mise-en-scène behind. Risky. Might not have played out that way.
That made me think, of how fashion is all a game of chance. A designer is always laying their cards down on the table, betting that what they're proposing will be the one thing people are fighting over to wear next season. Nothing's certain. Look at the zig-zagging figures of all those publicly-traded luxury conglomerates - they prove my point, on a quarterly basis.
In pictures: Haute Couture Paris Fashion Week autumn/winter 2015

Show all 52
Except, that is, for Chanel. Because Chanel don't release figures - it's a privately-held company, owned by the Wertheimer family, and no-one really knows how much its making, or how well it's doing. We assume it's doing pretty well, because they stage shows like no other, and make clothes like no-one else. No one beats Chanel when it comes to cramming so many thousands of hours of painstaking labour into so many clothes that so few women can buy. Because they, and those shows, cost so much money.
Why gamble like that? Because it pays off. Any veteran card counter will tell you that, eventually, the house always wins. The only house here is Chanel. They pump cash into its haute couture, the febrile fantasyland of Karl Lagerfeld, because it makes financial sense. "If we could not afford to do such a show, then we would not do such a show," said Chanel's president of fashion Bruno Pavlosky to me recently. "We are not stupid."
Indeed. Slot machines all around Chanel's audience hummed and dinged before the show. I didn't try one - so I'm not sure they worked. But the implication was clear: shove some cash in them, crank the handle, and a Coco-themed prize would spit right out. Replicate it a few hundred times, and you'd have Chanel's worldwide retail network.
This show wasn't about directly feeding that retail network - haute couture is custom-order only, and never, ever hangs in a shop. But, as Pavlosvsky also told me, "Haute couture has become now with Mr Lagerfeld, our research and development."
This season, perhaps more than any other in recent memory, Lagerfeld forged ahead. He sent out a classic stream of Chanel suits at the start, created via selective laser sintering, a technology used to bind materials and create a solid structure. What does all that mean? Who knows. Kaiser Karl, presumably, but he'd already hot-footed it to Fendi where he's due to show another haute couture collection (this time, all fur) tomorrow evening to close the week's shows.
The final results, we were reliably informed, came in Chanel's opening suiting. Which was itself rather revolutionary. Couture normally focusses on campy after-dark tricks, like dresses made out of strips of tinsel or thousands of feathers. Lagerfeld had those too, but it was the daywear that pushed forward.
That laser sintering wound up looking bit like quilting - the classic means of tailoring Chanel's technically untailored suits. The whole notion of binding tweed through top-stitching and weighting with a fine gold chain, rather than contorting the modern through whalebone and bombaster tailoring, was part of Gabrielle Chanel's own revolutionary approach to fashion. Maybe this sintering malarky was Karl Lagerfeld's? It was notable not because of its hi-tech allusions, but because it actually worked. It yielded pliant, subtle results, a web of mesh bubbling like a geodesic dome or a two-tone tweed, slightly transparent as the models walked. The suits were banded with hand embroidery, like a meeting of the old-world artisanal craft of haute couture with Lagerfeld's permanent forward-thinking. It was a future you could see the present buying. In short, it was an extraordinary achievement.
The rest was lovely too. Good, old-fashioned lovely, in couture's conventional beaded chiffons, silk-satins, and even some of those multi-million feather embroidered dresses we hear so much about. It all worked, in the way that Chanel usually does.
That's because Karl Lagerfeld knows how to play his cards right. And the Wertheimers know that they have, in Lagerfeld and Chanel, both a king and an ace card. Those croupiers and celebrities in Chanel's casino were, incidentally, playing Blackjack. That's a game where an ace and a king will always come up trumps. Just like fashion.
Join our new commenting forum
Join thought-provoking conversations, follow other Independent readers and see their replies