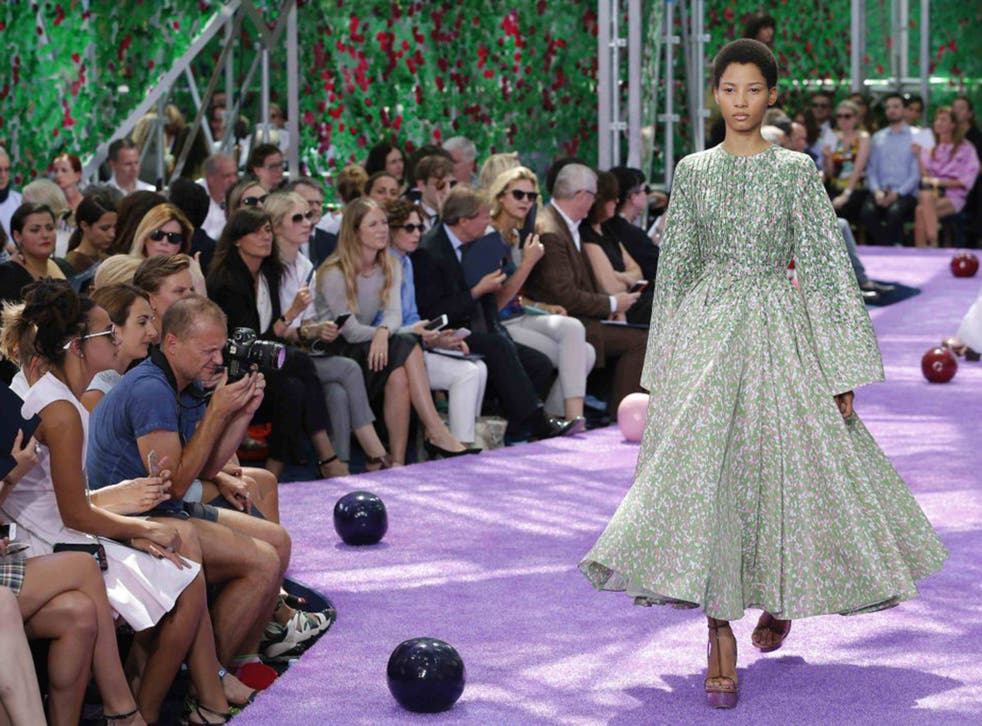 Christian Dior Paris Fashion Week review: Raf Simons takes us on a jaunt through history - but do people really need clever clothes?
The winter collection is as discomforting as it is intriguing
As you sat in the audience at Christian Dior, squinting the sun from your eyes and licking globules of perspiration from your lips nervously, watching the models perambulate around in one-armed renaissance mantles of cashmere, leather or fur, one thought crossed your mind: get real.
Get real to what? The demands of the everyday everywoman, or of the haute couture client? Or the press - because we all have different views of reality, and different expectations of how it should be manifested by a designer? Never mind an ever-agitating political and economic morass.
Should a designer seek to reflect that reality, in these clothes hand-crafted for the few hundred women so wealthy the world around them simply doesn't matter? Probably not.
Thus the fact we were there, watching Raf Simons' Dior models trudge along a narrow lawn of lilac astroturf, like a scorched Venusian landscape, in garb that seemed from another age. Alien, and archaic. Other worlds - neither entirely connected to the here and now. The mercury inside the venue, a paint-daubed plastic greenhouse in the back yard of the Musee Rodin, Dior's preferred couture digs, was hovering around the upper thirties. This was a winter collection, by the way.
In pictures: Haute Couture Paris Fashion Week autumn/winter 2015

Show all 52
"The reality and the unreality; you can't have one without the other," mused Raf Simons. And, probably without knowing it, he hit the nail on the head. He established what was so discomforting about this collection, and also what was so intriguing.
At least, for the press. I wonder what the clients will make of it - but, generally, they're separated from us, cosseted in a private couture show staged a few hours later, and appointments in the salons in the ensuing weeks. Those clients are sealed entirely from our pontificating gumph about Simons' Maid Marion gowns, chatelaines, cannage-inspired chain-mail and those sweeping coats. They'll find their own reality in Simons' show.
Back in the fifties, Balenciaga and Givenchy showed their clothes to clients and buyers a full three weeks before the press, to ensure their waffle didn't influence their buying habits. Regardless of the reality around us, some things never change.
The big idea for Dior this time was a jaunt through history - taking in everything from Flemish masters to the gothic, Impressionism to Dior's own forties debut. Grand designs. It was a mash-up, some garments manifesting it literally - the tailleur and flou ateliers working on the same garment, a plissé lining folding out from the revers of those enveloping cashmere coats. Fluid and structured. Clever.
But do people really need clever clothes? Do women - even haute couture clients - care that much about the historical and artistic allusions embedded in what's on their backs? Or will they just want it straightforward: evening dresses, a good suit, for Simons to put another sleeve on those one-armed bandit asymmetric coats and make them wearable and well, in the Dior tradition?
How about that for a contrast - the reality of what a designer wants to express, and the reality of what the clients want to buy. It's a tussle you feel nowhere more acutely than Dior, because Raf Simons is perhaps too clever for his own good. He has almost too many ideas, and others prosper by making reality from his fantasy.
Ultimately, however, ideas like Simons are what will ring in the changes. Watching Giambattista Valli's couture outing five hours later, you realised the difference between reality and unreality. And, perhaps more importantly, between a designer pleasing clients and pleasing themselves. The former isn't necessarily better than the latter.
I am sure there is an audience for Valli's clothes. I have documentary proof - they were there, in the audience, dressed in Valli and gearing up to order more. More valance ruffled dresses, more lace and feather gowns, more topiary tulle poufs shaved to cradle the models' buttocks and back, as if she'd parked her rear end in a net urinal. Those were pure Valli, like the five ruffled ball gowns that closed the show, cumbersome and vast. Those reminded me of Sisyphus, perpetually pushing that rock up the hill, did those Valli models, each dragging their couture albatross of fabric.
Elsewhere, there were legion echoes of other designers - most notably Simons at Dior, in the graphic embroidery and delicate eighteenth century prints. It's everywhere that stuff. But Valli's versions seemed somehow more commercial, more palatable, even than Simons at Dior - not to me, nor us as the press collective, but to his clients. They grinned, wide.
Some of those grins smacked of botched surgery, skin hoiked too far, too fast. But most were real, as was their applause.
Join our new commenting forum
Join thought-provoking conversations, follow other Independent readers and see their replies