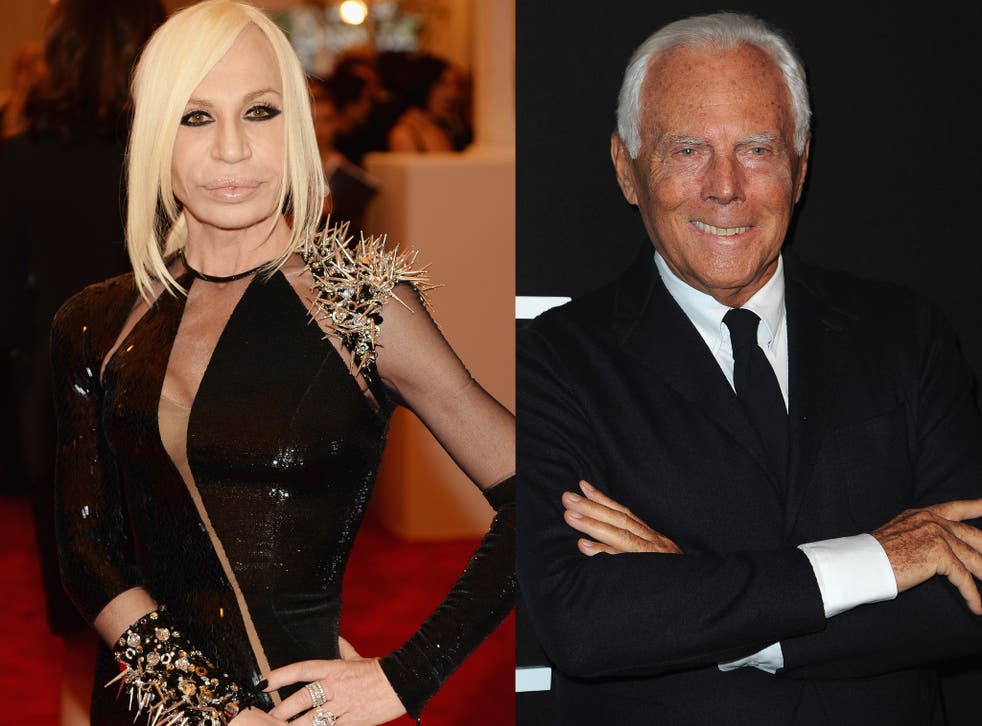 Donatella Versace hits out at 'rude and tasteless' Giorgio Armani
The spat broke out over comments made by Armani about Gianni Versace
Emma Akbareian
Wednesday 22 April 2015 16:05 Comments
Donatella Versace has launched an attack on fellow Italian designer Giorgio Armani for comments made about her late brother Gianni Versace, in a recent interview.
Armani was quoted in The Sunday Times referring to a conversation with Gianni Versace in which the designers were comparing their customers.
"He was talking to me. We were in Rome and we met in the Piazza di Spagna for a fashion event. He was looking at the models and he said to me, 'I dress sluts. You dress church ladies," Armani commented.
Donatella Versace swiftly responded with a statement heavily criticising him for his comments about his brother.
"I find it extremely rude and tasteless that Mr Armani has once again put words in to my brother's mouth, especially because he is sadly no longer with us to reply. This is the second time that he claims this was said, the first time was immediately after his death and he apologised to me.
"When my brother spoke about fashion the only word that ever came from his mouth was glamour. What should be said about my brother is: may Gianni Versace rest in peace," she fired back.
Gianni Versace, the founder of the luxury Italian fashion brand was murdered in 1997 outside his home in Miami, his sister Donatella took over after his death.
This isn't the first set of controversial comments made by the 80-years-old designer; this week he also attracted criticism for statements made about the way some gay men choose to dress.
Register for free to continue reading
Registration is a free and easy way to support our truly independent journalism
By registering, you will also enjoy limited access to Premium articles, exclusive newsletters, commenting, and virtual events with our leading journalists
Already have an account? sign in
Join our new commenting forum
Join thought-provoking conversations, follow other Independent readers and see their replies