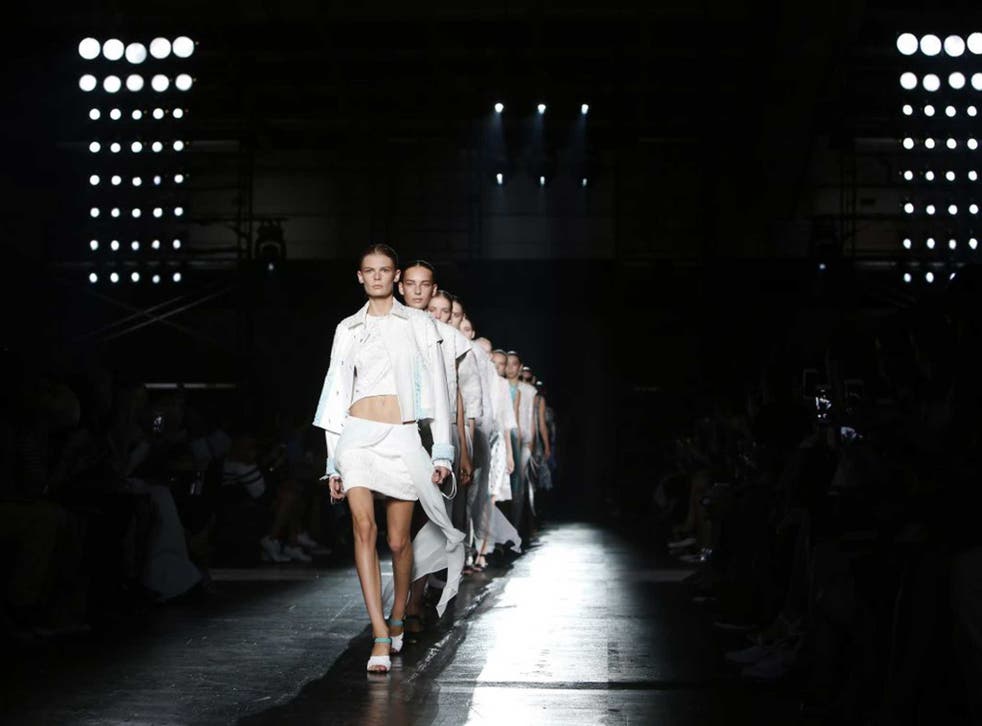 New York Fashion Week 2014: Fashion like a frozen lasagne: Too many New York designers stick to tried and tested recipes that lack spice and originality
They should try challenging our palates with something new
Condé Nast announced this year it was expanding into the frozen food market in the US with a range of ready meals branded after its magazine Self. It's a titbit I find interesting – for what it says about publishing today, as well as the sustained power of branding – although it seemed to pass many people by.
It feels like a fitting, if somewhat abstract, metaphor with which to open the New York spring/summer 2015 shows, because so many of the collections we see there are the fashion equivalent of a microwaveable three-cheese lasagne. They're prepacked, easily consumed, serviceable but frequently lacking spice.
That is true of a great deal of the fashion world right now, designer after designer offering tried and tested recipes, rather than challenging our palate with something new. The late Lee Alexander McQueen (who, incidentally, showed as part of New York Fashion Week twice) once said he'd rather people left his shows and vomited than have no reaction at all. I feel the same. It's all about taste. Even bad is better than bland.
New York designers appeal to many different tastes. The good ones, like a Michelin-starred chef, have their areas of excellence. It's difficult, for instance, to imagine Oscar de la Renta going punk, or Altuzarra making a taffeta ballgown. The less assured are more Little Chef than cordon bleu – domestic, homely even, lost in soupy layers of draping, the soufflés of their skirts resolutely failing to rise to the occasion.
New York Fashion Week in pictures

Show all 28
Jason Wu has a taste for richness: creamy furs, buttery leather and women with lots of dough. However, over the past few seasons he's been consciously lightening and cleansing his collections, possibly in reaction to his stewardship of the womenswear line of the German-based brand Hugo Boss as well as his own label.
His Friday show for the latter, presented hours after the announcement of the sale of a majority stake to the newly minted investment firm InterLuxe, was stripped back, polished. Not just in the dominance of beechwood neutral (opening with scrambled print in faded khaki on off-white, followed swiftly by a sandstorm of beige suede), but in the references to the great American style-makers – Calvin Klein, Donna Karan, Michael Kors even.
Echoing their taste were the simple belted suiting, boxy bags and evening wear in tense tank-top and wrap-skirt shapes glimmering with bugle beads or billowing silks. It had Wu's richness, but it wasn't cloying. It also showed that Wu has the confidence to push his designs somewhere new.
Prabal Gurung has confidence too. Sometimes, it's a bit blind – blind to the fact that meshing together fil coupé organza, ostrich embroidery, print, ruffles and leather not only into a single collection but into single garments leads to a dissonant whole. To give him credit, Gurung works hard at his clothes – those painstaking embroideries and fabric experimentation aren't easy. But it all seems a bit overcooked, overseasoned and overegged.
Join our new commenting forum
Join thought-provoking conversations, follow other Independent readers and see their replies